Rocket Raccoon's Origin Will Be Further Explored In A Future Marvel Movie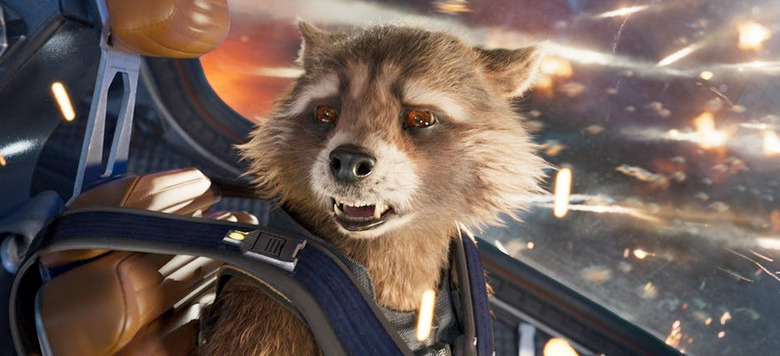 The first Guardians of the Galaxy introduced us to the ragtag team of space convicts who were one of Marvel Comics more obscure properties. Director James Gunn brought them into the Marvel Cinematic Universe, and it was one of the most acclaimed movies in the overarching comic book franchise to date. He followed it up with the satisfying sequel this past summer, and when Guardians of the Galaxy Vol. 3 rolls around, likely sometime in 2020, it will help kick off the next 10 years of the MCU. And now we have an idea of what we can expect from at least one of the characters from the cosmic superhero team.
This weekend, James Gunn appeared as HASCON, the first convention put together by the toy manufacturer Hasbro. During his appearance (via MCU Exchange), Gunn talked briefly about the future of his Marvel characters, and he revealed that includes revealing the Rocket Raccoon origin story in a future Marvel movie. Gunn said:
"We are going to learn more about where Rocket comes from in the coming sagas. It's going to be a little different from the comics. We already know a lot about from where he came from. It's a little bit more horrible than what it is in the comics when you come down to it. We will learn more about that."
Since every Marvel movie has made changes to the comics, it's not surprising that James Gunn will continue to do that when it comes to changing some of Rocket Raccoon's origin story. Interestingly enough, he recently said that he might even have to break some of his own canon that he established in the first Guardians of the Galaxy for something he had cooking for Guardians of the Galaxy Vol. 3 (we hypothesized what that might be over here).
However, James Gunn didn't indicate whether we would be learning more about Rocket Raccoon's origins by way of Guardians of the Galaxy Vol. 3 or one of the other Marvel movies that will be coming after the cosmic sequel arrives in the next few years. After all, a future Marvel movie could very well end up being a spin-off that focuses on only Rocket Raccoon and his pal Groot. Since we know Vol. 3 will be the end of the story arc for this iteration of the team, it would stand to reason that Rocket and Groot might venture out on their own, like they have in the comics and their own Emmy-nominated animated series. Plus, Vin Diesel once said that James Gunn wanted to make a Rocket and Groot spin-off as well, so it's not out of the realm of possibility.
For now, we'll just have to look forward to the Guardians of the Galaxy meeting Earth's mightiest heroes in Avengers: Infinity War on May 4, 2018.