'Suburbicon' Trailer: Matt Damon's Suburban Life Gets Delightfully Twisted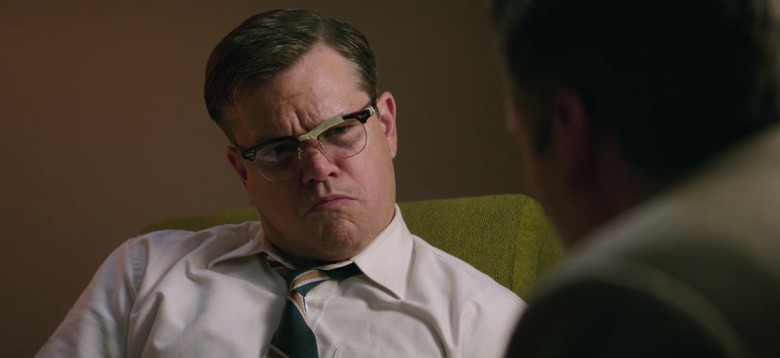 This fall brings a reteaming of filmmaking duo Joel & Ethan Coen and superstar George Clooney, but not in the capacity that we're used to see them collaborate. Instead, Suburbicon sees the Coen brothers only writing the script, and George Clooney is directing without starring in the movie himself, which is something he's never done before. Now a new Suburbicon trailer has arrived online featuring some praise following the film's debut at the Venice Film Festival this past week.
Watch George Clooney's Suburbicon Trailer
This trailer is clearly playing up the quirky side of Suburbicon's story, but it sounds like the marketing may not be giving away exactly what the movie has in store for us. The Film Stage caught the film at TIFF, and based on their review, all those expecting a bit of a dark, screwball comedy due to a script from Joel & Ethan Coen may want to adjust their expectations. They write:
"In a turn of events worth noting, the film's publicity (surely amongst the year's most misleading) hinted that Suburbicon would be something derivative of those brothers' more slapstick-leaning ensemble outings (Burn After Reading, Hail, Caesar!, etc.) but — much to the director's credit, it must be said — it is, in both content and tone, a far more somber beast."
Instead, the movie is more of a twisted, slightly comedic commentary about racism, more specifically the hypocritical nature of the predominant culture in America. That's where Collider found problems with the movie, in that the message at the core of the movie feels superficial and lacking in the significance and poignancy that was likely intended. You can read more in their full review, but beware that it dives into some slightly spoilery details that haven't been revealed in any of the trailers yet (including the one above).
At the very least, even if the movie doesn't quite come together to pack the punch that many were hoping for, there seems to be consistent praise for the performances put in by Matt Damon in the lead role, as well as Julianne Moore and Oscar Isaac. That might be enough to make it worth seeing.
If you want to see more from Suburbicon, check out the previous trailer right here.
Suburbicon is a peaceful, idyllic suburban community with affordable homes and manicured lawns...the perfect place to raise a family, and in the summer of 1959, the Lodge family is doing just that. But the tranquil surface masks a disturbing reality, as husband and father Gardner Lodge (Matt Damon) must navigate the town's dark underbelly of betrayal, deceit, and violence. This is a tale of very flawed people making very bad choices. This is Suburbicon.
Head to Suburbicon in theaters on October 27, 2017.