'The Florida Project' Might Be The Best Movie Of The Year [TIFF]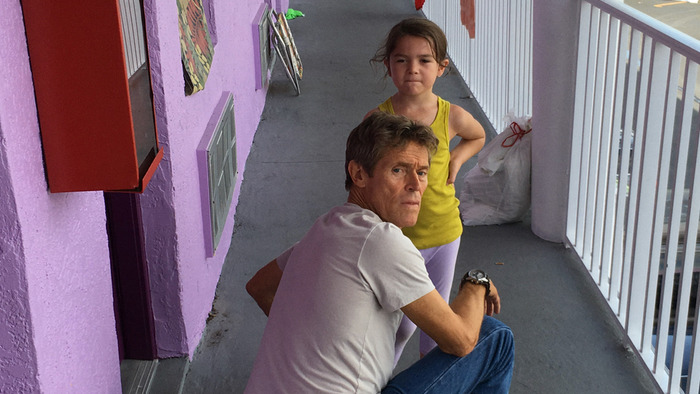 The Magic Kingdom colors almost every scene of The Florida Project. Sean Baker's achingly beautiful and heartbreaking new film is set in Florida (obviously), very close to Disney, and nearly everything in the background advertises the The Most Magical Place On Earth. Tourist trap stores with huge painted signs advertising Disney merch constantly lurk in the periphery.
But the characters in The Florida Project occupy their own kingdom, one comprised of rundown motels and abandoned buildings. These might seem like squalid conditions, but Baker finds a way to make them seem warm and welcoming without ever trying to glamorize them. The sunsets are fierce and gorgeous, lush pinks and reds and golds, vast and seeming to stretch on for infinity. They feel like home.
At the center of The Florida Project is Moonee (Brooklynn Prince, astoundingly good here), an adventurous child who rules over the kingdom that is the motel she lives in with her struggling mother Halley (Bria Vinaite). By day, Moonee frolics wildly through the motel courtyard and beyond with her friends Scooty (Christopher Rivera) and Jancey (Valeria Cotto). Whenever films deal with children as the primary characters they run the risk of treating the kids too precociously, or worse, portraying the children as mini-adults. The Florida Project never makes this mistake – the kids here always seem like kids. They're occasionally bratty, occasionally cruel, but altogether good. They find adventure and fun wherever they can, and it's often a joy to sit back and watch them act out.
Brooklyn Prince's performance as Moonee is the glue that holds all of this together. The Florida Project plays coy with just who its main character is at first – at the start of the film, all of the kids seem to be receiving equal time. Yet as the film progresses, it becomes more and more about Moonee, and about how her world is in danger of falling apart while she remains cheerfully oblivious. I'm not sure how much of Prince's performance as ad libbed, but all of it feels 100% genuine; the type of raw, lightning-in-a-bottle performance that actors twice her age can only dream of. An outsider might look at Moonee's living conditions and worry, but to Moonee, every day is a wonderful adventure. There's so much to do, and there are so many waffles to eat.
Baker keeps the camera low to the ground often, putting us firmly into the visual field of a child – we're down there with them, and the whole adult world is looming above. That adult world includes Bobby, the kindly motel manager played by Willem Dafoe. Dafoe is an acclaimed actor with an impressive career, yet it cannot be overstated how phenomenal he is in this movie. There's an unmitigated goodness to Bobby, a weary but kind soul who wants to do the right thing. A character like this would be easy to cheapen and turn maudlin, but Baker's script and Dafoe's performance never performs this disservice. It's a quiet performance, and much of the power comes from the somewhat sad, knowing glances Dafoe gives to the world around him. But just as often there's kindness – Bobby can grow frustrated with the kid's shenanigans, yet he's always willing to give them a second chance.
Moonee's mother Halley will never be a candidate for parent of the year. She sells knock-off perfume and stolen goods to make ends meet, and when that isn't enough, she turns to even less desirable methods. It would be easy to portray this characters as a monster; a terrible person doing terrible things. But that's not how The Florida Project works. Halley is flawed, yes – at times almost devastatingly so. But Baker doesn't judge her, and Vinaite's performance – blunt and at times even abrasive – is pitch-perfect. Halley is flawed, yes, but she's trying.
Everyone here is trying. Trying hard to get through their day to day lives; trying to find magic in a frequently unmagical kingdom. Late in the film, Moonee and Jancey are sitting on a tree having lunch. Baker keeps the camera in close on the two girls, not really giving us a good look at the tree they're perched on. "Do you know why this is my favorite tree?" Moonee asks her friend. "Because it tipped over and it's still growing." At this point, Baker cuts to a wide shot, showing a huge, sprawling, toppled willow. It's a breathtaking moment, and the line lingers, perfectly summing up the characters in the film. They may have all fallen at one point, but they're still growing.
The final moments of The Florida Project unfold breathlessly – tension is mounting, and there's the queasy sense that something terrible is about to happen, like a destructive storm about to break. And then Baker does something magnificent – he follows Moonee and Jancey on one last adventure before the credits roll. Is it real or is it fantasy? It doesn't matter. It's magic. We can all do with a bit more magic in our kingdoms.
/Film Rating: 10 out of 10