'It' Is Already Breaking Box Office Records, And Poised For A Big Weekend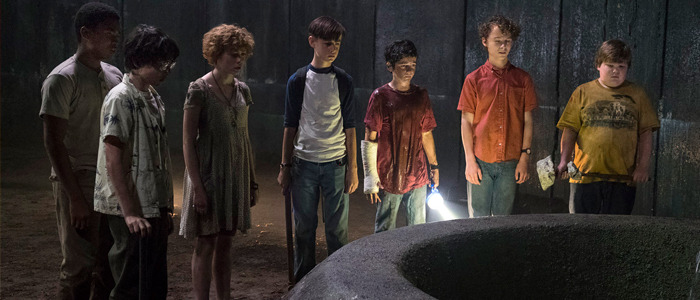 Warner Bros. and New Line weren't clowning around with It. Andy Muschietti's movie adaptation of Stephen King's classic horror novel has already broken box office records, making $13.5 million in Thursday night screenings alone. That's the biggest advance night opening for any R-rated movie, the biggest opening gross for any King adaptation, the biggest preview gross for any outright horror movie, and the best preview gross for any September movie.
I wouldn't be surprised if there were red celebratory balloons floating all over the Warner Bros. lot in Burbank right now, and the good news is, this is happening to a movie that deserves success. This is one of my favorite movies of the year so far: a coming-of-age story that actually devotes significant time building up the Stand By Me-esque camaraderie of its child protagonists while punctuating the story with scares from an otherworldly entity in the form of Bill Skarsgard's eerie take on Pennywise the Dancing Clown. Though fans may always wonder about what Cary Fukunaga's version might have looked like, Muschietti turned out to be an excellent choice to direct this, and he knocked it out of the park.
This also isn't the first time this movie has broken a record. WB knew they had a hit on their hands ever since the first trailer shattered The Fate of the Furious' record by earning 197 million views in 24 hours. The studio's marketing team played this one perfectly, even going as far as to create a massive recreation of the film's Neibolt House in the middle of Hollywood to drum up more publicity (check out our video tour of that here). And now the opening preview night numbers, which came from Forbes.
$13.5 million on a Thursday night for any movie is a big deal. Currently, It has the third-largest opening of 2017, behind only Guardians of the Galaxy Vol. 2's $17 million and Beauty and the Beast's $16.3 million. To add a bit of perspective comparison, The Dark Tower – this summer's other high-profile King adaptation – only managed to pull in $19 million during its entire first weekend. Forbes' Scott Mendelson predicts It could make $85 million this weekend, and he even speculates that number could go as high as $100 million. We'll be back with an update in a few days to let you know how it turns out.
A sequel is already in the works, and that will follow older versions of the Losers' Club as they return to Derry to battle Pennywise once again. In the meantime, be sure to read our review of the new movie, learn about the biggest differences between the film and King's novel, and read our interviews with co-writer Gary Dauberman, producers Seth Grahame-Smith and David Katzenberg, and director Muschietti and new Pennywise Bill Skarsgard.