'Alias Grace' Trailer: Netflix Turns Their Margaret Atwood Adaptation Into A Full-Fledged Thriller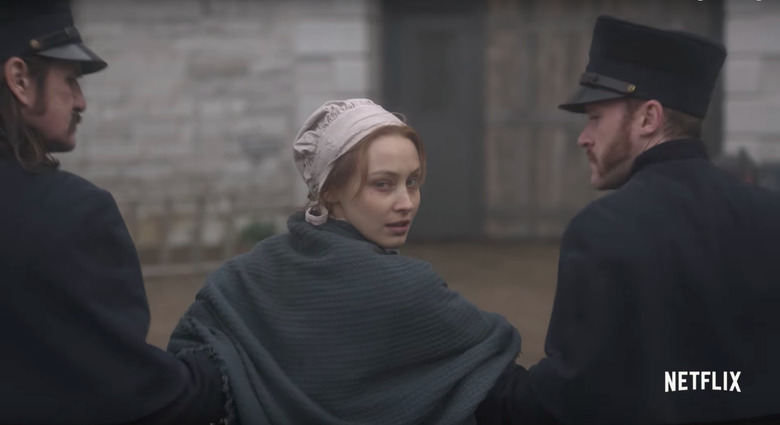 It's high time that more of Margaret Atwood's excellent works are adapted to the small and big screen. With Hulu's The Handmaid's Tale drawing rave reviews for its harrowing and timely depiction of a not-to0-distant dystopia, Netflix is diving into Atwood's catalog for its own prestigious miniseries.
Alias Grace is a miniseries adaptation of Atwood's Gothic historical fiction about a real-life murder in 1843 Canada. Grace Marks, the titular maid convicted of murdering her master and his housekeeper, is the fascinating character and unreliable narrator at the center of the story — painted as both a victim and culprit. But while the novel acts as a psychological mystery, the Alias Grace trailer paints the story as more of a straight-up thriller, which doesn't bode well for this highly anticipated adaptation.
Sarah Gadon seems impressively duplicitous as Grace Marks in the Alias Grace trailer, narrating the clip with an eerie foreboding that gives the impression that she is more guilty than innocent.
"It's strange to reflect that of all the people living in that house, I was the only one left alive in six months time," Grace recounts as we see flashes of her working in an unhappy household, verbally abused and scolded by her master (Paul Gross) and his mistress and housekeeper (Anna Paquin) until an axe is cryptically bloodied. Edward Holcroft plays the doctor who interviews and analyzes Grace as she recounts the entire horrifying story. The entire trailer plays off as quite scintillating, and makes the Alias Grace adaptation seem like a horror-thriller rather than the Gothic mood-piece that the novel was.
I was enraptured by the book, and curious to see how it would be adapted to the screen. Hulu has done (mostly) right by The Handmaid's Tale and Netflix has proven to be quite adept at prestige series. However, it seems that Netflix, producer Sarah Polley, and director Mary Harron, have taken a by-the-numbers approach to a dense tale. I hope I'm proven wrong once the miniseries is actually released on Netflix, and this is just a case of poor marketing on Netflix's part.
Here is Netflix's synopsis for Alias Grace:
Alias Grace is based on Margaret Atwood's award-winning novel. The six-hour miniseries follows Grace Marks, a poor, young Irish immigrant and domestic servant in Upper Canada who, along with stable hand James McDermott, was convicted of the brutal murders of their employer, Thomas Kinnear, and his housekeeper, Nancy Montgomery, in 1843.
Alias Grace will premiere all six of its episodes on Netflix on November 3.