Drew Goddard Will Write And Direct Fox's 'X-Force' Movie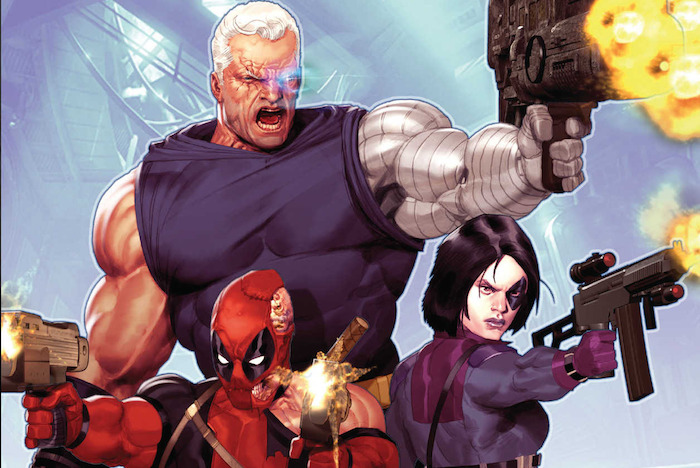 20th Century Fox is moving full steam ahead with the X-Men franchise, and now one of its biggest spinoffs has found a new director. After Kick-Ass 2's Jeff Wadlow spent years attached, a new report says that Drew Goddard, the man who directed The Cabin in the Woods, will write and direct the studio's X-Force team-up film, which will unite characters like Deadpool, Cable, and Domino in a Black Ops group. Watch your back, Suicide Squad.
Deadline broke the news about Goddard's involvement. This project has been on the studio's radar for over a year, with The Grey director Joe Carnahan at one point set to write the script. Goddard, who got his start writing TV shows like Buffy, Angel, Alias, and Lost and moved on to the big screen with screenplays for Cloverfield, World War Z, and The Martian, will take over writing duties as well along with leading the production as its director. Simon Kinberg, Lauren Shuler Donner, and Ryan Reynolds will produce.
The X-Force are essentially a dark mirror version of the X-Men. Instead of fighting in the public eye to win mutants respect from regular humans, they tend to embark on darker, more violent, sometimes morally questionable missions to protect mutantkind from threats the X-Men can't handle. The group has a rotating roster of members in the comics, but the film version is expected to feature the return of Reynolds as Deadpool, Josh Brolin as Cable, and Zazie Beetz as Domino.
It's unclear which other members are joining up in this movie, but it's potentially worth noting that there was some talk last year about X-23, the character introduced on the big screen in this year's Logan, potentially being a part of the squad. But it may be worth noting that X-Force creator Rob Liefeld has been pretty vocal on Twitter since this announcement was made about sites making sure that the right team members are represented in images attached to articles, and one of his comments seemed down on the idea of Wolverine being part of the team, so I'm not sure what, if anything, that might mean for X-23's inclusion:
If your images of X-Force film don't include Cable and Domino, you might want to sit this one out, press folks.

— robliefeld (@robertliefeld) September 7, 2017
TRUTH! But Wolverine as the leader ain't the counter option. https://t.co/YU0fwbER01

— robliefeld (@robertliefeld) September 7, 2017
In a situation that can be pretty typical in Hollywood, Goddard has experienced a few bad breaks over the years when it comes to getting projects off the ground. He was involved with launching Netflix's Daredevil, but dropped that when Sony hired him to write and direct their Sinister Six movie that ultimately fell apart. He also wrote the screenplay for Robopocalypse, which Steven Spielberg came within inches of directing before moving on to other things, leaving that project sitting in development hell.
Since helming the absolutely stellar Cabin in the Woods, he's directed a few episodes of The Good Place and is now working on a small thriller called Bad Times at the El Royale that stars Jeff Bridges and Chris Hemsworth. Deadline says Goddard has "cracked" the script for X-Force already, so he'll be able to get up and running on that movie as soon as he's done with El Royale. He's been flirting with superhero properties for a long time, so I'm glad that he's finally found one that seems like a good fit; more importantly, though, as a massive Cabin fan, I'm just glad we'll be seeing another directorial effort from Goddard again soon.
The X-Men slate is looking pretty strong right now. Josh Boone's New Mutants will hit theaters on April 13, 2018, David Leitch's Deadpool 2 arrives on June 1, 2018, and Simon Kinberg's X-Men: Dark Phoenix arrives on November 2, 2018. X-Force doesn't have an official release date yet, but it seems likely that it'll arrive sometime in 2019. I'll leave you with a Liefeld-approved image of the X-Force that may point to which characters we'll see in the movie:
Here you go! pic.twitter.com/LueEl8oR9L

— robliefeld (@robertliefeld) September 7, 2017