Ryan Murphy Is Making A 'One Flew Over The Cuckoo's Nest' Prequel For Netflix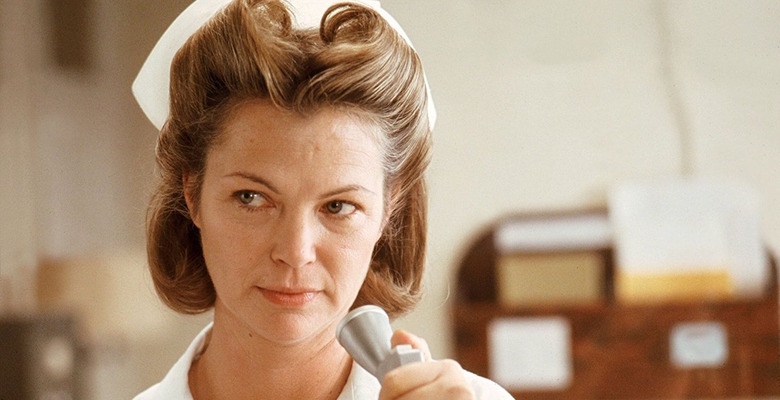 Netflix is about to get Ratched.
The streaming service has picked up Ryan Murphy's One Flew Over the Cuckoo's Nest prequel about the infamously cruel nurse who ruled with an iron cap over the inmates of the mental institution. The series, titled Ratched, will follow a younger Nurse Ratched, presumably before and during her time working at that unnamed Oregon psychiatric hospital, and will focus on how she came to be one of cinema's most notorious villains.
Murphy's frequent and arguably most talented collaborator Sarah Paulson will be starring as a young Nurse Ratched in the Ratched Netflix series, according to Deadline. In a tense bidding war with Hulu and Apple (the tech company making yet another pass at the original content industry after yesterday's James Bond news), Netflix won out in picking up Ratched for a two-season, 18-episode, straight-to-series order.
This has been a series long in the making, as the Emmy Award-winning showrunner has spent a year securing the rights to the character of Nurse Ratched alongside the participation of the Saul Zaentz estate and producer Michael Douglas. The character originated in Ken Kesey's 1962 novel, which was later adapted into a play and an Oscar-winning 1975 movie starring Jack Nicholson. Louise Fletcher played the seminal iteration of Nurse Ratched, winning an Academy Award for the role and going down in history as one of greatest cinematic villains.
Here's the synopsis of the show, per Deadline:
Ratched is an origins story, beginning in 1947, which will follow Ratched's (Paulson) journey and evolution from nurse to full-fledged monster. The series will track her murderous progression through the mental health care system.
Fox 21 TV Studios is set to start producing the drama series in mid-2018, with Murphy directing the first episode and newcomer writer Evan Romansky — fresh out of film school according to Deadline — penning the script. Ratched will be Murphy's first direct-to-streaming series, previously producing shows like Scream Queens for primetime network Fox and prestige anthology series like American Horror Story, American Crime Story, and Feud for FX.
While Murphy's success rate has been hit or miss, Paulson is a reliable talent on screen, racking up Emmy nominations for her performances in American Horror Story and a win for her turn as Marcia Clark in The People v. OJ Simpson: American Crime Story.
Murphy is gifted when it comes to show concepts, but has a tendency to go off the rails if unchecked (see: the hot mess that was Feud and Glee). I'm also not sure how he will approach a subject like the mental health system, which has a history of misrepresentation in the media – especially when he will likely be fixated on the campy potential of the villainous Nurse Ratched. However, his work with Paulson has proven  auspicious, so Ratched will at least be a significant showcase for her talents.