HBO's 'Veep' To Step Down After 7 Seasons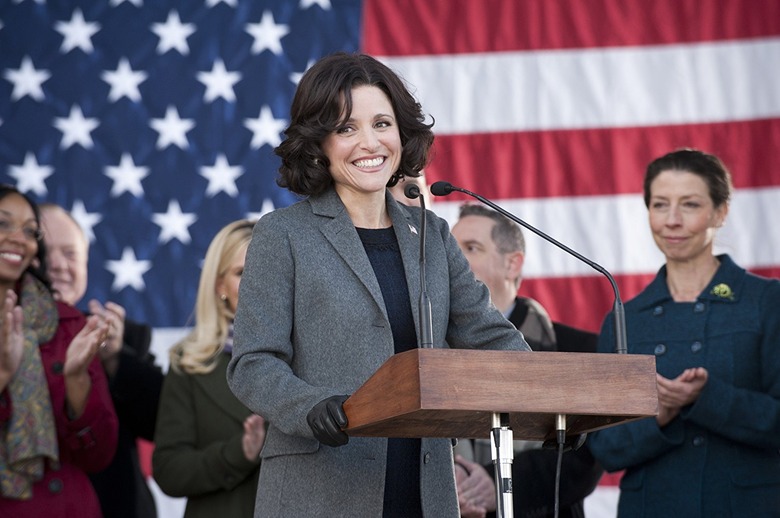 Selina Meyers is finally conceding, and Veep is ending after seven seasons on the air on HBO.
The sardonic Emmy Award-winning comedy starring Julia Louis-Dreyfus as the foul-mouthed presidential hopeful, which just finished airing its sixth season this June, will resign after season 7 airs in 2018.
Louis-Dreyfus and Veep showrunner David Mandel confirmed to The Hollywood Reporter that only one season remains of Veep before it takes its final bow.
Louis-Dreyfus, who won a whopping five consecutive Emmys for outstanding lead actress for Veep and is up for a sixth, admitted to THR that playing Selina was a"role of a lifetime" — which is saying something for an actress who played Elaine Benes for nine seasons on Seinfeld — but all good things come to an end. She told THR:
"It became clear that this season should be the last season. We don't want to repeat ourselves or wear out our welcome. The story has a finality to it that feels end-of-series."
Veep never had to worry about repeating itself. Created by Armando Iannucci as a spiritual spin-off of his equally foul-mouthed series about the misadventures of British government workers, The Thick of It, Veep began as a story of an ambitious and hapless vice president with her sights set on the Oval Office. Iannucci left the show after its fourth season, but the comedy kept going strong, long since transcending its title to follow Selina as she ascended to the presidency, lost the presidency, then dealt poorly with her loss of importance and clout.
The sixth season — which dealt in particular with Selina's post-presidential loss as she considered making another run for the White House — was admittedly a strange experience to watch in a post-Trump world. Mandel admitted that the sixth season's storyline of Selina and her staff dealing with the fallout of a presidential loss was planned when they expected Hillary Clinton to win the 2016 election, which made the usually surreal comedy feel like it hit a little too close to home. Now, in a time when politics and truth have become stranger than fiction, it may be the right time for Veep to close its Oval Office doors.
"It was just a very natural thing," Mandel said to THR. "We don't want to repeat ourselves or be boring. It's bittersweet but it's right."
Mandel and Louis-Dreyfus said they have mapped out the final season of Veep, which will span 10 episodes. Mandel promised "a finality" to Selina's journey. "I'm so fucking excited for what we've got on the board and for fans to see what we've cooked up," Mandel said.
Production for the final season of Veep begins October 16. The seventh season will likely air on HBO in summer 2018.