Star Wars Bits: Captain Phasma, Han Solo Set Photos, And 'The Last Jedi' Theorizing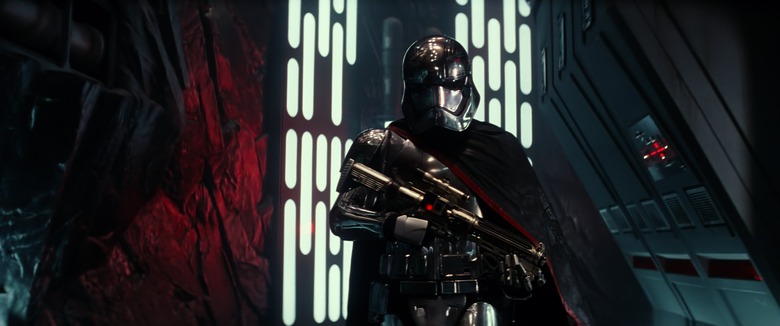 In this edition of Star Wars Bits:
We have a Force Friday hangover, and the only cure is more toys!
New Star Wars: The Last Jedi theories.
A fan-choice Episode 9 director speaks out.
Captain Phasma gets the spotlight.
More photos from the Han Solo set.
The droid the droids are looking for. #StarWarsBlips pic.twitter.com/H00dgppDvR

— Star Wars (@starwars) September 3, 2017
Star Wars Blips are my new favorite Star Wars. Sorry, Empire Strikes Back. A couple new Blips were released the week of Force Friday and just after (with one even debuting in-app). These adorable shorts are so much fun and capture a little microcosm of the excitement of Star Wars so perfectly. In this one, Artoo is the recipient of hero worship from BB-8 and his pals. SO PERFECT.
The Mirror Match. #StarWarsBlips pic.twitter.com/Gi05f5gNBm

— Star Wars (@starwars) September 2, 2017
And in this one, which debuted in the app with the "Find the Force" campaign, features BB-8 coming face-to-face with his "evil" counterpart, BB-9E, the First Order's BB droid. Incidentally, BB-9E made his first canon appearance this week in the pages of Captain Phasma #1 from Marvel Comics. More on that later!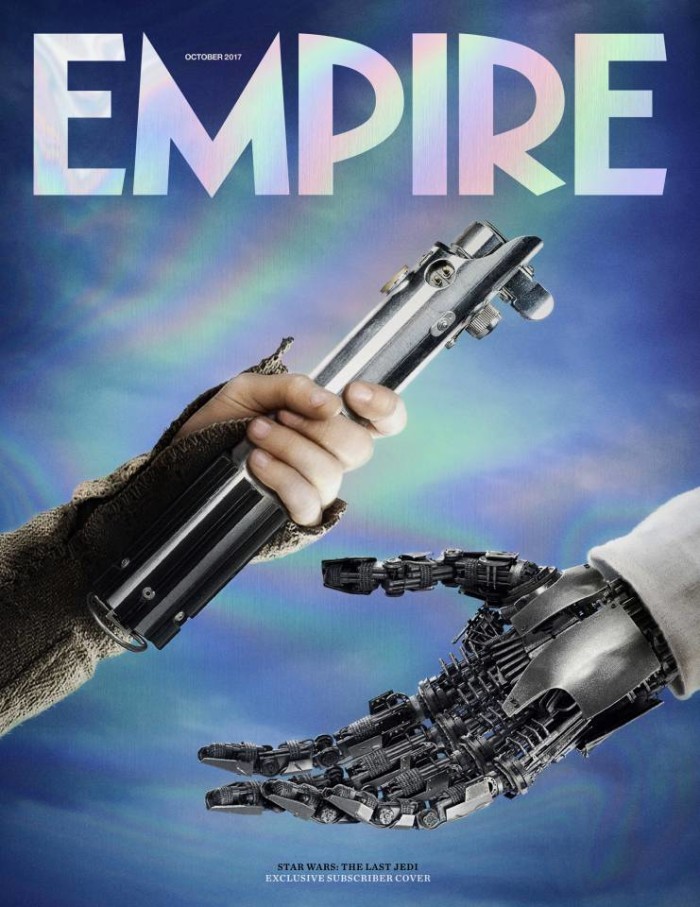 It's always awkward when Empire magazine features Rebels on the cover; alas, here we are again. Their holographic subscriber-only cover for their The Last Jedi blow-out issue will feature Rey handing the Skywalker lightsaber back to Luke's robotic replacement hand. Interestingly, as he sits in exile, he apparently no longer feels the need to wear a glove and even pretend it's a human component of himself anymore.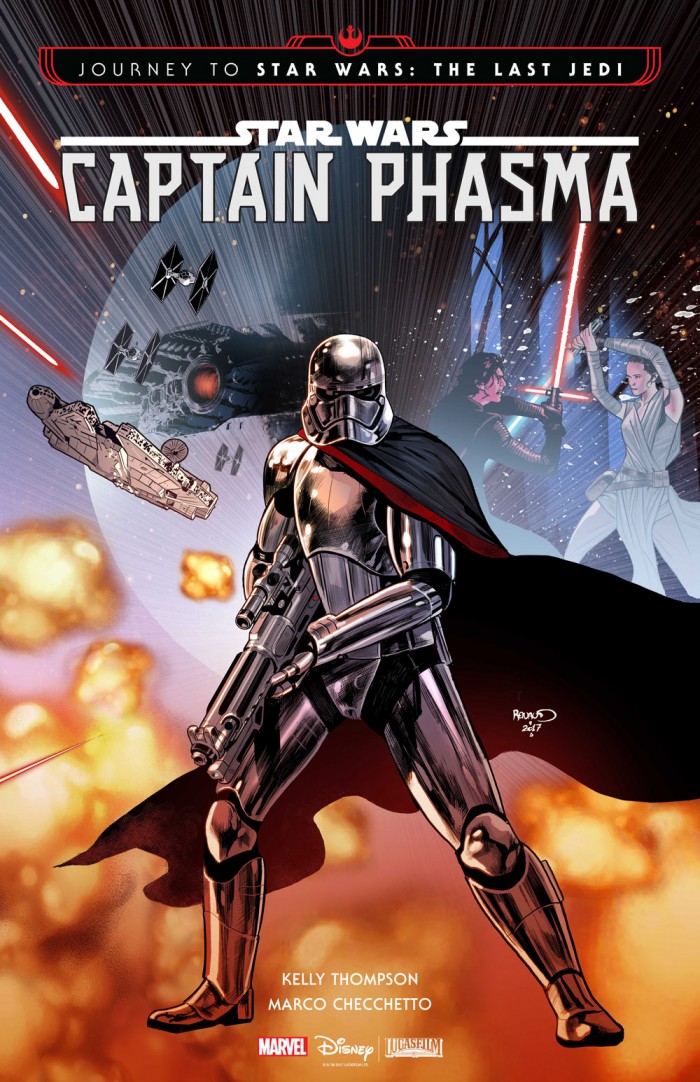 We told you Captain Phasma was all over this week, and we meant it. Phasma has a new novel, but she also has a new comic book mini-series! The comic is a great start, with the first in-canon appearance of BB-9E, so it's an instant collector's item. What's that? Star Wars isn't just about adorable droids? Wait, since when? Oh, okay. Anyway, it also tells the story of how Phasma broke out of the trash compactor and fled Starkiller Base before it went kablooey in The Force Awakens. In an interview with StarWars.com, writer Kelly Thompson explained Phasma's motivation:
"She will do whatever it takes to make sure she comes out alive, on top, and pristine. So as writer we just put a bunch of obstacles in her way to staying alive, staying on top, and staying pristine, and then we get to see her bulldoze her way through all of them. It's glorious."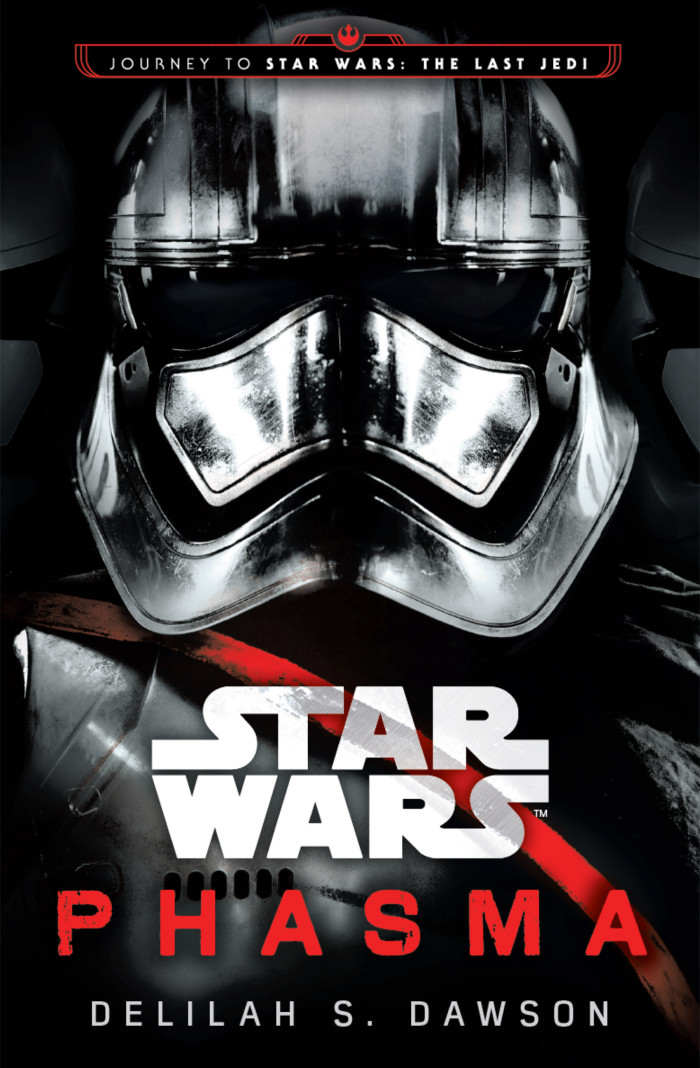 The official Star Wars site also has a new excerpt from the Phasma novel, and an interview with author Delilah S. Dawson. The excerpt deals with a captured Resistance agent named Vi, but more importantly reveals that the First Order calls the Resistance "Scum" just like the Empire did with the Rebellion. They copied everything didn't they?
In the interview (which does feature spoilers, so beware), Dawson gives some insight to the new characters introduced, like Vi and her captor the Cardinal. It also introduces Phasma's... Well, we'll just say relative and let you click through for the real spoilers if you want to, which you should, but only after reading the book, because it's very good.
What, you thought we were done with the Star Wars Blips? How dare you, sir or madam? We still have a PORG to fawn over! Porg + BB-8 + Chewbacca = instant success. If the whole of The Last Jedi is these three, it will make approximately 40 billion credits. No, we don't know what that translates to dollars so don't ask. PORGS.
Porg-lo... er, uh, Pablo Hidalgo retweeted the cover to the Star Wars: The Last Jedi visual dictionary, and it's glorious. The First Order Praetorian Guard is front-and-center. The Force Awakens visual dictionary is a tremendous book full of little tidbits we still reference today, so combing through this one the day of release will be a must. Make sure you click through for Heath's parody cover, too, which might be his funniest photoshop yet.
This week's Star Wars Show recaps Force Friday a bit, reveals an amazing new official Space Patch® from the ISS, and talks about the Star Wars Rebels season 4 trailer that totally didn't make me cry even on my tenth viewing of it. Seeing X-Wings and hearing Kanan and Hera talk about the end doesn't make me sob like a baby. Oh, and there's a new X-Wing. Yay! Guys, I have a confession: I cried at the Rebels trailer. Anyway, there'll be a new Star Wars: Galactic Nights at Disney World's Hollywood Studios on December 16, 2017. Yes, as in the day after the release of The Last Jedi. An exclusive panel there will reveal new info about the Star Wars lands at Disney parks so I'm going to go sell a kidney now to get there. Whew, this was a big entry, we've really been through a lot together now, huh?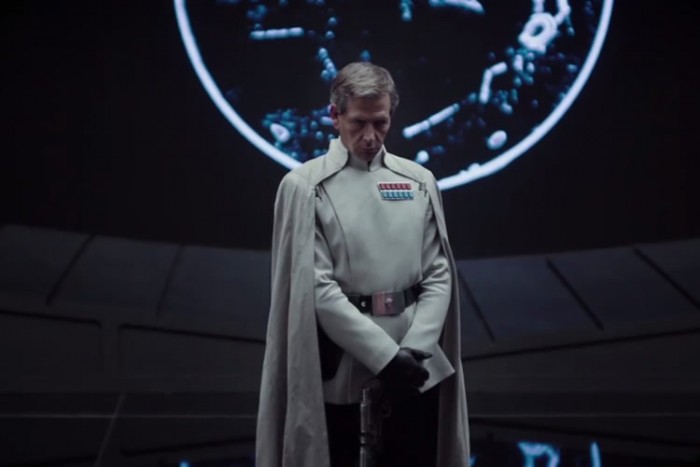 While Krennic gets a shoutout in the new – MAYBE EMOTIONAL TO CERTAIN PEOPLE – Star Wars Rebels season 4 trailer, don't expect him or his glorious Space Cape® to actually show up in the show. In fact, the glorious Space Cape® is to blame.
"Name-dropping," showrunner Dave Filoni told EW. "It's always fun to make it feel like it's part of this big world ... But the cape alone would be half my budget, just to make it flow."
Behind the scenes in a dark and strange new corner of the Galaxy #UntitledHanSoloMovie pic.twitter.com/8a6W6CUjII

— Ron Howard (@RealRonHoward) September 5, 2017
Intense & cool action scene on my monitors today as we make #UntitledHanSoloMovie pic.twitter.com/Iw27xGHkww

— Ron Howard (@RealRonHoward) September 6, 2017
Didn't think we forgot about Han Solo, did you? This little film keeps chugging along, and new(er) director Ron Howard keeps posting new looks from the set. These two posts show off a "new corner of the galaxy," and some action. Some cloudy, blurry action. To borrow from something else Howard was involved in, we think we see something brown, with points.
Oh wow I'm like the most casual of Star Wars fans but seeing these figures of Asian Am actresses made me literally tear up (📷: Keith Chow) pic.twitter.com/yjc9vKUsMW

— franny choi (@fannychoir) September 1, 2017
The Mary Sue has an excellent roundup of twitter posts like the one above from people thrilled at seeing some real Asian American representation in a franchise like Star Wars. Representation in science fiction, especially in Star Wars, has most definitely been underserved, but Lucasfilm has clearly made an effort toward fixing that, and it's not going unnoticed. Here's to continued progress.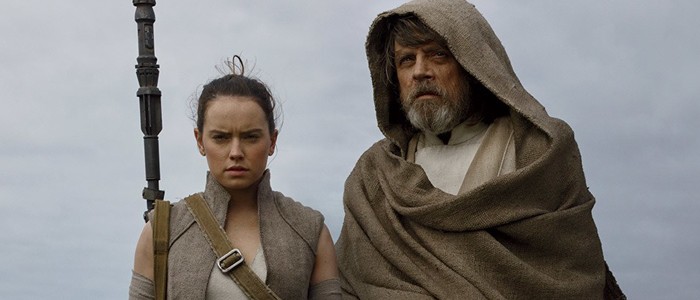 So, as MoviePilot points out, the new Topps cards may reveal more than just a very loose chronology of the events of The Last Jedi. It may also debunk a popular Rey theory. If you're still hoping Rey is related to Luke, well, you may be out of luck here – but we won't tell you the odds. Their thought is that, as the Topps cards reveal, if Luke went to Ahch-To in his X-Wing, he couldn't possibly also be the person who dropped her off in what was a different vehicle. Of course, that's also assuming Rey was dropped off at the exact same timeframe that Luke was putting himself in exile, so that's a lot of assumptions.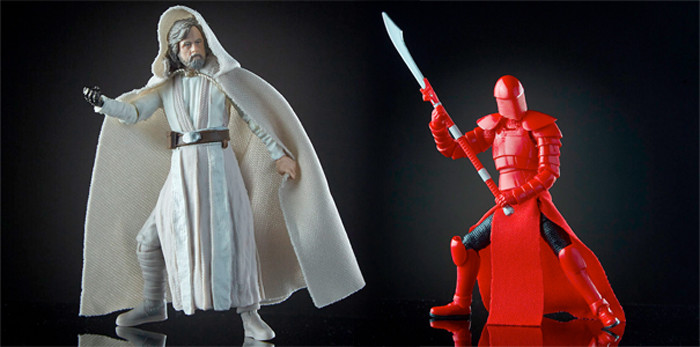 The new toys from Hasbro often feature a "Force Link" add-on that allow you to get some extra sound effects and dialogue that tease the events of The Last Jedi (and replay Force Awakens' biggest hits). There isn't anything major here like there was at the first Force Friday, but it's still fun to hear technically new stuff. ScreenRant has all the new dialogue for you in one convenient place. Feel the Force, y'all.
Lolz. I like to complete my films. https://t.co/Uj6RgKbo9V

— Taika Waititi (@TaikaWaititi) September 6, 2017
Several fans have suggested Taika Waititi as the new director of Episode IX, but, well, as you can see above, he's not exactly here for it. After that post, he said, "I'd be fired within a week." We're pretty sure that's tongue-in-cheek. Pretty sure.