'Haunters: The Art Of The Scare' Trailer: An Inside Look At The 'Scaring The Crap Out Of People' Industry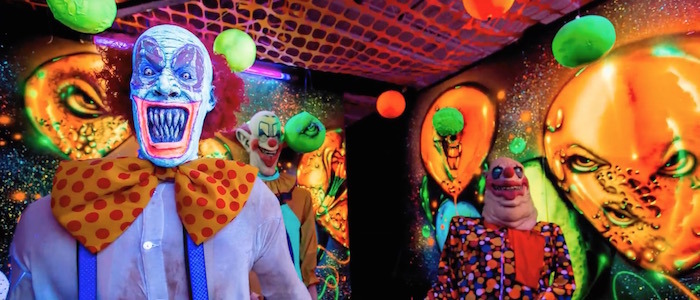 Sometimes, you see a trailer for a movie and can't help but wonder if it was made specifically for you. The trailer for Haunters: The Art of the Scare, a feature-length documentary about the world of professional haunted houses and the people who run them, feels like someone decided to make a movie for me and only me. This is my jam and I can't wait to watch it at Fantastic Fest next month.
Anyway, you can watch the Haunters: The Art of the Scare trailer below, too. You know, just in case you're also the kind of person whose heart beats a little faster when October rolls around because it means you'll soon be able to start hitting up the local haunted attractions.
Directed by Jon Schnitzer, the documentary showcases the increasingly divided world of professional haunted houses. In one corner, there are the more traditional experiences, the mazes where you wander through a themed area as actors in costumes pop out at you. In the other, there are new "extreme" experiences, which are more personal and put a visitor through a more punishing and emotionally upsetting series of scenes (our own Alex Riviello wrote about one these for us from the Overlook Film Festival). Because I'm a weirdo, I'm interested to see what kind of beefs exist between the two opposite ends of the haunted attraction industry.
In any case, the footage of people screaming as monsters jump out at them should make this movie worth seeing all by itself:
Interestingly, Haunters feels like a fascinating companion piece to another wonderful documentary. The American Scream is a heartwarming and incredibly entertaining look at amateur home haunters: people who transform their yards into walkthrough haunted houses every Halloween. These experiences are as rough around the edges as the houses in Haunters are slick and professional. I imagine this will make a terrific double feature.
This is all like crack to me. I used to work in a haunted house back in the day (and wrote about it for Esquire a few years ago) and have maintained my love for haunted attractions ever since. I feel like they are a collision of two of my favorite things: theme parks and horror. Haunters brings another one of my favorite things, cinema, into the equation. I can't wait to catch Haunters at Fantastic Fest later this month.
And you won't have to wait long to see it, either. Haunters hits digital download and Blu-ray on October 3, 2017, so you can check it out before you hit your local haunted houses next month. Here's my shout-out to House of Torment in Austin and Scream Hollow in Smithville. Feel free to share your favorite haunted house attraction in the comments below!
HAUNTERS: The Art Of The Scare is a heart-warming and heart-stopping documentary about how family-friendly haunted houses for Halloween have spawned a growing subculture of extreme horror simulations. What kind of person dedicates their life to turning other people's nightmares into reality, and how far is too far? Explore the rise of terror as entertainment, by going behind-the-screams and into the lives of Shar Mayer, legendary scare actor, Donald Julson, a traditional boo-scare maze designer, and the infamous Russ McKamey, as he creates the most controversial full-contact haunt of all time... in his own backyard.