'Sheena: Queen Of The Jungle' Reboot Is In The Works At Millennium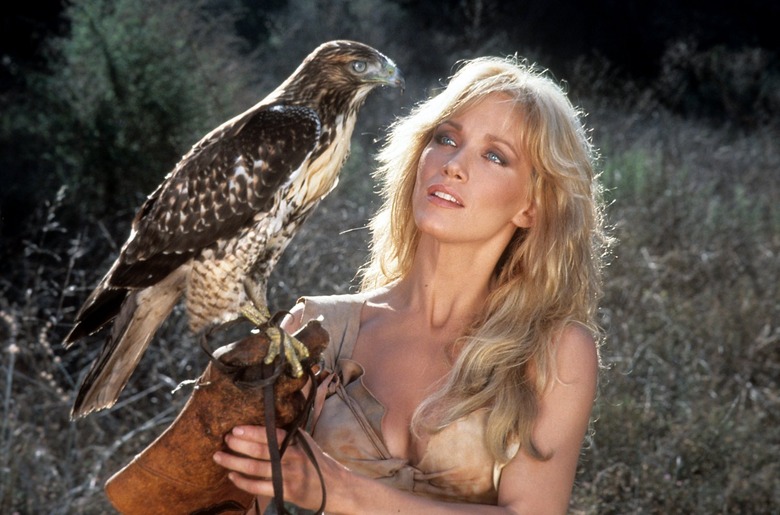 On the heels of the runaway success of Wonder Woman, studios are scrambling to find their own powerful female heroine to launch onto the big screen. Luckily Millennium Films didn't have to look far for their own: the titular heroine of Sheena: Queen of the Jungle has already been depicted three times before on both film and television.
Millennium's Sheena: Queen of the Jungle reboot will be more than just a rehash of what made Wonder Woman a huge hit. In fact, Wonder Woman could owe a bit to Sheena, who was debuted as the first female comic book character with her own solo title in 1938, preceding Wonder Woman by three years. Now the rest of the world — who aren't already aware of the pulpy action heroine from the '80s B-movie or the comics — will be introduced to one of the first female American pop culture icons.
Millennium is developing a Sheena: Queen of the Jungle reboot 33 years after her first big screen iteration played by Tanya Roberts hit theaters, according to Deadline. Millennium is targeting a 2018 production start for its reboot of Sheena.
While Sheena has deeper comic book roots than Wonder Woman, it may be tougher to bring the pulpy B-movie heroine to the modern age. The heroine may be hailed as "savior of paradise" who can communicate with wild animals and fight tooth-and-sword with hunters, but the bulk of Sheena's story is still about her riding around in a skimpy bikini and espousing colonialist attitudes. While she may be the first comic book heroine to have her own solo title, Sheena is part of a long line of scantily clad "jungle girls" — the female counterpart to the Tarzan archetype — who graced the covers of pulp paperbacks for decades. It's an endlessly fascinating genre that acts as a great study of the time period from which they were borne, but makes Sheena harder to translate to modern day.
Still, if the bondage roots of Wonder Woman can be streamlined into the highest-grossing blockbuster of the summer with a $813.2 million worldwide haul, I'm sure Sheena can swing into the 21st century.
Ironically, Sheena had more live-action adaptations than Diana Prince has, first portrayed by model Irish McCalla in a 1955 first-run syndication series Sheena: Queen of the Jungle, which ran for 26 episodes. Sheena received another TV adaptation in 2000-2002, played by Gena Lee Nolin as a shape-shifting killer who can take the form of animals. Her most famous and lasting portrayal however, was in the 1984 movie Sheena, immortalized by Roberts galloping atop a zebra across a sandy dune in a two-minute opening credits sequence as serene music played in the background. Yep, it's as B-movie as you could get.
Sheena has been recently brought back in comic book form as well, with Dynamite Entertainment publishing a new Sheena run by Batwoman and DC Comics Bombshells' writer Marguerite Bennett, newbie writer Christina Trujillo, and interior artist Moritat. The series seems like an adoring homage to the original Golden Age comic, so there's little chance of seeing how a modern interpretation of Sheena might go on the big screen.
Millennium's Sheena will be produced by Avi Lerner, Trevor Short, Joe Gatta, Boaz Davidson and John Thompson, according to Deadline, as well as Lati Grobman and Christa Campbell.