'Justice League' Still Undergoing Reshoots? Or Are The Amazons Coming To 'Aquaman'?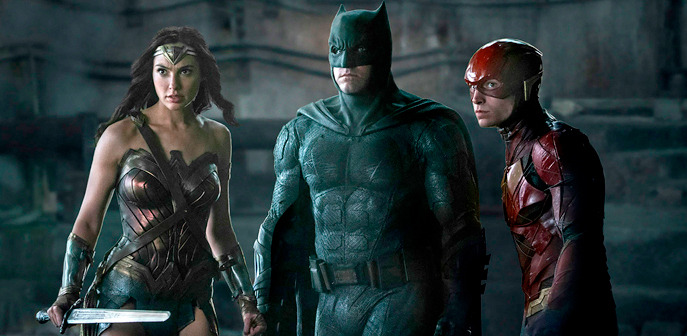 There are merely two months to go until the embattled Justice League hits theaters, but is the superhero team-up film still undergoing reshoots? If so, that's got to be a record crunch time. If not, it means Wonder Woman may be coming to James Wan's Aquaman.
With Joss Whedon overseeing the reshoots for Zack Snyder's Justice League as it goes through a mid-movie pivot to Warner Bros.' new "optimistic," less gritty mantra, we can't help but wonder if this movie may be cracking under the burden. Hopefully, the last-minute additions are not an indication of doom, but of better, more action-packed things to come. Hopefully.
Swedish kickboxer/MMA fighter Madeleine Vall Beijner was one of the many athletes recruited to play the Amazons who populated Themyscira, the home of Gal Gadot's Diana, known as Wonder Woman. With Wonder Woman just about out of theaters and coming soon to Blu-ray/DVD, and Wonder Woman 2 not yet in production after director Patty Jenkins' lengthy negotiations with Warner Bros. to direct the sequel, it seemed like Beijner would go back to her day job, right? Not so much, according to her Instagram.
Beijner announced on an Instagram post on Monday that she is going back to Italy to film scenes in "Themiscyra" with her fellow "badass Amazon warriors" in "less than 3 weeks" (via Batman-on-Film). Process of elimination — plus the reports that Whedon is increasing Diana's role in the film with the inclusion of a flashback set on Themyscira.
In less than three weeks I will be reunited with these badass amazon warriors again!! ?????????? Also, in Themiscyra (Italy) at the same location where we were shooting the movie #WONDERWOMAN.???????? Can't wait to go back! Can't wait to see you guys @hayleyjanewarnes @harijamespt !! ???? #wonderwomanmovie #amazon #warrior #queensguard #antiope #crew #soldier #general #captain #themiscyra #italy #warnerbros #training #stuntactor #stunt #horseriding #fighter ??
A post shared by Madeleine Vall Beijner (@madeleinevallbeijner) on
Beijner included "Antiope," the Themysciran general and Diana's aunt memorably played by Robin Wright, in her hashtags, which also supports the theory that she'll be filming the flashback scene on Themyscira, which would heavily feature the character. The flashback will reportedly introduce the movie's Big Bad Steppenwolf on Themyscira first, where is Boom Tube takes him to Earth. Beijner and Wright will likely take part in a huge battle of the Amazons against Steppenwolf — which will lead to Diana bringing knowledge of the alien villain to the team in Justice League.
Update: It is also possible that this is not for Justice League. Fans have pointed us to the following screenshot, in which someone reached out to the actress to ask her if she was indeed referring to Justice League: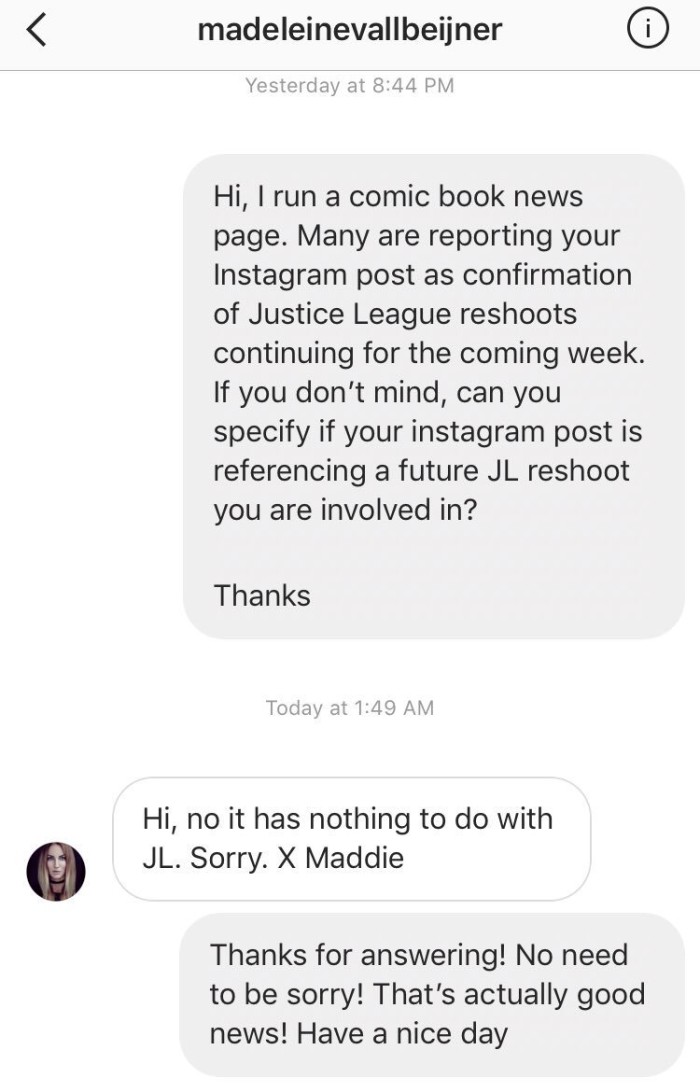 But I'm not sure that alone is enough to debunk the intial reports. I can very easily imagine a situation in which Warner Bros. decided not to order Maddie to delete her post for fear of essentially confirming the story, and maybe they just told her to deny it if anyone asked her about it.
But there's yet another possibility: Maddie could have been referring to filming on James Wan's Aquaman, as Wan was seen scouting a location in Italy a few months ago in Southern Italy, near where Wonder Woman filmed its Amazon sequences.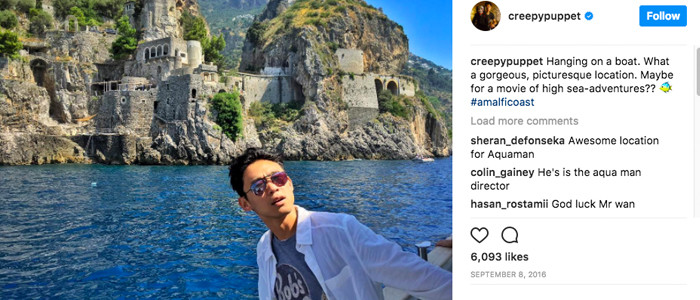 Perhaps there's a scene in Aquaman in which an Atlantean meets up with the Amazons? It's certainly plausible since those two races are both ancient in the comics.
Justice League is slated to hit theaters November 17.