'Mudbound' Trailer: Dee Rees Returns With An Award Worthy Family Epic In The Deep South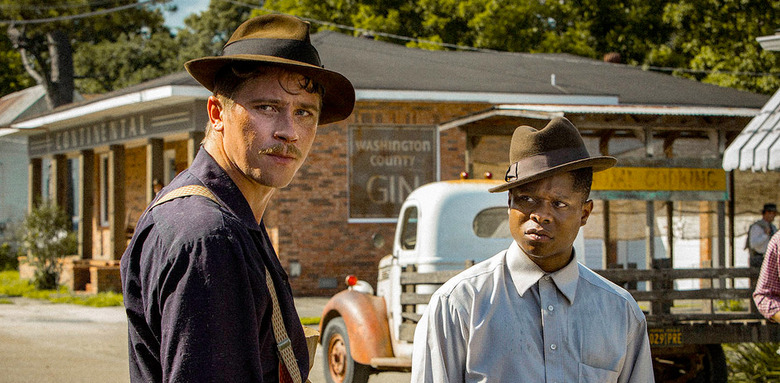 Right now we're in a bit of a dead zone for theatrical release,s with most movies released this month being neither good enough for a summer blockbuster release or hopeful enough for a debut during awards season. But plenty more of the latter movies are just around the corner, and Netflix has just debuted the first teaser trailer for what could turn out to be a major contender for Academy Awards.
Mudbound is an adaptation of Hillary Jordan's prize-winning 2008 novel of the same name, which tells the story of two families both at odds and tied together while struggling to get by in the racially divided Deep South during World War II. The film features an impressive ensemble cast that includes Jason Clarke, Carey Mulligan, Rob Morgan, Mary J. Blige, Garrett Hedlund, Jason Mitchell and Jonathan Banks, all turning in award worthy performances. Get a look at the movie with the Mudbound trailer below.
Watch the Mudbound Trailer
Even if you didn't know Mudbound was based on a novel, it feels like it through and through, complete with multiple narrators creating a William Faulkner-esque narrative that could easily fill a miniseries. But somehow, director Dee Rees (Pariah, Bessie) manages to keep everything in order and make every single moment of this drama compelling and harrowing.
Perhaps the most remarkable element of the film though are the performances from each and every actor in the cast. Garrett Hedlund turns in a surprisingly great turn as Jamie McAllan, a solider just returned home from the war, struggling with PTSD. Jason Mitchell shines as Ronsel Jackson, a fellow soldier who has coped a little better with life after the war and becomes unlikely friends with Jamie, despite the racist warnings from his grandfather (Jonathan Banks).
But the most surprising performance comes from Mary J. Blige, who is not only nearly unrecognizable in this movie, but delivers an Oscar-worthy turn as Florence Jackson. The Grammy-winning singer has dabbled in acting here and there, but she's never given us a breakthrough performance like this. There will undoubtedly be a major campaign for her to get some recognition from the Academy this year.
Mudbound is a complex family drama weaving a rich tapestry of social struggles, complicated relationships, and intense drama. This could be Netflix's big awards contender this year, and hopefully it ends up getting more attention than Beasts of No Nation did. For more, you can read our full review by Angie Han from the 2017 Sundance Film Festival earlier this year.
Set in the rural American South during World War II, Dee Rees' Mudbound is an epic story of two families pitted against one another by a ruthless social hierarchy, yet bound together by the shared farmland of the Mississippi Delta.
Mudbound follows the McAllan family, newly transplanted from the quiet civility of Memphis and unprepared for the harsh demands of farming. Despite the grandiose dreams of Henry (Jason Clarke), his wife Laura (Carey Mulligan) struggles to keep the faith in her husband's losing venture. Meanwhile, Hap and Florence Jackson (Rob Morgan, Mary J. Blige) — sharecroppers who have worked the land for generations — struggle bravely to build a small dream of their own despite the rigidly enforced social barriers they face.
The war upends both families' plans as their returning loved ones, Jamie McAllan (Garrett Hedlund) and Ronsel Jackson (Jason Mitchell), forge a fast but uneasy friendship that challenges the brutal realities of the Jim Crow South in which they live.
Mudbound hits Netflix and select theaters on November 17, 2017.