'Spider-Man: Homecoming' Hits 4K Ultra HD, Blu-Ray & DVD In October, Digital Download In September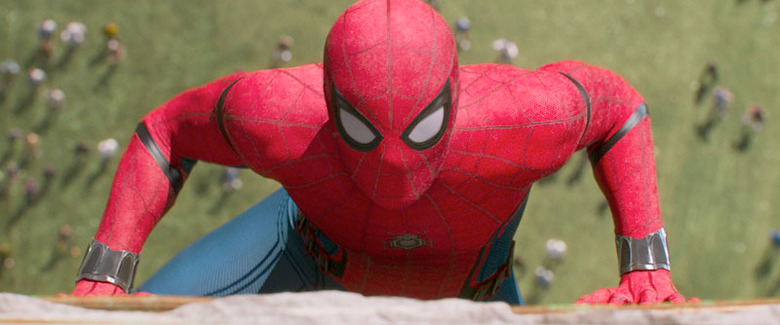 Right now Spider-Man: Homecoming is still in theaters, pulling in $325 million at the domestic box office so far, but it's almost time for the film to be done with its theatrical run. That means it will soon be time for fans to bring Spidey home, and Sony Pictures Home Entertainment just announced when that will happen.
Spider-Man: Homecoming will be coming to 4K Ultra HD/Blu-ray, Blu-ray 3D, Blu-ray and DVD in October, but it will arrive on digital download this month. Find out exactly when you can get the version of your choice and what special features will be included on the release below.
First up, here's a look at the Spider-Man Homecoming Blu-ray cover art, which doesn't happen in the movie: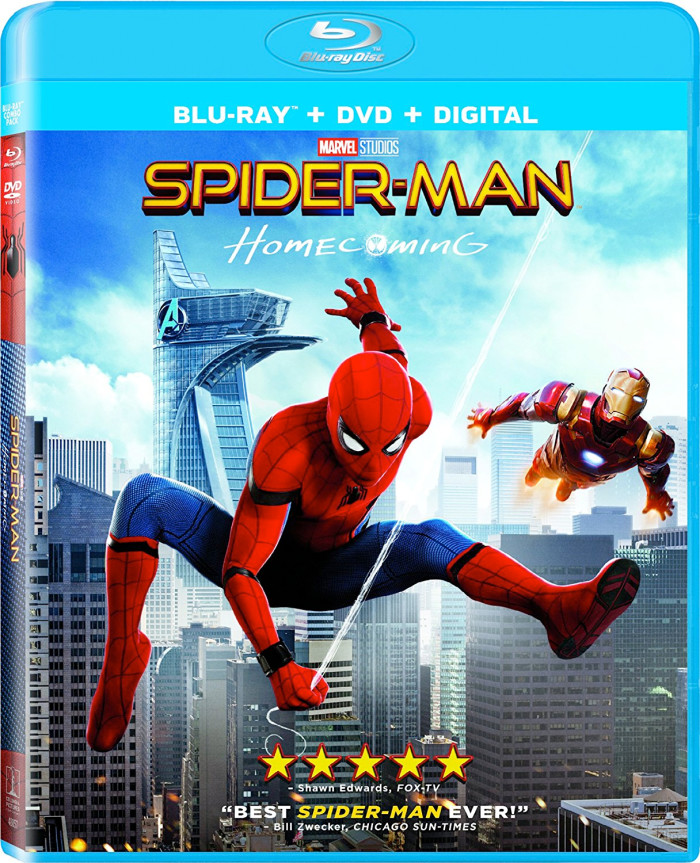 The home video release of the Marvel Studios and Sony Pictures co-production starring Tom Holland, Michael Keaton and Robert Downey Jr. doesn't have a ton of special features, with only just over an hour of bonus material in the form of featurettes, deleted scenes, a gag reel and more. Easily the best special feature will be four alternate Captain America PSAs that weren't seen in the movie, since the little videos featuring Chris Evans were a comedic highlight of the film.
A sneak peek at the special features from the home video release was posted on Twitter:
#SpiderManHomecoming swings into your home on Digital September 26 and Blu-ray October 17! https://t.co/x38GwtYeyn pic.twitter.com/vLd29aBS9i

— Spider-Man: No Way Home (@SpiderManMovie) September 5, 2017
Here's the full list of special features you'll find on the Spider-Man: Homecoming home video release:
The Spidey Study Guide – An entertaining pop-up factoid track with facts on the movie in relation to the comics that Spidey fans will love
"A Tangled Web" – Kevin Feige details how Homecoming came to be and its integration in the constantly evolving Marvel Cinematic Universe
"Searching For Spider-Man" – Explores the casting process and what makes Tom the perfect Peter Parker as witnessed from his audition tape
"Spidey Stunts" – Meet Homecoming's adrenaline-craving stunt specialists as they crawl, swing and leap from great heights, and discover why Tom Holland rarely needed a stunt double.
"Aftermath" – Features Kevin Feige and the producers filling in the blanks between the Battle of New York and where Homecoming begins
"The Vulture Takes Flight" – Explore Michael Keaton's villainous turn and learn why he demands Peter Parker's fear and respect.
"Jon Watts: Head of the Class" – Fans catch up with the visionary director on the set, while he manages colossal set pieces, a massive crew and the daunting task of reintroducing one of Marvel's most beloved characters
"Pros And Cons of Spider-Man" – Tom Holland and Jacob Batalon (Ned) discuss the humorous realities of life with superpowers
Rappin' with Cap: Captain America PSAs
So when can you get your hands on all this wallcrawling goodness? Spider-Man: Homecoming will hit digital download first on September 26, 2017, followed by a release on 4K Ultra HD/Blu-ray, Blu-ray 3D, Blu-ray and DVD on October 17, 2017.