Darren Aronofsky's 'Mother!' Early Buzz: A Delirious, Divisive Horror Movie Designed To Attack Its Audience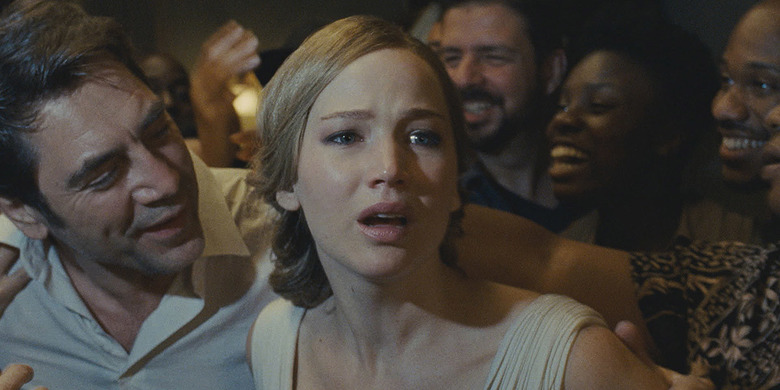 The mother! early reviews are out and critics are both perplexed by and in praise of Darren Aronofsky's insane sensory assault of a movie.
The psychological horror film about a couple played by Jennifer Lawrence and Javier Bardem who suddenly find themselves hosting suspicious strangers at their remote home (Ed Harris and Michelle Pfeiffer), debuted at the Venice Film Festival on Monday, and left critics reeling from the experience. But despite the bafflement of many critics — many of whom could only really say "WTF" in reaction — it seems like the overall response was actually quite positive.
Check out what some of the early mother! reviews have to say below.
Owen Gleiberman at Variety calls mother! a "head trip" that leaves viewers feeling assaulted by the experience. However, he questions whether there's any meaning lurking down the "rabbit hole" or if it's simply an exercise in chaos:
"mother! is a nightmare played as a hallucination played as a theater-of-the-absurd video game that seems to descend, level by level, to more and more extreme depths of depraved intensity. You could say that Aronofsky is drawing on The Shining (the isolated setting and Bardem's stony resentment) and also on Rosemary's Baby, the greatest of all paranoid horror films. If so, however, he heads right for that film's in-your-face, party-with-the-devil final scene ('Hail Satan!'), which director Roman Polanski took an entire two-hour movie to work up to. That movie was a bad-dream vision of pregnancy in which Rosemary paid the price for her trust and naïveté. But what, exactly, is the sin Lawrence is paying for?"
Indiewire called mother! Aronofsky's most daring film yet, which is a bold statement for a director who has been known for his trippy and traumatizing fare like Requiem for a Dream and Black Swan. But even more mystifying is Ben Croll's horrifying implication that mother! is vaguely autobiographical, which may explain even further Aronofsky's mindset:
"mother!" begins as a slow burn and builds toward a furious blaze. Awash in both religious and contemporary political imagery, Darren Aronofsky's allusive film opens itself to a number of allegorical readings, but it also works as a straight-ahead head rush. Not just another baroquely orchestrated big-screen freak-out in the vein of "Black Swan" (though it is very much that), the film touches on themes that — if too hazily figurative to be in any way autobiographical — at least tread on factors in the director's own life.
The Hollywood Reporter's Todd McCarthy singles out the film's third act as the point in which it becomes "a madhouse bacchanal," and praises the film's stars, especially Lawrence, for maintaining solid performances as the film just gets more insane. However, he was critical of the film's plot contrivances:
"Writer-director Darren Aronofsky wants to have his commercial cake and chomp down on some vexing personal issues, too, in mother!, a very Rosemary's Baby-like intimate horror tale that definitely grabs your attention and eventually soars well over the top to make the bold concluding statement that, for some creators, art is more important than life. How the film's compelling star Jennifer Lawrence may feel about this sentiment is another matter, but this is a tale that, like any number of fanciful genre outings, both pulls you in with its intriguing central dramatic situation and pushes you out with some mightily far-fetched plot contrivances."
ScreenDaily also mused how unusual it was for Paramount to have picked up such an unhinged film, but predicted that it could be mainstream enough for Lawrence to pick up some awards buzz:
"mother! is a personal, end-of-days statement which expresses the angst of these times as well as a deep-seated and bloody loathing for them. It's an unusual studio picture from Paramount: like much the rest of Aronofsky's work it will divide and stimulate audiences and critics, but should still be hailed as an original, strikingly unconventional piece on its US commercial release September 15 (shortly after its Venice and Toronto premieres). Awards play seems likely, particularly for Aronofsky's muse Jennifer Lawrence, embodying and responding to all his considerable neuroses, fears and desires, as an artist, a lover, and a citizen of the planet."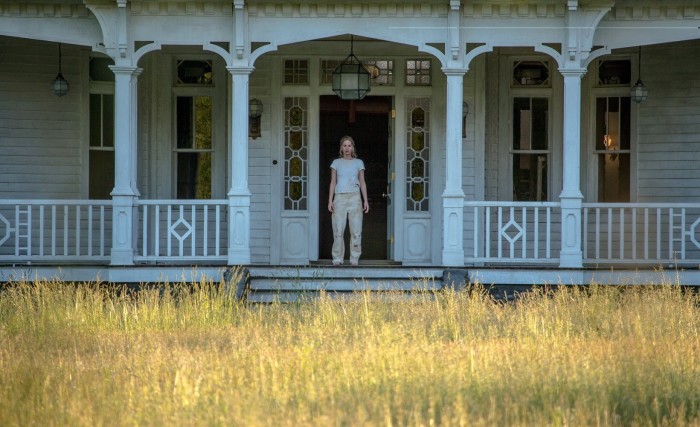 The Telegraph's Robbie Collin painted a vivid picture of both the film and the Venice Film Festival's reaction to it, but was all praise when it came to describing how mother! was a "surrealist, symphonically berserk feast of filth":
"T

here's no question Aronofsky has made something that will turn some dizzy with delirium while others retch on its fumes. (The Venice audience curdled cleanly down the middle: half cheers and half boos, with one particularly furious critic yelling about Buñuel in Spanish.) But for me, the former is the only possible response. This is a mad, transfixing, rolling thunder-crash of a film – What To Expect When You're Expecting by way of Goya's Disasters of War – that holds its considerable nerve until the final cut to black."
First Showing predicted that the film would be incredibly polarizing, but as with the sign of any excellent film, is "going to be discussed and debated endlessly in great depth."
"It's a very bold, straight-in-your-face attempt to address many of the world's problems by using various characters and one house as a metaphor for, well, the world we live on. Darren doesn't hold back, letting it build and build into something so breathtaking and shocking, it's hard not to love it, unless you've missed the entire point of it. This is the slap in the face society needs right now."
Confused about the exclamation point nestled at the end of the title? The Playlist review says mother! more than earns it, with Jessica Kiang's review slowly disintegrating into onomatopoeia.
"An incendiary religious allegory, a haunted-house horror, a psychological head trip so extreme it should carry a health warning and an apologia for crimes of the creative ego past and not yet committed, it's not just Aronofsky's most bombastic, ludicrous and fabulous film, spiked with a kind of reckless, go-for-broke, leave-it-all-up-there-on-the-screen abandon, it is simply one of the most films ever. Seldom has a title ever earned its exclamation point in more emphatic fashion. In fact, it deserves a few more, so here they are: !!!!!!!!!"
Marlow Stern at The Daily Beast neatly summarizes the film as "the most WTF movie of the year," dropping a bit of a spoiler early into his review:
"In mother!, the latest film from director Darren Aronofsky, [the exclamation point] comes laced with similar portent, and as the title credits roll, separates from its subject before both vanish into the ether. Are you scared yet? Well, how about an augury of death to top things off: the image of its star, Jennifer Lawrence, burning in flames. The message is clear: this is a film designed to f— with you. And f— with you it does."
Collider reiterated the "WTF" descriptor and praised Lawrence again for her "intrinsically gutsy" performance, but was one of the few reviews to not be as overtly rapturous about the film:
"mother! isn't quite as fascinating as it thinks it is, and the hellish setting perhaps goes too far, but it is relentless and it sure is something that needs to be experienced. The camera work and sound work alone is revelatory. It's extremely adventurous and is willingly open to both praise and snickers. What was fascinating, for me, was how the audience I saw it with reacted so primal, not too different from the freakish audience in the movie. I was surrounded by shrieks, yawns, laughter, smiles and a man who yelled "fuck you" at the screen as soon as the credits started. You'll either get something you want from mother! or you'll feel like you were robbed. You'll leave the theater spit out into the world with a spinning head and an itch to assemble the puzzle. And I think that's pretty exciting for the current studio climate. Nothing is safe about mother! And that's thrilling for an artist like Aronofsky."
The film seems like it will deliver what you would expect from an Aronofsky film: aggressively mind-boggling, harrowing cinema that is elevated by compelling performances from its lead actors, specifically the always reliable Jennifer Lawrence.
mother! is that and more, with a film that threatens to overcome Aronofsky's most infamous works as the most demented and mad film of his repertoire. There isn't much left to surmise without knowing about this cryptic third act in which the lunacy of the film truly gets unleashed. The only thing that we can prepare to be is truly, truly, disturbed.
mother! hits theaters September 15, 2017.