'The Snowman' International Trailer: Michael Fassbender Hunts A Grisly Serial Killer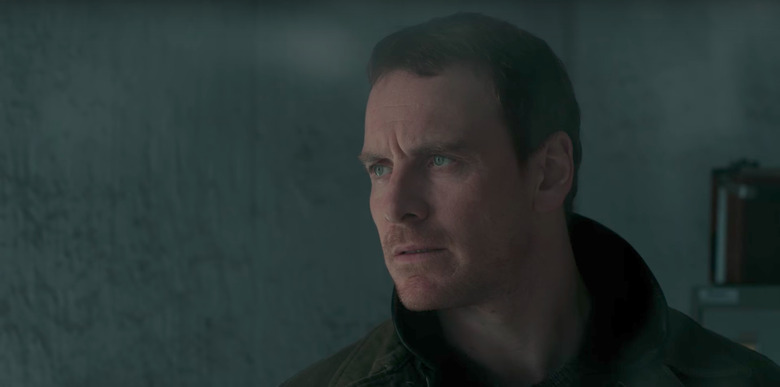 While the first official trailer for The Snowman offered a tantalizing look at Michael Fassbender's hunt for a serial killer with a chilling trademark, the international trailer delivers even more gore and intrigue.
The adaptation of Norwegian crime novelist Jo Nesbø's novel by Swedish director Tomas Alfredson (of Let the Right One In and Tinker, Tailor, Soldier, Spy fame) promises to be more than just a typical murder mystery set in a desolate snowscape, which is beginning to become a startlingly popular genre lately.
Much like the first trailer, Fassbender is the detective tasked with finding the serial killer targeting and beheading women, taunting the police with the heads of his victims placed on crudely-made snowmen. He's joined by Rebecca Ferguson as his upstart partner, and the two of them uneasily follow the trail that "the Snowman" leaves for them.
The difference in this international trailer, aside from the abundance of gore, is the revelation that the killer is reporting his future victims to the police as "missing" before moving in — adding another layer of heightened tension to the story.
Fassbender and Ferguson are joined by an all-star cast including Charlotte Gainsbourg, J.K. Simmons, and Val Kilmer.
The story and director's Scandinavian roots will inevitably draw comparisons to Stieg Larsson's Sweden-set The Girl With The Dragon Tattoo, which also followed a serial killer who targeted women in an isolated snowy enclave. The Snowman does feel to me like it's replicating the elements that made The Girl With The Dragon Tattoo successful, except without the presence of a striking character like Lisbeth Salander (played with a jackhammer-like presence by both Noomi Rapace in the Swedish version and Rooney Mara in Fincher's American version). While Ferguson is undoubtedly talented, she seems to be playing no more than the spunky newbie detective who plays second fiddle to Fassbender's lead. But Alfredson is a prestigious director who could yet turn this story into another acclaimed film.
Here's the official synopsis for The Snowman:
Michael Fassbender (X-Men series), Rebecca Ferguson (Mission: Impossible—Rogue Nation), Charlotte Gainsbourg (Independence Day: Resurgence), Val Kilmer (Heat) and Academy Award winner J.K. Simmons (Whiplash) star in The Snowman, a terrifying thriller from director Tomas Alfredson (Let the Right One In, Tinker Tailor Soldier Spy), based on Jo Nesbø's global bestseller.
When an elite crime squad's lead detective (Fassbender) investigates the disappearance of a victim on the first snow of winter, he fears an elusive serial killer may be active again.  With the help of a brilliant recruit (Ferguson), the cop must connect decades-old cold cases to the brutal new one if he hopes to outwit this unthinkable evil before the next snowfall.
The Snowman hits theaters on October 20, 2017.