'Lady Bird' Trailer: Saoirse Ronan Soars In Greta Gerwig's Solo Directorial Debut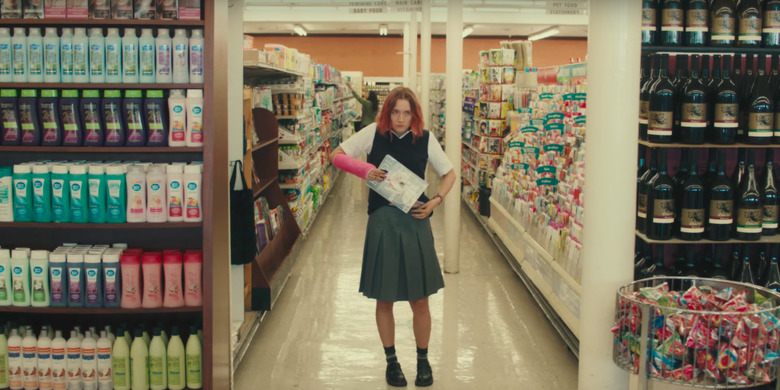 Greta Gerwig is passing down her mumblecore crown to Saoirse Ronan in her semi-autobiographical film, Lady Bird.
The indie darlings team up in the coming-of-age film replete with quirky shenanigans and whimsical musings on life, with Ronan starring in the Gerwig-surrogate role as a stubborn aspiring bohemian who clashes with her equally strong-willed mom (Laurie Metcalf).
A24 has done it again, showing off what looks like a compelling coming-of-age film that showcases the talent of the women behind and in front of the screen. Ronan plays Christine "Lady Bird" McPherson, an obstinate high schooler who wants nothing more than to escape her small California town and go somewhere "cultured" like New York or the woods where New England writers retreat. She rejects everything about her life and town, including her mother, who has more in common with Lady Bird than she would like to believe.
Ronan is one of the best rising talents today, and this movie seems to show off a new side of the usually subdued Irish-American actress. It's a side to Ronan that I've certainly never seen before, being used to her wonderfully nuanced and subtle performances in Brooklyn and Atonement. Playing the obstinate "Lady Bird," who will jump out of a moving car to prove a point or change her given name to distance herself from her small town roots, Ronan is electric in the Lady Bird trailer and proves that she is worthy of portraying Gerwig's fictionalized self.
She is supported by performances from Metcalf and Tracy Letts, who plays her father. The film also features the new indie It Boy Timothée Chalamet of Call Me By Your Name fame, and Lucas Hedges (Manchester By the Sea).
The one thing missing from the trailer is Greta Gerwig, who has made her name as the face of tormented free spirits everywhere, playing such characters in films like Frances Ha or Mistress America. Though we don't get a glimpse of Gerwig throughout the film, her eccentric aura oozes out the trailer thanks to Ronan's droll delivery and Gerwig's screenplay and direction. This is Gerwig's directorial debut as a solo director, having co-directed Nights and Weekends with Joe Swanberg. Ronan's performance propelled the movie to its buzzy premiere at the Telluride Film Festival, and her dynamic turn will likely gain more Oscar buzz as the film makes its Toronto Film Festival and the New York Film Festival premieres.
Here's the official synopsis for Lady Bird below:
In LADY BIRD, writer/director Greta Gerwig reveals herself to be a bold new cinematic voice with her directorial debut, excavating both the humor and pathos in the turbulent bond between a mother and her teenage daughter.  Christine "Lady Bird" McPherson (Saoirse Ronan) fights against but is exactly like her wildly loving, deeply opinionated and strong-willed mom (Laurie Metcalf), a nurse working tirelessly to keep her family afloat after Lady Bird's father (Tracy Letts) loses his job.  Set in Sacramento, California in 2002, amidst a rapidly shifting American economic landscape, Lady Bird is an affecting look at the relationships that shape us, the beliefs that define us, and the unmatched beauty of a place called home.
Lady Bird is set to hit theaters November 10, 2017.