'Jerry Before Seinfeld' Trailer: The Comedian Tells His Earliest Jokes On Netflix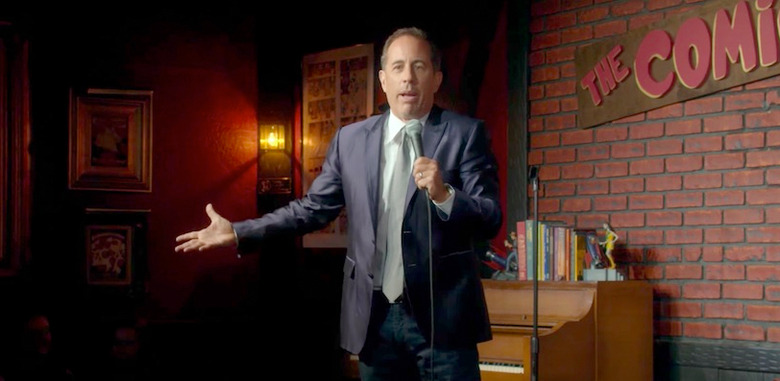 Jerry Seinfeld is a stand-up comedy legend. The comedian's self-titled sitcom that he created with Curb Your Enthusiasm mastermind Larry David is one of the most successful network comedies of all time, which is impressive for a show that is famously about nothing. Plus, it's kind of the inspiration for all the sitcoms following stand-up comedians that have been made in the years since. Seinfeld has yet to return to television with another original series, but he's doing the next best thing by putting together a new stand-up special that will be available exclusively on Netflix.
Jerry Before Seinfeld is the first stand-up special in a new deal that the comedian struck with Netflix that includes an additional stand-up special and the rights to the web series Comedians in Cars Getting Coffee. What's great about this new special is it looks like it shares some traits with Jerry Seinfeld's outstanding stand-up documentary Comedian, in what it reveals about Seinfeld's early years behind the mic. Watch the trailer below for a sneak peek.
Watch the Jerry Before Seinfeld Trailer
In this new stand-up special, the material from his set focuses in part on his early years as a comedian. From his time spent on stage at The Comic Strip to his first appearance on The Tonight Show with Johnny Carson, we're going to find out a lot about Seinfeld's early comedy career. The comedian is even so bold as to tell some of his earliest jokes that he wrote down on legal pads to perform in comedy clubs. That's something many comedians would be infinitely embarrassed to do, but I'm sure Seinfeld will mine that material for new jokes to poke fun at himself.
Outside of the special itself, it looks like there will be plenty of archival material from some of Seinfeld's earliest performances, some of which has never been seen before by the viewing public. Essentially, this feels like a spiritual sequel of sorts to Comedian, which provided a candid look at the life of a comic on the road, and what it takes to get up on that stage and tell jokes in front of hundreds, sometimes thousands of people.
Jerry Seinfeld has never been one of my favorite stand-up comics, but I still enjoy his work. This trailer actually has me more excited than I otherwise might be if it was just your average stand-up special with a comic on stage telling jokes. Of course, Seinfeld is still doing that, but it's the added bonus of comic history that comes with it that I'm most interested in seeing.