See The New Trailer For 'Star Wars Rebels' Fourth And Final Season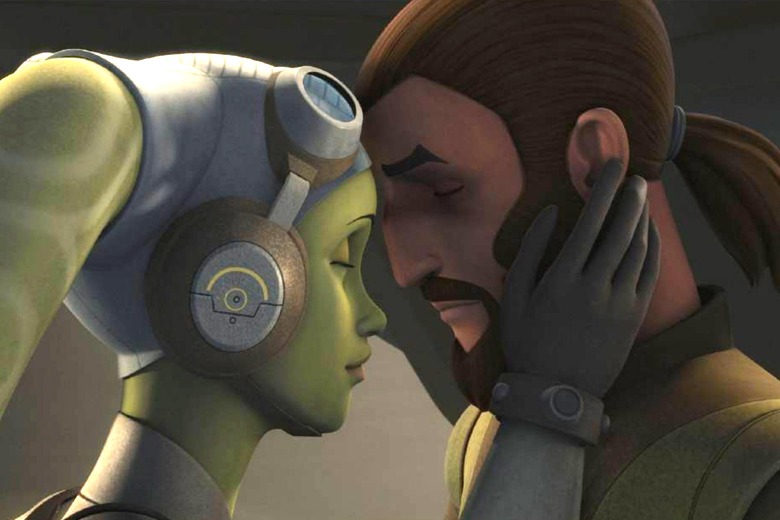 The Rebellion is far from over, but it's time for Star Wars Rebels...to end.
The Disney XD series will wrap up its fourth and final season, following the weary and embattled crew of the Ghost as they finally join up with the larger Rebellion that we know from the original trilogy. The new trailer for the fourth season teases just that, as well as more Thrawn and surprise appearances from the Imperial villains of Rogue One.
The trailer touches base with all of the crew members of the Ghost, with Mandalorian warrior Sabine Wren (Tiya Sircar) paying back her people for their help, aspiring Jedi Ezra Bridger (Taylor Gray) seeking out guidance from the Force and encountering some mystical Force wolves, Kanan Jarrus (Freddie Prinze Jr.) struggling to cope with his blindness, and Ghost pilot Hera Syndulla (Vanessa Marshall) seeing her career in the Rebellion begin to take off.
Star Wars anthology film Rogue One will play a more prominent part in this season, as Star Wars Rebels follows the timeline just before Rogue One takes place. One such connection is Director Orson Krennic, the Death Star special weapons supervisor played by Ben Mendelsohn, getting name-dropped in the trailer — though don't expect to see an animated Mendelsohn grace the series with his appearance.
It's always fun to make it feel like it's part of this big world," Star Wars Rebels executive producer Dave Filoni told Entertainment Weekly in an interview about the upcoming season. "But the cape alone would be half my budget, just to make it flow."
However, Rogue One character Saw Gerrera (with Forest Whitaker returning to voice the character), whose appearance was cut short in the film, will appear in the series to investigate the possibility of an unknown superweapon being built near Geonosis, according to EW.
But what of the crew of the Ghost, who we have followed for three seasons? They are still recuperating from their great battle with Thrawn, who will still act as the Big Bad of the season despite the Rogue One villains circling the story. Dave Filoni told EW:
"I don't think of them at the end of season 3 as too victorious, as much as they just got away. They lost a lot of resources, they lost the initiative to have an attack to free the world of Lothal or knock out the Imperial factory there. In the end, yes they got away, but that's kind of all they got. Now they have a lot less."
The fourth and final season of Star Wars Rebels premieres on Disney XD on October 16.