'La La Land' Director Damien Chazelle Is Making A Musical Series For Netflix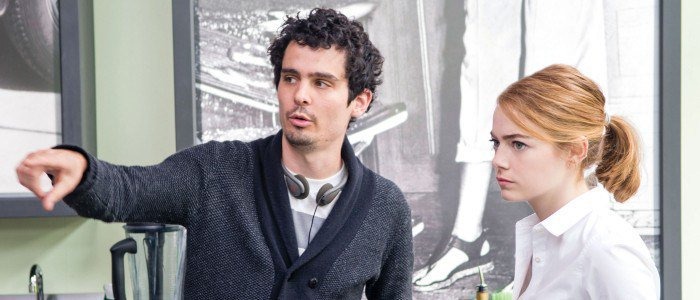 The Academy Award-winning director behind La La Land and Whiplash, Damien Chazelle, is joining forces with Netflix and screenwriter Jack Thorne (Star Wars: Episode IX) for a musical called The Eddy. Chazelle will direct two of the eight episodes, which are all set in Paris, France. After how lavish and dreamy Chazelle made Los Angeles look in La La Land, I can't wait to see what he does with Paris.
Below, learn more about the Damien Chazelle Netflix musical series.
Back in April, we learned the project was being shopped around to cable networks and streaming services, but now we know a little bit more. The story is about a Paris jazz club and focuses on the owner, the band, and the city. It's set in present day and deals heavily with the relationship between the American and French-Arab co-owners of the club, complete with roles for French, English, and Arabic speaking talent.
Netflix's VP of international originals, Erik Barmack, told Variety the series will feature French actors, crew members, and maybe some directors. Barmack described The Eddy as "somewhere in between" Whiplash and La La Land, "From the intense, complex relationship between a jazz drummer and his instructor in Whiplash to his dazzling duo of lovelorn Los Angelenos in La La Land, Damien's work is emotional and electrifying."
As for Chazelle, he's "always dreamed of shooting in Paris." He's working with some real heavy-hitters on The Eddy, including six-time Grammy winner, Glen Ballard. The composer and producer worked with Michael Jackson on "Bad" and "Thriller," in addition to co-writing and producing Alanis Morissette's finest album, "Jagged Little Pill," which Diablo Cody is adapting into a stage musical. Ballard is writing the original score for the Netflix series, which Six Feet Under and The Newsroom's Alan Poul is executive producing.
Chazelle has now joined the list of some of today's top filmmakers working with Netflix, which already includes Martin Scorsese (The Irishman), David Fincher (House of Cards), the Coen Brothers (The Ballad of Buster Scruggs), Ava DuVernay (The 13th), David Michód (War Machine) and others. More and more great directors keep turning to these streaming services. Though Amazon's list is just as impressive: Woody Allen (Crisis in Six Scenes), Barry Jenkins (Underground Railroad), David O. Russell (an untilted gangster project), Yorgos Lanthimos (an untitled Oliver North project), and Nicolas Winding Refn (Too Old to Die Young).
I imagine a few networks were interested in a Damien Chazzelle musical series after the success of La La Land, but Netflix seems like a great home for the filmmaker, to hopefully help tell the story how he sees fit. La La Land is such a joyful musical with both heartbreak and wonder. If he can capture even a small portion of that magic with his Netflix show, we're in for a treat. When the filmmaker will fit The Eddy into his busy schedule is unknown at the moment. He's currently working on the Neil Armstrong biopic, First Man, which Jon Bernthal joined the cast of only yesterday. He's shooting that ambitious drama starting in November, with a fourth-quarter 2018 release date already locked down.