'Star Wars: The Last Jedi' Merch Reveals Snoke's Mega Star Destroyer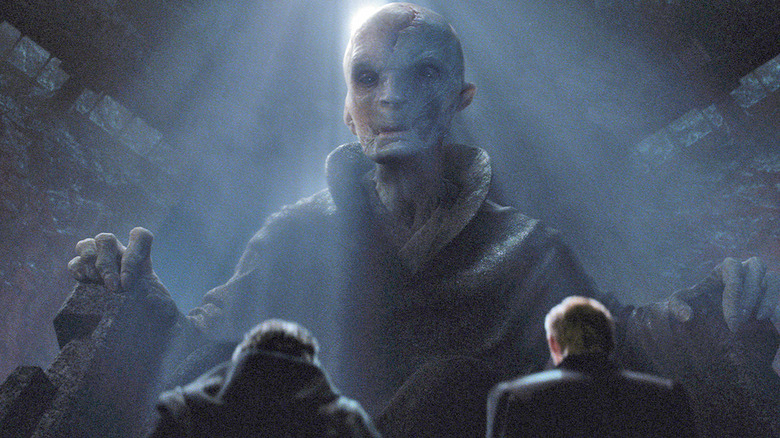 Supreme Leader Snoke has to have a ship befitting his title, and now we have further confirmation that this ship will be the Mega Star Destroyer, purported to be the largest starship we've seen in the Star Wars universe (no the Death Star doesn't count).
Details emerge thanks to the release of the BB-9E Sphero toy, which came equipped with an app that gave us some more technical details on the ominous-sounding Mega Star Destroyer that we will see in Star Wars: The Last Jedi.
With the release of a whole bunch of new Star Wars toys for Force Friday II comes new details about the ships and creatures of Star Wars: The Last Jedi. Just as we learned of the existence of the Mega Star Destroyer earlier this month thanks to Star Wars merchandise, Sphero's new app for their remote control droid offers us a first look at Snoke's gigantic new ride.
The Mega Star Destroyer, revealed to go by the name The Supremacy, will serve as The First Order's nomadic headquarters, and houses both Snoke's throne room as well as the command center for the First Order. You can see screenshots from the app below (via ScreenRant):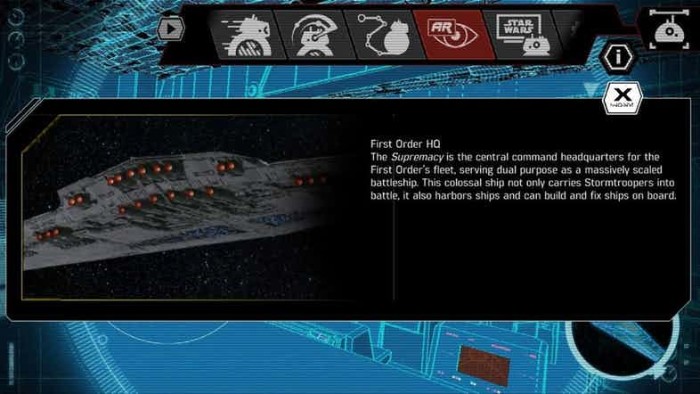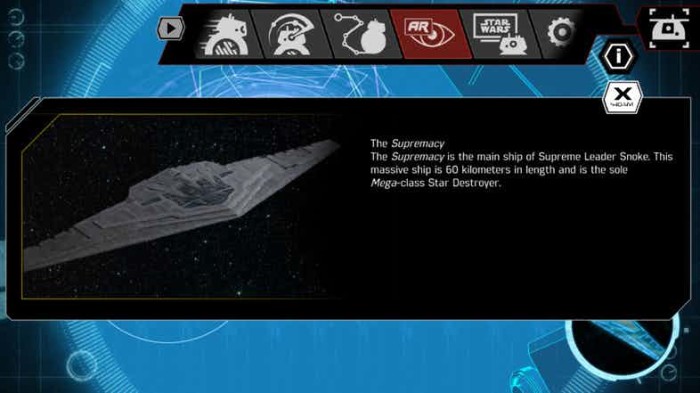 According to the app, The Supremacy is the only Mega-class Star Destroyer, and is about 60 kilometers (that's just over 37 miles) long. In addition to docking Star Destroyers, it looks like The Supremacy can build and repair new ships, which makes The First Order an even more fearsome foe to the Resistance.
Earlier this spring, MakingStarWars revealed some details about the Mega Star Destroyer, noting that this is where Snoke will likely spend much of his time during Star Wars: The Last Jedi:
Snoke will be on his Mega Destroyer for a lot of the film from what I understand. I think his "palace" could be inside this ship once referred to as a "mobile command unit." The Mega Destroyer itself is shaped like a flying wing. It just might be the biggest ship we've seen in Star Wars outside of a Death Star.
The design of The Supremacy seems to be eschewing what we know of typical Star Destroyer designs, which are elongated and dagger-shaped. The Supremacy almost looks like a traditional Star Destroyer flipped sideways. We'll likely see more details about the ship in the coming months as marketing really ramps up.
Star Wars: The Last Jedi will hit theaters on December 15, 2017.