See Paul Rudd's New Ant-Man Suit – But Which Marvel Movie Is It For?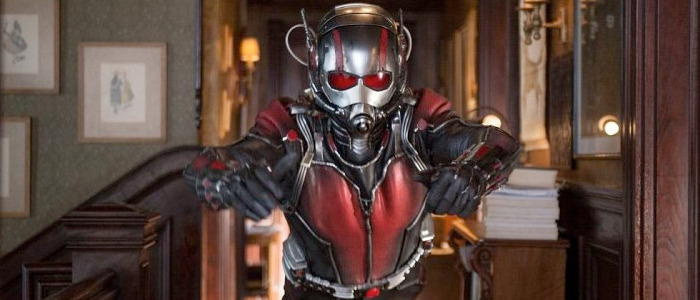 A few days ago, in honor of Jack Kirby's birthday, a photo from the set of Ant-Man and the Wasp gave us our first look at Evangeline Lilly suited up as the latter of those two titular Marvel superheroes. At that point, we had yet to see Paul Rudd back in action as the superhero we last saw turn into Giant-Man in the middle of a big brawl in Captain America: Civil War before being arrested and placed in The Raft by the government. But that changes today.
Thanks to a video posted to the official Facebook page for The Avengers, we have our first look at the new Ant-Man suit that Paul Rudd will be wearing in a future film. However, because of the nature of the video itself, we're not sure if the suit is one we'll see in Ant-Man and the Wasp, The Avengers: Infinity War or The Avengers 4. In fact, it could be all three of those movies.
Here's our first look at the new Ant-Man suit from Marvel YouTube channel:
First, let's get the most important stuff out there. The video isn't just a sneak peek behind the scenes of an upcoming Marvel Studios movie, despite the fact that Paul Rudd and Evangeline Lilly are suited up as Ant-Man and The Wasp, along with Zoe Saldana and Karen Gillan as Gamora and Nebula from Guardians of the Galaxy. Instead, this is a video asking for your help.
As you've undoubtedly heard, the recent natural disaster of Hurricane Harvey in Texas has wreaked historic havoc on the state. Governor Greg Abbot estimates that the state will be federal relief money over $125 billion in order to compensate for the total destruction brought by the hurricane that has seen nearly 94,000 homes damaged or destroyed, sending 32,000 people to shelters across Texas, leaving 200,000 people without power, and creating a massive shortage of water and resources. These people need your help.
Marvel Studios got together, led by Zoe Saldana, to participate in Disney's Day of Giving for the American Red Cross to benefit Hurricane Harvey victims. To take part and support those who are feeling the impact of Hurricane Harvey, you can  call 1-855-999-GIVE to donate, go to RedCross.org and send a donation online, or text "HARVEY" to 90999 to make a $10 donation.
Our own Jacob Hall, who lives in Austin, Texas, has relatives who were hit really hard by the hurricane, and they can use all the help they can get. If you'd like to help Jacob's family specifically, hit up this GoFundMe page to donate and help them out, too.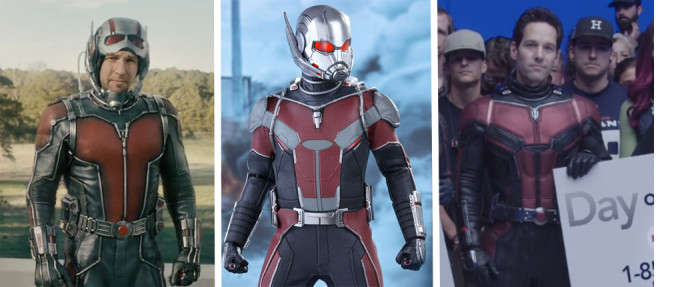 Comparing Ant-Man's New and Old Suit
Now that we've spread the word about helping those in dire need of help, let's get down to the nerdy stuff.
Ant-Man has a new suit, so that means we have to compare it to the old one. As you can see the new suit is more sleek than the original, but not quite as much as the one he wore in Captain America: Civil War. There re more defined edges to parts of the suit than there were in the one he wore during Civil War.
There's now black across the chest in place of the silver, and the design even looks a little more like the face of an ant because of it. The suit also makes Ant-Man appear to have a defined six pack, though not in a ridiculous way. Plus, the new suit has lost the small, brighter reddish orange accents that the Civil War suit had as well.
What we don't know is just how often we're going to see this suit over the next couple years. Since the video features Paul Rudd and Evangeline Lilly on set with Zoe Salanda and Karen Gillan, it would be easy to assume that this is for The Avengers 4, which recently began production. But as we know, Ant-Man and the Wasp is in production down in Atlanta as well. So it wouldn't be out of the ordinary for The Avengers 4 and Ant-Man and the Wasp to be shooting at the same time, and the casts just came together for this video.
Furthermore, even though Avengers: Infinity War may be done shooting, this could be the suit that Paul Rudd wears in that movie too. We never got to see any set photos of Paul Rudd suited up as Ant-Man during the production of Infinity War. But since Ant-Man and the Wasp is coming to theaters on July 6, 2018, a couple months after Infinity War hits theaters, it would stand to reason that he'll have the same suit across all three movies. We'll just have to wait and see.