'Damnation' Trailer: A TV Blood War From The Director Of 'Hell Or High Water'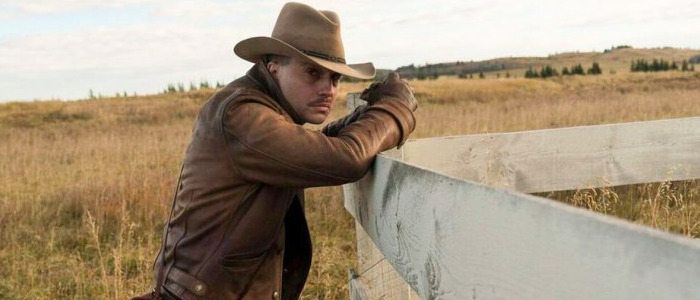 Before even watching the trailer for USA's new drama, Damnation, one name attached to the show already had me sold: David Mackenzie. The director of Hell or High Water, Starred Up, and Perfect Sense directed the pilot of Damnation, which pits brother against brother and the rich against the poor in the 1930s. In the first trailer for the James Mangold-produced series, the epic setting, the blood feud, the class warfare, and the shootouts show off material perfectly suited for the director of Hell or High Water.
Below, watch the Damnation trailer.
In the series created by Tony Tost (Longmire), a phony preacher, Seth Davenport (Killian Scott), is trying to start an uprising in a small Iowa town overrun by a greedy business tycoon. The businessman brings in some ruthless reinforcement by hiring a strikebreaker, Creeley Turner (Logan Marshall-Green), to handle the situation. Nobody else knows Davenport and Turner, who look like they're going to go to war with one another, are brothers.
Entertainment Weekly debuted the trailer, which features Kanye West's "Jesus Walks." Sometimes his music helps a trailer turn up the energy, other times his music can feel out of place. Remember the first Assassin's Creed trailer with "I Am A God"? It didn't quite fit, and the same goes "Jesus Walks" for the Damnation trailer. Ignoring the song choice, Damnation does look like a drama to watch, especially for Marshall-Green playing one vicious antagonist.
Marshall-Green last starred in Cinemax's Quarry, which was canceled after one well-received season. Before the series aired, the actor gave a terrific and emotional performance in one of the best films of 2015, The Invitation. It was the kind of performance that made me automatically interested in whatever he did next. The Prometheus star has stood out in a few supporting roles the last few years. The actor played a more memorable-than-usual goon in Spider-Man: Homecoming, and he had an especially good scene by a bonfire in Oliver Stone's Snowden. Sometime after the USA series premieres, we'll see Marshall-Green in actor and writer Leigh Whannell's (Insidious) second feature film as a director, Stem.
An epic saga about the secret history of the 1930s American heartland, DAMNATION centers on the mythic conflict and bloody struggle between big money and the downtrodden, God and greed, charlatans and prophets. The pilot introduces Seth Davenport (Killian Scott, "71"), a man masquerading as a small town Iowa preacher in the hopes of starting a full-blown insurrection against the status quo. Focused on his mission, he is unaware that an industrialist tycoon has hired a professional strikebreaker named Creeley Turner (Logan Marshall-Green, "Quarry") to stop the uprising by any means necessary. But unbeknownst to those around them, these two men already share a secret bloody past.
Damnation premieres in October.