'The Shape Of Water' Early Buzz: Guillermo Del Toro's Dazzling Fairy Tale May Be His Best Since 'Pan's Labyrinth'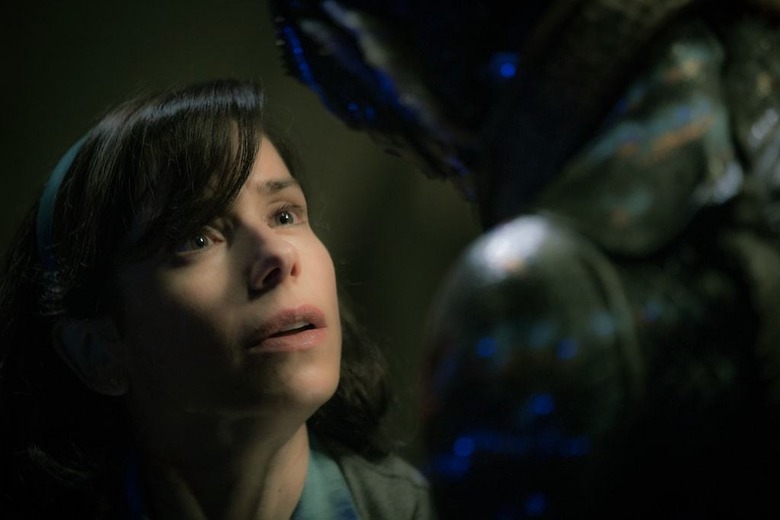 Guillermo del Toro's dark fairy tale, The Shape of Water, made a splashy premiere at the Venice Film Festival this week, with early reviews lauding its lush visuals, incisive social commentary, and enchanting love story. It seemed like critics had only praise for the film, with each review gushing that del Toro's 1960s-set fantasy could easily be his best film since his magnum opus Pan's Labyrinth.
Starring Sally Hawkins, frequent del Toro collaborator Doug Jones (finally getting a starring role after playing monsters and extras in most of his films), Michael Shannon, Octavia Spencer and Richard Jenkins, The Shape of Water is a love story between a mute lab cleaning woman (Hawkins) and a gilled fish creature (Jones) set against the backdrop of the Cold War.
Check out what some of the early The Shape of Water reviews have to say below.
Variety gushes over the film's veneration of genres, from the fairy tale romance to a Cold War noir, all brought together by del Toro's trademark lush visuals:
This decidedly adult fairytale, about a forlorn, mute cleaning lady and the uncanny merman who save each other's lives in very different ways, careers wildly from mad-scientist B-movie to heart-thumping Cold War noir to ecstatic, wings-on-heels musical, keeping an unexpectedly classical love story afloat with every dizzy genre turn. Lit from within by a heart-clutching silent star turn from Sally Hawkins, lent dialogue by one of Alexandre Desplat's most abundantly swirling scores, this is incontestably del Toro's most rewarding, richly realized film — or movie, for that matter — since 2006's "Pan's Labyrinth."
Variety was not the first, nor the last, to compare The Shape of Water to del Toro's masterpiece Pan's Labyrinth, the Playlist even positing that it could be del Toro's best since the 2006 World War II fairy tale:
 It's a Cold War paranoia thriller, a 1950s-style creature feature, a quasi-musical cinematic nostalgia trip and a fantasy interspecies love story between a woman and a merman, so brimming with romance and adventure that its effect overflows the screen, filling up rooms and flooding the cinema and threatening to leak through to the floor below. It is the greatest showcase for del Toro's mercurial, dark-tinged but delightful sensibilities, and his best film since "Pan's Labyrinth." It perhaps even equals it, though let's give time its chance to tell on that.
The Hollywood Reporter praised The Shape of Water for taking lessons from del Toro's last feature film Crimson Peak, whose extravagant visuals informed his more subdued, but no less stunning, approach to The Shape of Water:
Following Crimson Peak, The Shape of Water shows signs of del Toro having taken on board the criticisms widely leveled at that lush gothic horror-melodrama. The extravagant design elements and overburdened plotting of the 2015 feature tended to smother much of the story's genuine emotion, pointing up the shortage of depth in flat characters that invited too little lasting investment. The new picture, by contrast, applies Paul Denham Austerberry's dazzling production design and Dan Laustsen's graceful cinematography to a poignant story in which good and evil are represented in richly drawn figures played by a first-rate principal cast.
The Guardian's reviewer says that The Shape of Water made a del Toro convert out of him, having never warmed to his previous films which "shoot for the moon only to fall slightly short":
It feels less of a fevered artistic exercise than his other recent work; more seamless and successful in the way it orders its material. Yes, Del Toro's latest flight of fancy sets out to liberally pastiche the postwar monster movie, doffing its cap to the incident at Roswell and all manner of related cold war paranoia. But it's warmer and richer than the films that came before. Beneath that glossy, scaly surface is a beating heart.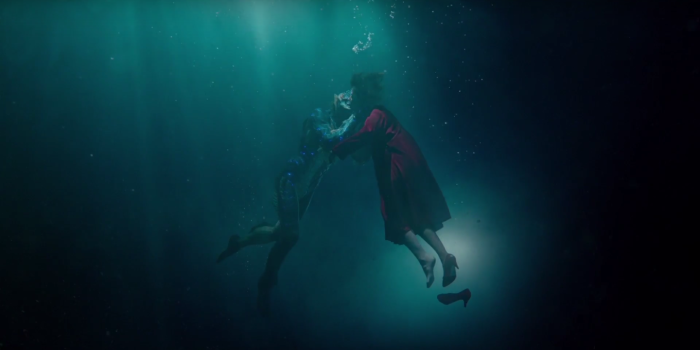 Collider commended the film's balance of genre with social commentary on homophobia, racism, and sexism — turning it into a fairy tale with a modern, sexually liberated twist:
"It's an immense achievement because The Shape of Water not only entertains as a sumptuous fairytale, but it reinforces a faith in humanity set in a time where tolerance of other races, nationalities, and non-"family values" love was volatile. Much like it feels like that time period of intolerance is percolating back to the surface now. This is del Toro's Beauty and the Beast with the delicate time period touches and social awareness of Far from Heaven."
Meanwhile, The Telegraph took it a step further commenting on the sexual references of the film, applauding its "shivery eroticism" and the movie's fearlessness to lean into B-movie pulp:
Guillermo del Toro's films are often as sensuously contorted as the monstrous creatures that lurk within them, but his latest is a pretzel-twist of pure strangeness, even by his standards. The Shape of Water, which premiered in competition at the Venice Film Festival this morning, is an honest-to-God B-movie blood-curdler that's also, somehow, a shimmeringly earnest and boundlessly beautiful melodrama: think Creature From the Black Lagoon directed by Douglas Sirk.
Del Toro has sometimes been criticized for making his films overt love letters to a certain genre, but The Wrap praised his use of the Cold War setting — and all the expectations that come from its period — in service of the plot:
Unlike other filmmakers with an eye to recreating the past, del Toro puts his movie love at the service of, rather than a replacement for, his characters and his story. You can dissect all the beautiful moving parts — the evocative set design, the themes of outsider-dom vs. conformity, the color palette and the judicious use of period music, to name just a few — and you're still left with a heart and a soul that permeate throughout.
Indiewire also complimented how "del Toro mines the film's hyper-specific setting for larger allegorical purposes," but said that the social commentary never distracted from the film:
For the all the social insights and cultural asides, the film never feels digressive. For all the veering from one genre to another, neither does it feel rough. Del Toro's tight directorial control sees to that. He uses a rigid but always roving camera — constantly tracking or pulling-in or gently re-framing, not staying still for an instant — to create the sensation of literally floating through the film, while Dan Laustsen's ethereal cinematography finds a thousands shades of green, once more amplifying the dreamlike fairytale atmosphere.
While cast members like Jenkins and Shannon received their fair share of praise, all the reviews rave about Sally Hawkins as the mute Elisa, with the Daily Beast lauding her "lovely" performance, saying that it anchors the film:
[I]t's Hawkins who makes this film truly soar, turning in a voiceless performance every bit as beguiling as her cheery prattler in Happy-Go-Lucky. It is in her shimmering eyes and broad smile that we see a woman who finally feels heard; who is basking in the glow of acceptance found in the unlikeliest of places. Even as things get, well, physical between woman and sea creature, Elisa's love—and her journey—remain true. Here, Del Toro has crafted an enchanting fairy-tale for the ages.
***
It sounds like The Shape of Water is the perfect marriage of del Toro's strengths: that of dark, grotesque fairy tale with an allegorical period setting, all in service of a delightful love story. Any criticisms of del Toro's fixation on visual opulence has evaporated in the face of The Shape of Water, which seems to finally pay off del Toro's flirtation with genres and B-movie pulp.
The Shape of Water hits theaters December 8, 2017.