'Destination Wedding' Will Reunite Winona Ryder And Keanu Reeves For A Rom-Com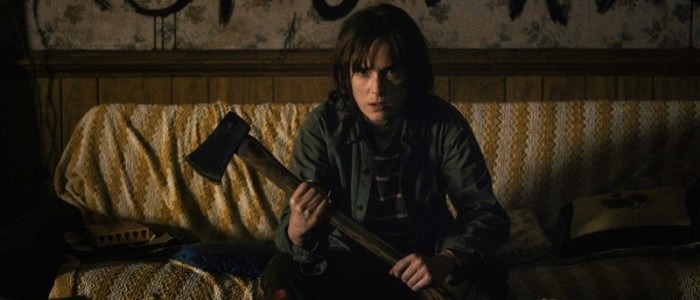 Here's an unfinished movie that's already got my money, guaranteed: a romantic comedy starring Keanu Reeves and Winona Ryder. They're playing miserable wedding guests in writer-director Victor Levin's (5 to 7) Destination Wedding, which has already wrapped shooting. The romantic comedy is the fourth time Reeves and Ryder have done a movie together, following Coppola's Bram Stoker's Dracula, A Scanner Darkly, and The Private Lives of Pippa Lee.
Below, learn more about the Winona Ryder and Keanu Reeves romantic comedy.
Here's the official logline for the project: "Destination Wedding tells the story of two miserable and unpleasant wedding guests, both pariahs at this affair, who develop a mutual affection despite themselves. But to act on those feelings would be to trust hope over experience, a foolish choice indeed." If one duo could make an audience care for two miserable and unpleasant characters in a romantic comedy, it's Reeves and Ryder. In addition to just being exceptionally talented actors, they're both incredibly likable and fun screen presences. They're starring in a comedy, so I imagine their charisma will be put to use. With a good story, it's easy to imagine them doing great work together, as they have done in the past.
Coppola's Dracula is their more famous collaboration, but they were excellent in A Scanner Darkly, Richard Linklater's adaptation of Philip K. Dick's novel. They helped bring a big emotional weight to that movie as Bob Arctor and Donna Hawthorne, two characters who cared deeply about one another. Reeves and Ryder have some great moments together in that film, especially towards the end. I'm struggling to remember if they shared any scenes in Rebecca Miller's The Private Lives of Pippa Lee, but I do vividly recall how fantastic Reeves is in that film, in which he showed a totally different side of himself. Recently on a podcast, I heard him say that The Private Lives of Pippa Lee, A Scanner Darkly, and Thumbsucker are three of his lesser seen movies he hopes more people continue to discover.
With Destination Wedding, Ryder and Reeves are starring in Levin's sophomore effort as a filmmaker. He previously directed 5 to 7, a romantic comedy starring the late Anton Yelchin, Bérénice Marlohe, Olivia Thirlby, and Glenn Close; it was enjoyed by most critics. As a writer and executive producer, Levin has worked on Survivor's Remorse, Mad About You, and Mad Men. His first and last movie landed some top-notch talent, and the same goes for his next effort.
We can add Destination Wedding to the list of Reeves and Ryder projects to keep on our radar. Ryder, of course, returns in season 2 of Stranger Things later this year. As for Reeves, he has John Wick: Chapter 3 in the pipeline. He's been killing it in action movies lately, but I'm excited to see how he'll act in a rom-com these days, especially with Ryder at his side.
Just the other night, I caught a few of Reeves' scenes from Something's Gotta Give on HBO. He has a low-key, reserved charisma that really helped elevate and ground that often broad rom-com. He's very often easy to root for in movies, so who better to play a miserable pariah at a wedding?