'Tin Star' Trailer: Tim Roth And Christina Hendricks Star In The New Amazon Series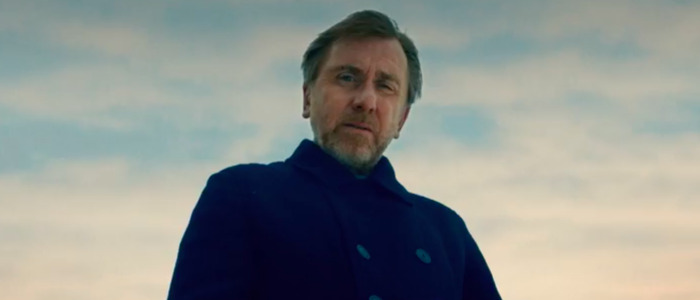 Tim Roth and Christina Hendricks are on the opposite sides of the law in a new upcoming Amazon series, Tin Star. The 10-part series was written and created by Rowan Joffe, the writer behind The American and co-writer of 28 Weeks Later. Joffe, who made his feature directorial debut with Brighton Rock, directs Roth and Hendricks in the pilot, which is about a British detective (Roth) who becomes a police chief in Canada.
Below, watch the Tin Star trailer.
The former detective and recovering alcoholic, Jim Worth, and his family moved to Little Big Bear in search of a more peaceful, quiet life. The town is what they were expecting and hoping for until a big oil refinery shows up and brings trouble with it. A wave of organized crime starts to consume Little Big Bear, with drugs, prostitution, and gambling in the mix. Once the refinery starts draining the town, Sheriff Jim Worth and a powerful figure at the oil refinery, Elizabeth Bradshaw (Hendricks), start to clash.
Joffe, who's said he found more authorship writing for television, has been developing the series since around 2014. He sees it as a modern day western set in Canada. Here's the Tin Star trailer:
The last half of the trailer sure does feature plenty of guns being loaded and cocked. The trailer also features a glimpse at another performance from Roth that I very much want to see. He's a great actor, no question, who hasn't starred in a television series since Fox's Lie to Me. The actor recently co-starred in the new season of David Lynch's Twin Peaks, and a well-liked miniseries that somehow flew under my radar, Klondike, which starred Abbie Cornish, Mark Csokas, Tim Blake Nelson, Richard Madden, and the late Sam Shepard. I almost feel sorry for missing a show with such a stacked cast.
But getting back to Tin Star. Roth and Hendrick's talents probably won't go underutilized if they're playing roles written by Joffe, who's written some memorable characters over the last few years. A modern day western set in Canada with a former English detective, played by the great Tim Roth, does sound appealing.
Here's the synopsis for the Amazon series:
Set in the majestic Canadian Rockies, Tin Star tells the story of a former British detective who brings his family to the tiny, tranquil town of Little Big Bear for a better life. But when his small town is overrun by migrant workers from a massive new oil refinery, the wave of organized crime that follows them threatens to sweep away everything in its wake and dig up the past.
Tin Star will be available to stream September 29, 2017.