'Una' Trailer: Rooney Mara And Ben Mendelsohn Wrestle With A Past Trauma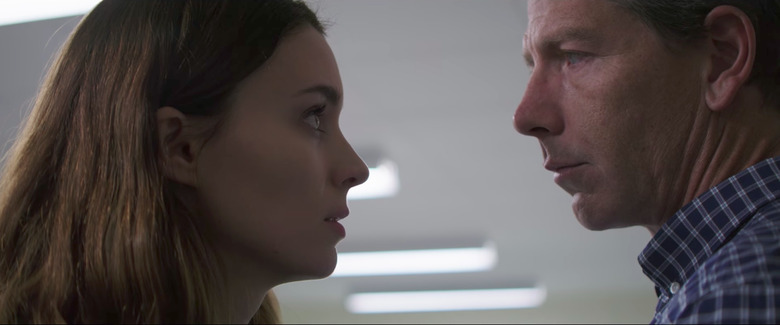 Rooney Mara, Ben Mendelsohn, and Riz Ahmed are some of the most intriguing talents in the indie and arthouse movie scene today, so the prospect of all three of them appearing in a movie together is pretty exciting, to say the least.
The movie is called Una and the trailer for this sordid drama plays out shades of Lolita and Girl on the Train, balancing psychosexual thriller elements with some good old-fashioned domestic drama. I'm not quite sure what to make of it, but again, I would watch Mara, Mendelsohn, and Ahmed read a phone book.
Mara has long played the quietly suffering wife or love interest, but Una turns that character type on its head, as Mara's character seeks out the older man who abused her as a lovestruck teen.
The trailer heavily mirrors shots from Adrian Lyne's version of Lolita, as flashbacks to the 13-year-old Una and Ray's (Mendelsohn) twisted past interplay with the two characters' tense reunion. Oddly, the trailer doesn't make it entirely clear at first that Ray was a pedophile who preyed on a young Una — I thought for a long time while watching the trailer that he was playing her father who abandoned her — nor does it make clear Una's intentions in seeking out Ray again. Does she want to expose him to his new wife and daughter? Rekindle their relationship? Seek her revenge? The one thing that is for certain is that there's an uncomfortable chemistry between Mara's Una and Mendehlson's Ray, while poor Ahmed's Scott witnesses it from the sidelines. The film feels very much like a modern reinterpretation of the future of Lolita, exploring the psyche of a girl damaged and victimized by an older man.
Una is based on the Tony Award-winning play Blackbird by David Harrower, who also penned the screenplay for the film. The play was supposedly inspired by real-life sex offender Toby Studebaker, who groomed and abducted a 12-year-old girl through the Internet.
Here's the synopsis for Una, which is directed by Benedict Andrews:
"Una" follows a young woman's journey to reclaim her past. Fifteen years earlier, Una ran away with an older man, Ray, a crime for which he was arrested and imprisoned. When she comes across a photo of him in a trade magazine, Una tracks him down and turns up at his workplace. Her abrupt arrival threatens to destroy Ray's new life and derail her stability. Unspoken secrets and buried memories surface as Una and Ray sift through the wreckage of their past.
Una opens in New York theaters on October 6. It will hit Los Angeles theaters on October 13.