New 'Star Wars: The Last Jedi' Photos: An Ominous Luke Skywalker And A Rey Of Hope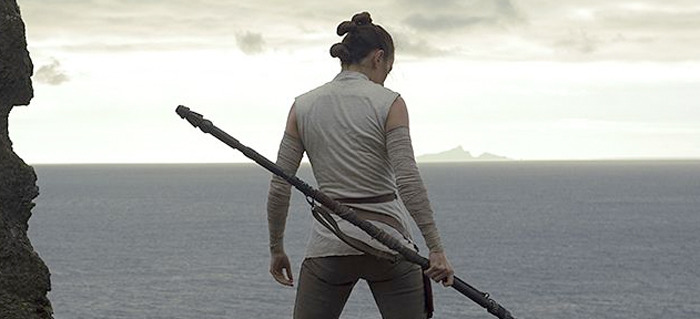 Force Friday II is under two days and retailers will soon unleash a barrage of Star Wars: The Last Jedi merchandise for fans to examine while they bide their time until the next movie. We already know we'll be getting a glimpse at a new character from Rian Johnson's sequel, but before that, a couple new images from the movie have arrived online featuring Mark Hamill looking rather ominous as Luke Skywalker and Daisy Ridley as Rey, doing her best to train and prove to the Jedi Master she sought out that she's got what it takes.
Check out the new Star Wars The Last Jedi photos below.
First up, this new image of Luke Skywalker comes from a Hungarian film magazine (via CinemaBlend):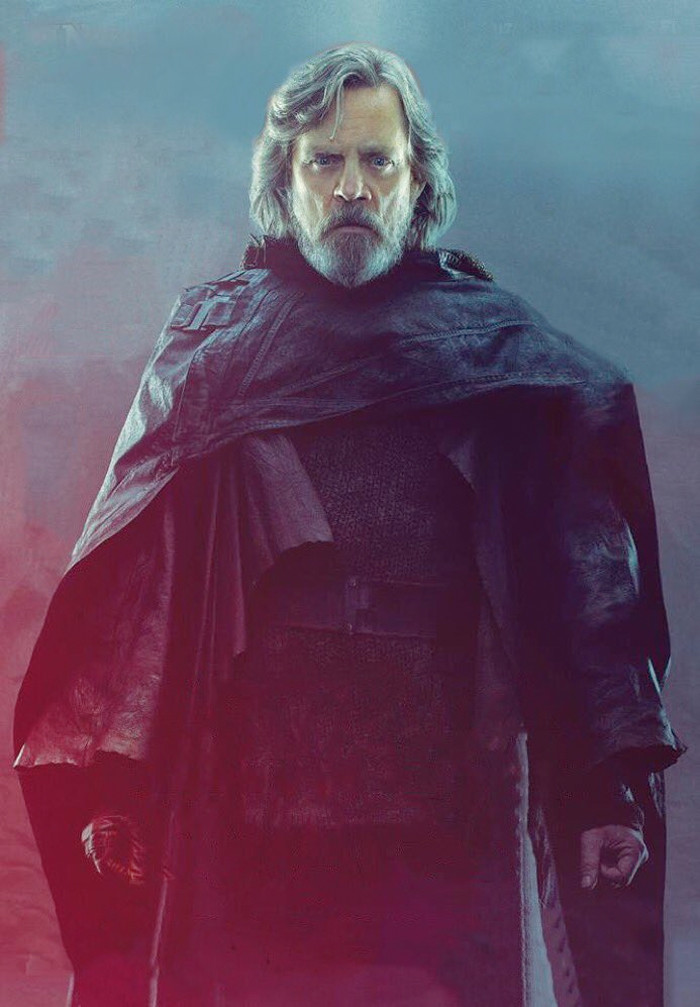 This is strictly a promotional image rather than a still from the movie, but this is an outfit that we'll see Luke Skywalker wearing in The Last Jedi. Mark Hamill could be seen wearing this wardrobe in one of the shots from the sizzle reel that debuted at The D23 Expo not too long ago, but this is the best look at the outfit we've seen yet. He's even wearing a leather glove over his robotic hand, which he wasn't wearing when we finally found him at the end of The Force Awakens.
It's clearly much darker than what he was wearing when Rey first found him on Ahch-To at the end of The Force Awakens. Having Luke Skywalker wear black feels rather ominous, though that's all he wore for the entirety of Return of the Jedi as well. It's likely an indicator of how he's turned a little more dark in his time in isolation after Kylo Ren turned to the dark side, but maybe it's also an indication that Luke could make a more villainous turn as well. After all, that's something Mark Hamill didn't rule out some time back. Only time will tell.
Here's the second image that surfaced on the web this week, courtesy of Yahoo Movies: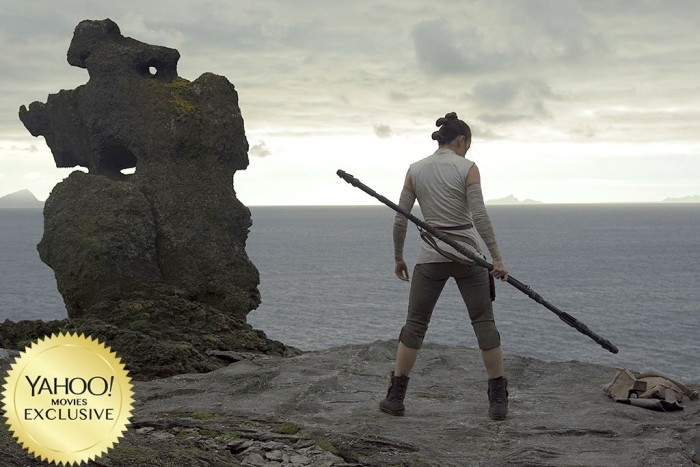 This one is a little less interesting, but we'll take any new images of Rey that we can get at this point. Our new hero and Jedi hopeful is in for a rude awakening when she meets Luke Skywalker, since he turns out to be a disappointing hero of sorts. As Daisy Ridley indicated earlier this year at Star Wars Celebration:
"We go deeper into Rey's story, and what is very apparent from where we left off in The Force Awakens and where we begin with The Last Jedi is Rey has a certain expectation as to what she might be getting from Luke and what that might entail. As a lot of people know, it's difficult when you meet your heroes because it might not be what you expect."
We know Luke Skywalker doesn't give Rey a warm welcome when she arrives on Ahch-To and he's reluctant to get involved with the fight against the First Order. But all great heroes initially resist the call to action, and you just know Luke and Rey will end up fighting alongside each other. That's a moment I can't wait to see realized on the big screen.
Surely more updates will be coming when Force Friday II is unleashed later this week, so stay tuned. Otherwise, we'll have plenty of coverage leading up to the release of Star Wars: The Last Jedi on December 15.