'It' Featurette: Stephen King Was Not Prepared For How Good This Movie Would Be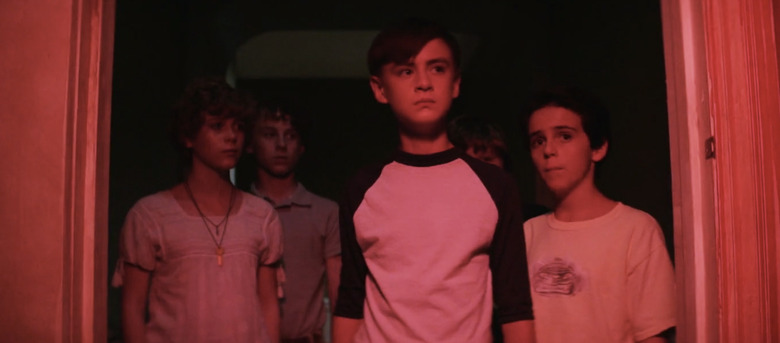 In a little over a week, viewers will get to scare themselves into a frenzy when the eagerly anticipated adaptation of Stephen King's classic horror novel It comes to theaters. The movie is on the path to have a big box office debut, and even the clown-only screenings at the Alamo Drafthouse are selling out so fast that they've had to add even more of the specialty events to meet demand.
While we wait for It to arrive, some new footage has shown up in a featurette that takes a closer look at The Losers Club, the cyclical reign of terror that comes from Pennywise, and some promising remarks from the master himself, Stephen King.
Watch Stephen King's It Featurette
The above featurette originally comes from Yahoo Movies, and it reveals a bit more about the adaptation, including how impressed Stephen King is with the movie. Plus, we get to hear from the kids themselves: Jaeden Lieberher, Jack Dylan Glazer, Finn Wolfhard, Wyatt Olef, Jeremy Ray Taylor, Chosen Jacobs and Sophia Lillis. However, in what seems to be an effort to make Pennywise all the more terrifying, we don't hear anything from Bill Skarsgård (Allegiant), who is playing the child-eating clown.
The early buzz on It is great so far, and the full reviews haven't even hit the web yet. When they do, we'll have a better idea of what to expect, but I'm anticipating that this will be the horror event of the year, and I can't wait to see how it turns out next month.
Mama director Andy Muschietti is at the helm of the feature produced by Roy Lee, Dan Lin, Seth Grahame-Smith, David Katzenberg and Barbara Muschietti with a screenplay from Chase Palmer & Cary Fukunaga and Gary Dauberman.
If you want to see more from the movie, watch the most recent It trailer right here, and be sure to check out our reaction to some extended clips that were shown at San Diego Comic-Con.
New Line Cinema's horror thriller "IT," is based on the hugely popular Stephen King novel of the same name, which has been terrifying readers for decades.
When children begin to disappear in the town of Derry, Maine, a group of young kids are faced with their biggest fears when they square off against an evil clown named Pennywise, whose history of murder and violence dates back for centuries.
It is coming for you in theaters on September 8, 2017.