Patton Oswalt's First Stand-Up Special Since His Wife's Death Heading To Netflix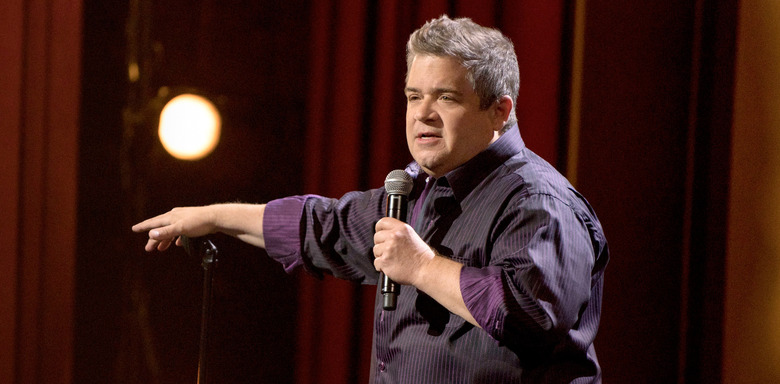 Comedian Patton Oswalt was dealt quite the personal blow in the spring of 2016 when his wife of 11 years, writer Michelle McNamara, died suddenly at 46 years old. Not only was this a tragedy for Oswalt, but also for their 7-year old daughter, Alice.
However, this year Patton Oswalt found happiness again when his engagement to actress Meredith Salenger was announced in July of 2017. Though he faced unnecessary and inappropriate criticism from people online for getting remarried "too soon" after the death of his wife, he shared the perfect response, written by a widower with a raging and perfect defense for all the people who refused to mind their own business.
Now we'll likely get to hear how Patton Oswalt dealt with this tragedy as only a comedian can thanks to a new stand-up special coming to Netflix in October.
Entertainment Weekly has the news on the upcoming Patton Oswalt Netflix special hitting the streaming service on October 17. The special, titled Patton Oswalt: Annihilation was filmed at Chicago's Athenaeum Theatre this past summer, and it has the comedian chronicling the difficult year he's had since the death of his wife and how he coped with that great tragedy along with his daughter. This comes after he wrote a lengthy, touching and funny tribute to his wife earlier this year on the one-year anniversary of her passing.
Though that will surely be a weighty subject for the comedian to tackle, it won't all be reflection on this sad milestone in his life. Oswalt will also be taking aim at social media, robocalls and of course, the current political climate.
Since Oswalt's last comedy special, Talking for Clapping (which is also on Netflix now), won both an Emmy and a Grammy, I'm curious to see how he follows that, especially when you consider everything he's endured over the past year. Some of the greatest comedy comes from tragedy, and I can't wait to hear how a brilliant comedic mind like Oswalt approaches this fragile time in his life on stage. Though he's gotten personal with his material before, it's never been anything like this, so it should be a fascinating, touching performance.
Patton Oswalt has certainly been keeping busy lately. Not only is he part of the Mystery Science Theater 3000 revival, but you can hear his voice narrating every episode of The Goldbergs, and you'll soon hear him as the voice of an imaginary blue-winged horse on the SyFy dark comedy series Happy starring Christopher Meloni. He also has a new midseason comedy series called A.P. Bio coming up on NBC along with It's Always Sunny in Philadelphia star Glenn Howerton.
For my money, we can never have enough Patton Oswalt in our lives, and I'm so glad that he's back with a new special. I'm a little disappointed that I couldn't go to his show this past summer, especially since it ended up being his Netflix special, but at least I'll get to watch it with everyone else on October 17, 2017.