Listen To The New Voice Of Kermit The Frog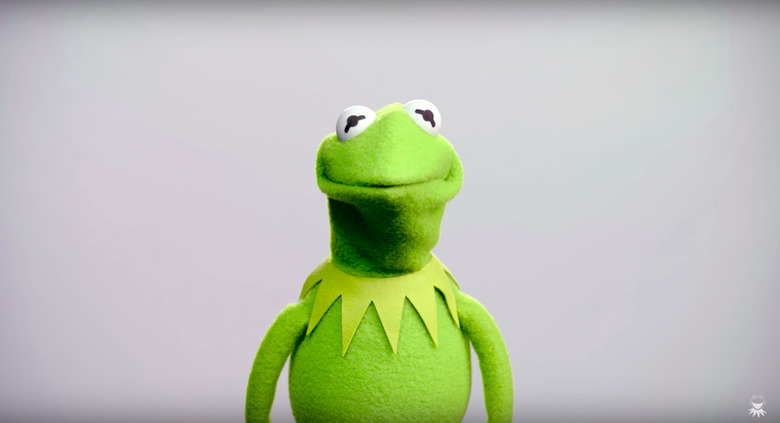 A month after longtime Kermit performer Steve Whitmire was fired by Disney, the new voice of Kermit the Frog has debuted in an online clip.
Matt Vogel just made his first public debut as the voice of Kermit, a role that has long been held by Whitmire since Jim Henson passed away in 1990, in a brief YouTube clip for the "Muppet Thought of the Week."
"Dreams are how we figure out where we want to go. Life is how we get there. I'm headed this way," Kermit says in the video. It was an inconspicuous debut for Vogel, without a big announcement from Disney or The Muppets' social media about the introduction of Kermit's new voice.
That's likely because the circumstances surrounding Whitmire's firing are somewhat strained, with Whitmire publicly denouncing Disney for letting him go because he was "outspoken" in the decisions made over the character he had voiced for nearly 30 years. Meanwhile, Disney and The Muppets Studio defended the decision, stating that Whitmire was fired over "unacceptable business conduct." However, Whitmire only had pleasant things to say about Vogel, who is a longtime member of the Muppets family.
The brief clip showed that Vogel is dedicated to capturing the voice that Henson originated for Kermit, a voice that Whitmore kept alive. While there are some subtle differences, I think he has made a smooth transition. Here's what Whitmire's Kermit sounds like for comparison.
Voice actor and puppeteer changes happen, although the way that Whitmire was fired was unfortunate. For Kermit, at least the talent hired to voice him is familiar with The Muppets and is part of the company. And unless the children watching this clip have astonishingly good hearing, I doubt they'll notice much of a difference. It's not like that time Arthur's voice changed dramatically from season to season.
What do you think of Kermit's new voice?