Evangeline Lilly Celebrates Jack Kirby's Birthday With A New 'Ant-Man And The Wasp' Photo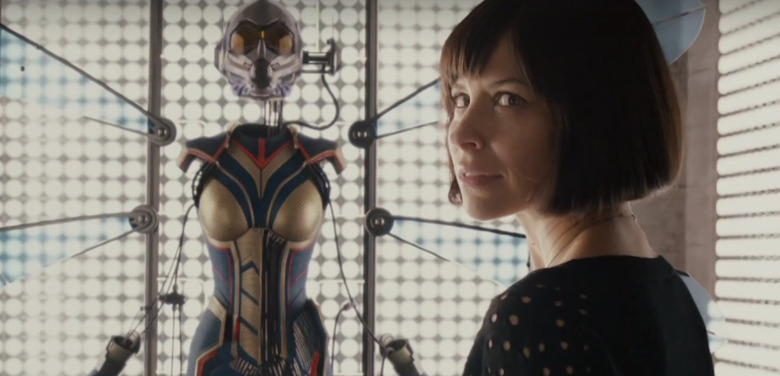 Today would have been the 100th birthday of Marvel Comics legend Jack Kirby, a man who co-created some of the greatest superheroes to ever grace the page and whose artwork is a guiding force behind the Marvel Cinematic Universe as we know it today.
While filming Ant-Man and The Wasp, actress Evangeline Lilly (the titular Wasp) paid tribute to Kirby's birthday and released a new image of herself in costume – or at least, in partial costume. Check out the newest Ant-Man and The Wasp photo below.
I am honoured to be on set today playing #TheWasp on what would be Jack Kirby's 100th birthday.
.#ThankYouJackKirby #AntManAndTheWasp pic.twitter.com/EBsV8jTK34

— Evangeline Lilly (@EvangelineLilly) August 28, 2017
The first thing that comes to mind is that this looks like a new suit, maybe even a prototype for an upgraded model. The suit we saw in the first film's post-credits sequence – the one that promised the audience that Hope would take on the mantle of The Wasp in this sequel – has a lot of yellow throughout (see header image), and while this design is similar, those shades of yellow have all been removed. This almost looks like she's about to go meet Christian Bale's Batman at a superhero suit design conference, or maybe she's about to jump on a motorcycle and peel out of there. But why ride when you can fly? (Speaking of which, there aren't any visible wings in this iteration of the costume. Perhaps they contract and expand when needed?)
It's also worth pointing out that Marvel's visual development supervisor and concept artist Andy Park shared our first look at The Wasp back during this year's D23 Expo, and while there may be some filters applied to his image, it certainly looks as if Hope retained that yellow coloring in his version of her costume:
#D23 1st glimpse at Wasp #AntManandtheWasp I LOVED concept designing & painting her! I'm there Fri at MarvelStudios booth. Who's going? pic.twitter.com/7SooZzF6gA

— Andy Park (@andyparkart) July 11, 2017
What else can we glean from Lilly's new photo? It's obvious from the desk to her immediate left and the chalkboard in the background that Hope is standing in a classroom, and we know that Scott Lang's daughter Cassie is still young enough to be in school, so perhaps Hope is paying her a visit? But that suit doesn't seem like something she'd just be wearing to drop by, so things may be more fraught than they appear.
From the Marvel Cinematic Universe comes a new chapter featuring heroes with the astonishing ability to shrink: "Ant-Man and The Wasp." In the aftermath of "Captain America: Civil War," Scott Lang (Paul Rudd) grapples with the consequences of his choices as both a Super Hero and a father. As he struggles to rebalance his home life with his responsibilities as Ant-Man, he's confronted by Hope van Dyne (Lilly) and Dr. Hank Pym (Michael Douglas) with an urgent new mission. Scott must once again put on the suit and learn to fight alongside The Wasp as the team works together to uncover secrets from their past.
Ant-Man and The Wasp arrives in theaters on July 6, 2018.