'The Punisher' May Feature Another Marvel Hero; Episode Titles Revealed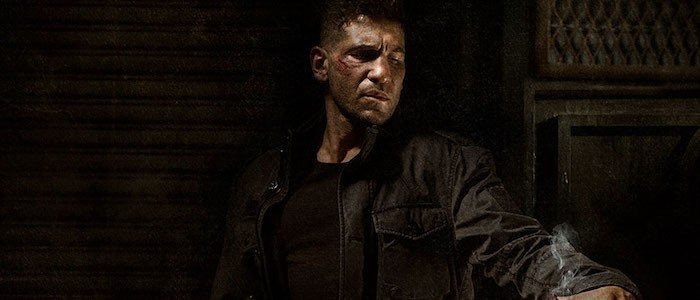 The Punisher may not always work alone in his upcoming Netflix series, which stars Jon Bernthal as the tortured comic book character. Another Marvel hero may appear in The Punisher, but as for which one, we probably won't know until the show debuts. Let the speculation begin!
Below, read about which hero could show up and check out The Punisher episode titles.
According to ComicBookMovie.com, Marvel's Senior Vice President of Creator & Content Development, C.B. Cebulski, teased "another Marvel hero may be showing up [in The Punisher]." The one Marvel hero who seems like a no-brainer is Daredevil since he has a history with Frank Castle. Daredevil's Karen Page (Deborah Ann Woll) co-stars in The Punisher, so even a brief appearance from lawyer Matt Murdock (Charlie Cox) seems like a decent possibility. Murdock and Castle shared some strong scenes together in season two of Daredevil, so putting those two back together doesn't sound like such a bad idea.
Some fans are speculating Moon Knight could make his debut, as he recently joined The Defenders in the comics – but that's nothing but fan hope and speculation. Almost two years ago, it was rumored Netflix and Marvel would introduce the character in one of their live-action shows before giving him his own series. To add fuel to the speculation fire, Oscar nominee Shohreh Aghdashloo recently joined The Punisher to play a psychiatrist, so some fans are wondering if she could be treating Marc Spector/Moon Knight, who has multiple personality disorder. Quite a leap, but I suppose fans can dream.
In other news, The Punisher episode titles were revealed via Morse code on the show's official Twitter page. Entertainment Weekly did the translation and revealed the titles:
1. 3 AM
2. Two Dead Men
3. Kandahar
4. Resupply
5. Gunner
6. The Judas Goat
7. Crosshairs
8. Cold Steel
9. Front Toward Enemy
10. Virtue of the Vicious
11. Danger Close
12. Home
13. Memento Mori
Here's a new ad for the show as well:
Fall in. pic.twitter.com/nq7kxyidIC

— The Punisher (@ThePunisher) August 28, 2017
Some titles are nods to Castle's past, like "Kandahar," where the soldier was stationed in Afghanistan. These titles, including the Oscar Wilde quote ("Virtue of the Vicious"), all feel apt for The Punisher series, which hopefully has enough story to sustain a 13 episode season – a problem with past Marvel shows. Bernthal proved to be a very watchable presence as Frank Castle in Daredevil season 2, though; he elevated that season considerably.
Right off the bat, whether he was in a hospital bed or beating the sense out of someone, Bernthal felt right as the character in Daredevil. He's convincing as Castle both during the action and his more emotional scenes. I'm looking forward to seeing what he can do with the character front and center in a brutal and bloody series, especially after our own Jacob Hall saw clips from the show at Comic-Con and wrote, "I'll say this much: Bernthal looks really, really good with that skull on his shirt." He added the show looks exactly like what we'd expect from Netflix's The Punisher, meaning a lot of brooding, grit, and carnage. Fingers crossed it has more to offer than that.
Stay tuned for a release date for The Punisher.