'Killing Gunther' Trailer: A Bunch Of Comedians Try To Murder Arnold Schwarzenegger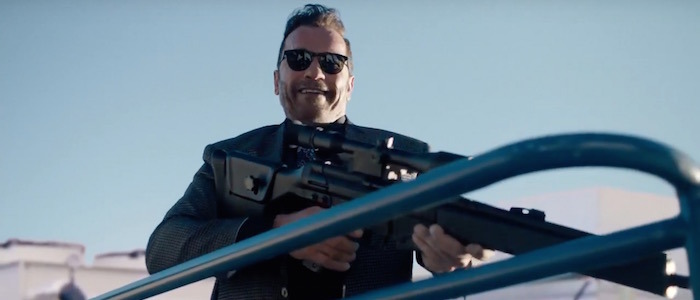 Arnold Schwarzenegger's post-politics return to the silver screen has been a mixed bag of weird and sometimes ambitious choices. The '80s and '90s action icon remains beloved by his many fans, but it's become increasingly clear that many modern filmmakers don't know how to utilize the Austrian-accented muscleman. At the same time, it's also become increasingly clear that Schwarzenegger himself seems eager to experiment and try new things in his old age (with the notable exception of Terminator Genisys).
So enter the Killing Gunther trailer, which finds the Austrian Oak playing the world's greatest hitman, who has been targeted by a team of assassins. But it's a comedy, as the presence of several Saturday Night Live cast members in front of and behind the camera should indicate.
While Schwarzenegger is the main draw here, Killing Gunther is also the directorial debut of Taran Killam, the very funny SNL cast member who was inexplicably released from his contract last year. He also stars in the film, playing a hitman who leads a team of professional killers on a personal mission to take down Gunther, the best of the best, seemingly just because he's the greatest killer in the world and never lets anyone forget it.
The trailer is all about letting Schwarzenegger ham it up as Gunther and he looks like he's having a grand 'ol time. It's been too long since he's starred in a proper comedy and this trailer is a reminder that this bodybuilder-turned-actor-turned-governor-of-California is genuinely funny. After all, many of his best roles have been defined by a keen self-awareness – he's always winking with you, aware that he's often a preposterous presence in a preposterous movie. With Killing Gunther, it looks like Killam just let Schwarzenegger riff and the results are so unbelievably weird in trailer form that I can't wait to see how they play out in the whole movie.
The cast is rounded out with recognizable names like Bobby Moynihan (another former SNL secret weapon), the always welcome Cobie Smulders, and the wonderful Allison Tolman, in addition to some lesser known performers. It looks goofy and silly and very much like an SNL digital short concept. Which could be bad news. Or it could be good news, as the mere existence of MacGruber suggests. 
Still, I keep on thinking back to Schwarzenegger, whose recent choices reflect an actor at ease with his legacy but also willing to try new things. The Last Stand is a good old fashioned shoot 'em up directed with panache that makes fine use of his presence. Sabotage, while a bad movie, found him inverting his usual persona to play a darker and more twisted character than he has in the past. Maggie, a zombie drama, is so far from his usual turf that it's a wonder it even exists. Killing Gunther looks like it could be a lot of fun and part of that has to do with Schwarzenegger looking like he no longer cares about his movie star image. He's here to play.
Here's the official synopsis for the film:
A group of eccentric assassins are fed up with Gunther, the world's greatest hit-man and decide to kill him but their plan turns into a series of bungled encounters as Gunther seems to always be one step ahead.
Killing Gunther opens on October 20, 2017.