'Batman: Gotham By Gaslight' First Look: The Dark Knight Takes On Jack The Ripper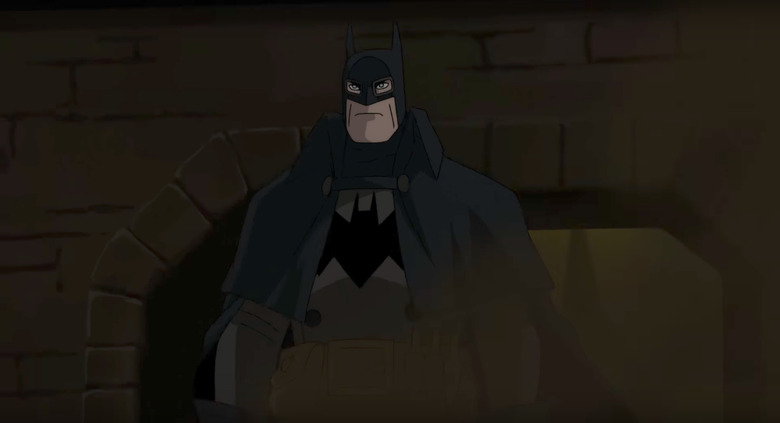 Have you ever wondered what it would be like if Batman took on the real-life serial killer, Jack the Ripper? Wonder no more.
This DC Universe Animated Original is adapting Hellboy creator Mike Mignola's and Brian Augustyn's Elseworlds comic book run with the upcoming Victorian spin on our favorite Caped Crusader, Batman: Gotham By Gaslight. You can watch a sneak peek of the new movie right now!
In the eight-minute Batman: Gotham by Gaslight first look, interviews with the creators working on the DC/WB production speak about taking Batman back to the 19th century while clips from the film reveal how Batman, Catwoman, Harvey Dent, and Hugo Strange have been translated to the Victorian era.
It's "Batman in a Sherlock Holmes era," creative director Mike Carlin describes in the preview.
Bruce Timm, who is well-known for helming the DC Animated Universe in the '90s and early '00s with Batman: The Animated Series and Justice League, is back as an executive producer. The animation style shown in the preview is very in line with Timm's streamlined retro-style rather than the noir-inspired elements of Mignola's comics. He describes in the preview how they adapted Batman's outfit, which is less cape and cowl, and more cape and steampunk belt.
Timm and Carlin go on to describe the world and story of Batman: Gotham by Gaslight, which they say is aided by the foggy London atmosphere that industrialist era was known for, as well as the noir elements in Mignola's original comic book run. But to make it a feature-length film, they needed to expand beyond that.
"The original story was very simple, it was just Batman meets Jack the Ripper. As we went along doing more Elseworlds, we realized it shouldn't be just one character translated to this era, it should be all the characters that are in the hero's life, can be translated back as well," Carlin says as the first look reveals two young street muggers, possibly representing Dick Grayson and Jason Todd, two of Batman's Robins in the comics. Other characters include a proto-feminist actress-turned-detective Selina Kyle, the aforementioned Hugo Strange and Harvey Dent, and James Gordon.
Here's the synopsis for Batman: Gotham by Gaslight:
"In an age of mystery and superstition, how would the people of Gotham react to a weird creature of the night, a bat-garbed vigilante feared by the guilty and the innocent alike? The very first Elseworlds tale re-imagines the Dark Knight detective in Victorian times and pits him against the infamous murderer Jack the Ripper."
Batman: Gotham by Gaslight is set to be released in 2018.