Yes, George R.R. Martin Still Watches 'Game Of Thrones' [Updated]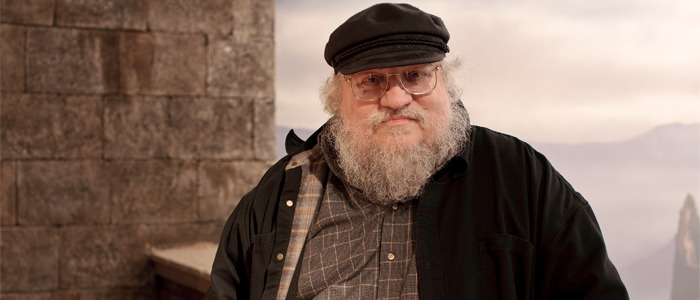 Update: You know it's easy to get your wires crossed when you read things on the internet? Well, it happens to the best of us. Anyway, it turns out that George R.R. Martin does watch Game of Thrones – he's just behind on the current season.
Our original story, which also includes a nutty conspiracy theory that you should read about anyway, continues below.
***
Now that Game of Thrones has sped long past where A Song of Ice and Fire author George R.R. Martin last left us with A Dance With Dragons, Martin has admitted that he no longer watches the show. Or, at least, the seventh season.
It's not out of spite for the show making different choices with his characters than he — though Martin has long held a grudge against fan fiction of his work — but because he simply doesn't have time. Martin is chipping away at his thousand-page sixth novel in the Song of Ice and Fire series, and it's taking all of his Sunday nights to get it done. Although there's an interesting conspiracy floating around that Martin may or may not be already done with The Winds of Winter.
Martin had a pivotal role in bringing Game of Thrones, the HBO adaptation of his Song of Ice and Fire series, to the small screen, acting as an executive producer for the series and penning one episode per season for the first four seasons. However, he cut back on his workload to work on The Winds of Winter, and now he reportedly doesn't have time to catch up at all. Martin told Metro that he doesn't have time to watch the show because of writing and "touring," adding:
"The book series and TV adaptation go their separate ways. On the screen characters are killed right and left. About twenty of them have died already, which are quite alive to me and will appear in a new book."
To clarify, Martin has seen the sixth season but has not caught up with the currently airing season 7, according to his agent.
With season 7 hurtling at breakneck speed toward the HBO series' endpoint (Game of Thrones will air its final season next year), Martin is still going slow and steady in the race to finish The Winds of Winter (it's been nearly 7 years since the publication of his last book, A Dance With Dragons). Martin explained his slow pace to Metro:
"I did not start to write slower over the years. I was working on the first book for six year and four years on the second one. Fantasists who release their novels every year, do not offer books of large volume. These are not 1.5k pages like mine, but, for example, 500. In addition, I have not become younger. Age does not add enthusiasm."
However! There is a conspiracy theory swirling around the interwebs that Martin has not only been working on Winds of Winter, but has already finished it! I know, it seems unlikely, but hear me out because this is a fun theory.
The Unlikely Theory
Fans on Reddit and Twitter dissected one of Martin's recent Livejournal posts — which he updates constantly despite being "busy" — and have come to the conclusion that Martin has finished The Winds of Winter, in secret.
Armed with elaborate breakdowns analyzing how the performance of New York football teams affect Martin's writing, and the news that Martin has gone back on the grid to executive produce the TV adaptation of sci-fi book Who Fears Death as well as consulting on five Game of Thrones spin-off shows for HBO, fans speculate that he has so much time on his hands because he has finished writing his book. Or that he is the world's worst procrastinator.
Maybe Martin can hang up one of these incredibly detailed Game of Thrones tapestries depicting the events of each season of the HBO show to give him motivation. Or at least to catch him up in time for this week's season finale, airing on HBO on August 27.