Another 'Jumper' TV Show Is In The Works, Would Bring Back Jamie Bell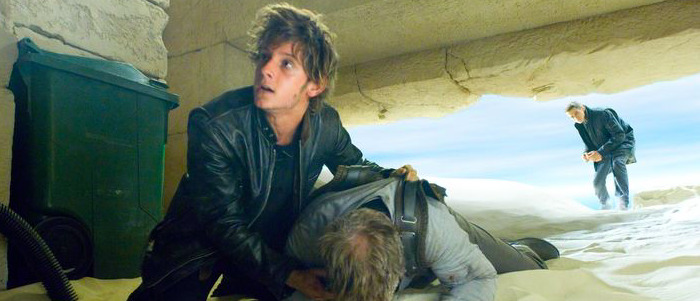 There are now not one, but two Jumper-related shows in the works right now. The director of the 2008 film, Doug Liman, is revisiting author Steven Gould's world with a Youtube Red Series. Whether Liman's series, titled Impulse, has any relation to his critically panned sci-fi film is unknown, but the Jumper series starring Jamie Bell will. The star of The Adventures of Tintin and AMC's TURN: Washington's Spies may reprise his role as Griffin, who was one of the original film's bright spots.
Below, learn more about the newly announced Jumper TV show.
Deadline reports director Julian Simpson (Doctor Who) is collaborating with Bell, Studio Canal, New Regency, and Lionsgate on a Jumper reboot for television. Simpson has a lot of experience in television, having directed episodes of MI-5, Hotel Babylon,  Superstorm, and 17 episodes of New Tricks. Griffin wasn't in any of Gould's novels before the film was released, as he was created by screenwriter David Goyer (The Dark Knight).
However, Gould did write a book about the teleporter around the release of the film called "Jumper: Griffin's Story." The novel was a prequel covering Griffin's childhood and teenage years, dealing with the death of his parents and fighting those who hunt Jumpers – the Paladins. Griffin is the only jumper known to have gone after the Paladins.
The Paladins killed his parents when he was nine years old, four years after Griffin made his first jump. In the book, there was more detail about Griffin's battles with Roland, who was played by Samuel L. Jackson in the movie. Gould's backstory for Griffin is pretty bleak, but Bell didn't play his teleporter as a tortured soul as Hayden Christensen did. Bell stole every scene he was in and helped liven up Liman's film – which left Griffin's fate uncertain. Apparently, there's a deleted scene showing Bell's character alive and about to go on the run again.
The original cut of Jumper wasn't quite what Liman had in mind. He wanted to tell a dark, anti-hero story, but it was too dark for 20th Century Fox's taste and they softened the movie's edges, making David Ryce (Christensen) more of a dull and unlikable protagonist than an anti-hero. Griffin, on the other hand, brought a lot of charisma to Jumper. He was more experienced, was more clever with his power, and would use flamethrowers and buses as weapons. If there's going to be more Jumper, at least it'll feature Jamie Bell's character.