Nightmare Fuel: Watch Stephen King's 'It' In A Theater Full Of Clowns At The Alamo Drafthouse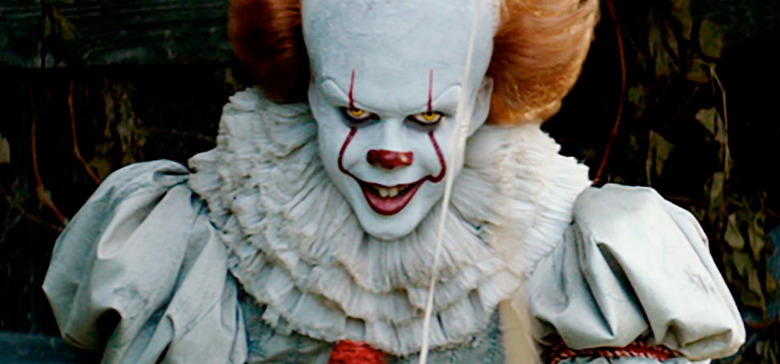 The Alamo Drafthouse is the king of theater chains when it comes to hosting screenings that fans go crazy for. They have awesome movie parties, get special guests for Q&As, and have awesome collectibles and memorabilia to commemorate them. But one of their upcoming events for a certain horror movie releasing in September has the potential to give you nightmares.
A new adaptation of Stephen King's It is coming to theaters next month from director Andy Muschietti. From what we've seen from the trailers, this could be the adaptation fans have been waiting to see since they read the book so many years ago. However, for some lucky, or maybe unlucky viewers, the experience will be made all the more unnerving by watching It in a theater full of clowns.
If that doesn't sound like your cup of tea, maybe you'd rather hear some tracks from the It soundtrack? You can find details on the It clown-only screening and the two samples of the score below.
The It clown-only screening was first announced by Alamo Drafthouse for their Mueller location in Austin, Texas on Saturday, September 9 at 7pm local time (get tickets here if you can). But due to popular demand, two more have been added at the Lakeline location at 7:25pm and the Slaughter location at 7pm.
Though it might be a horrifying thought to be surrounded by clowns for a screening of It, this is actually a clown-only screening of the movie. That means if you want to experience Stephen King's It with a bunch of clowns around you, then you'll have to be dressed as a clown too.
Anyone scared of clowns wouldn't be caught dead in this screening, but maybe the best way for anyone with coulrophobia (fear of clowns) to face their fears is by becoming what they fear the most and sitting among them for a couple hours. So if you have a friend who is afraid of clowns, maybe you should be a good friend and drag them to this screening. Tell them you're going to see Spider-Man: Homecoming again. I don't know how you'll trick them into dressing like a clown, but that's for you to figure out. This is all your idea.
Attendees should arrive at 5:30pm for "an It pre-party where we will have face-painters available for clown "touch-ups", a photo booth, raffles for prizes, and other terrifying merriment." You'll float, too!
Speaking of floating, a couple tracks from the It soundtrack have made their way online, including a haunting, ominous track called "You'll Float Too" and another one called "Pennywise's Tower." Listen to them both right here:
The score is composed by Benjamin Wallfisch (Hidden Figures, A Cure for Wellness), and it will be available on CD and digital download starting on September 8, followed by a special vinyl release on October 27. You can find the full tracklist and pre-order the soundtrack right here.