'Kingsman: The Golden Circle' Will Be Projected In 270-Degree ScreenX Format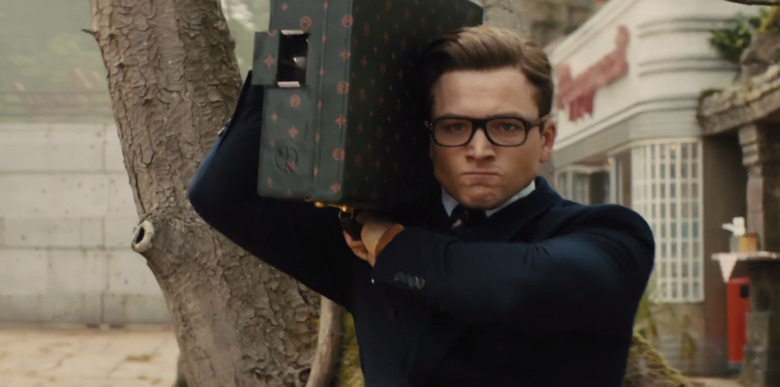 Film formats will keep evolving until they swallow us whole and spit us out as a mass of pixels. Probably. Maybe. It certainly feels that way with the insane format that Kingsman: The Golden Circle is being converted to and projected in.
Kingsman: The Golden Circle will be projected ScreenX's 270-degree panoramic experience. That's three walls in an auditorium. It's like if VR had eaten a Super Mario mushroom and blown up to the side of a whole theater.
The sequel to Matthew Vaughn's 2014 hit Kingsman: The Secret Service will be the first film by 20th Century Fox to be converted into CJ's ScreenX, a visual surround sound system, according to Deadline.
Never heard of ScreenX? Well me neither. Deadline describes it as theaters' way of combatting the growing power of HDTV's and streaming services like Netflix at home. The outlet writes:
At a time when exhibition stateside is in a sling with some claiming that the domestic box office is losing out to 70? 4K HDTV and Netflix in the home, here's an immersive large format that's designed to dynamite people out of their living rooms. ScreenX is still nascent in the United States, with availability at only three venues split between Las Vegas and Los Angeles.
While Kingsman: The Golden Circle is Fox's first film to be converted to this monstrous format, it's not the first movie to receive this treatment. The format is apparently quite popular overseas, with the technologically forward-thinking South Korean cinema dabbling in it for a few action films. A few Hollywood films like The Great Wall, King Arthur, and The Legend of the Sword have been converted to the format as well.
Kingsman: The Golden Circle is playing in the ScreenX format in six countries, playing at 119 locations in Korea, China, Thailand, Turkey, Indonesia, and the United States. Deadline also reports that the film will also be playing in "4DX – CJ 4DPLEX's alternative immersive format that features motion seats and environmental effects."
I'm already overwhelmed by the names for these formats, if not the prospect of having the nonstop action of Kingsman: The Golden Circle bombard me from three sides. I may be a pessimist when it comes to big screen formats, but I thought we had defeated the gimmicky beast when IMAX theaters had announced that they were considering rolling back 3D formats. Unless those films are specifically made with a 3D format in mind, it's usually an underwhelming and overpriced experience. I doubt The Golden Circle was filmed by Vaughn with ScreenX or 4DX – CJ 4DPLEX in mind and it sounds like it could be too overwhelming of an experience.
Perhaps if it were an interactive experience like 4D theme park rides, I would welcome the experience. But I'm going to be a prickly traditionalist and ask for us preserve the sanctity of film. Or at least, look toward the box office failure of first-person action film Hardcore Henry. Just because you can doesn't mean you should.
Kingsman: The Golden Circle hits theaters September 22, 2017.