Final 'Wind River' Trailer Makes It Out To Look Like A Typical Action Movie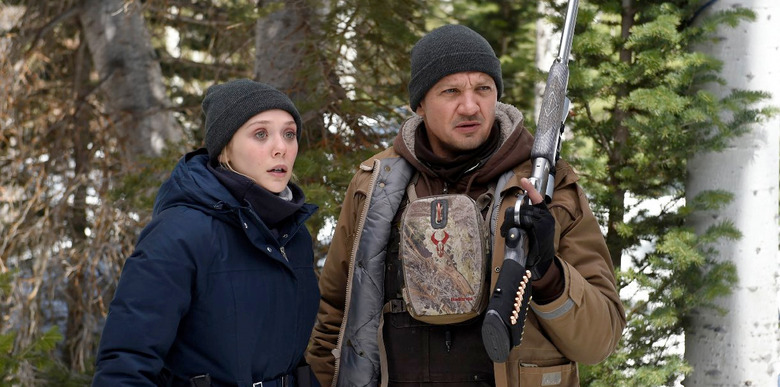 Wind River is a brutal and somber neo-Western punctured with sudden bursts of violence, similar to director and screenwriter Talor Sheridan's previous films that he penned, Hell or High Water and Sicario. A high-speed action movie it is not, yet that is what the final trailer for Wind River makes it out to be.
The final trailer for Wind River hit the internet a day before the film goes into wide release after premiering at select theaters across the country. The movie, while great, is admittedly hard to market to a summer audience — hence the trailer making it look like a spiritual sequel to Renner's own Bourne Legacy.
"I hunt predators," Jeremy Renner's US Fish and Wildlife Service agent Corey Lambert growls in the final trailer for Wind River. "Well then why don't you come hunt one for me?" Elizabeth Olsen's FBI agent Jane Banner asks. Thus kicks off the trailer, which presents the film as an action-packed thriller in which Corey and Jane hunt for a mysterious culprit through the merciless winter landscape of the Native American reservation of Wind River, facing threats and obstacles all along the way. Except that's not what really happens.
Don't get me wrong, I'm sure that would make a great movie. Maybe as another spin-off to the slowly fizzling Bourne series.
But Wind River is so much more than that. A slow-burn thriller based on a true story, Wind River digs into its neo-Western roots — and cements its place as the third in Sheridan's "American Frontier" trilogy that began with Sicario and Hell or High Water. The economic despondency of the reservation seeps through the film as it follows Renner's Corey Lambert as a grief-stricken man who's driven partly by vengeance over a dead teenage girl who his daughter used to know, partly over closure. Olsen plays the wide-eyed newbie FBI agent whose ideals stand resilient against outside corrupting forces — similar again to Emily Blunt's character in Sicario — though she gets decidedly less to do than Blunt.
There are a few spoilers in this trailer — namely the appearance of a certain actor who is a late act reveal — but they don't do too much to spoil the film. The only thing it spoils is the intention of the movie really, which taps into grief and closure, as well as the silent suffering of Native American women whose disappearances go unreported.
Here's the official synopsis to Wind River:
An FBI agent teams up with a veteran game tracker to investigate a murder that occurred on a Native American reservation.
Wind River opened in limited release on August 4 and continues to expand throughout the month.