'BoJack Horseman' Season 4 Trailer: Netflix's Best Show Returns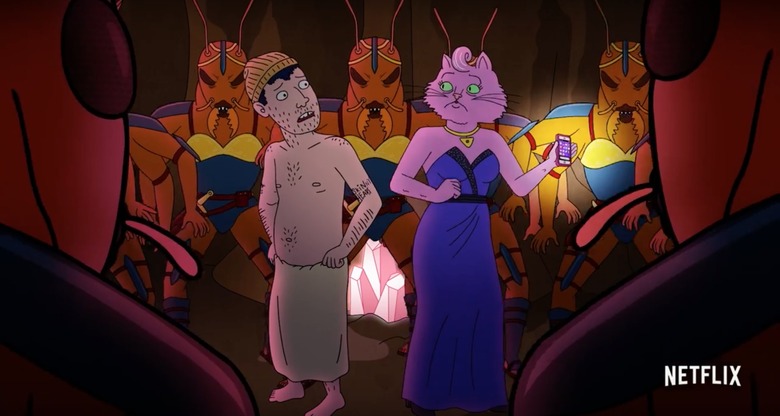 BoJack Horseman is a miracle. Netflix's silly talking animal series is one of the funniest television shows out there right now, so full of brilliant sight gags and clever wordplay and imaginative slapstick. But this is a silly talking animal show with ambitions. In the outlandish world of "Hollywoo," characters grow and change and evolve. They face dark truths. They grapple with inner demons. They contend with the emotional collateral damage they leave in their wake. And the show does all of this while being formally daring, experimenting with style and format and embracing the Netflix model to play and be bold. It's the best show to ever bear Netflix's name.
And wouldn't you know it? Here's the BoJack Horseman season 4 trailer right now.
Like the show itself, this trailer doesn't play by your silly little rules. The title character of the show, voiced to perfection by Will Arnett, barely shows up in this footage at all! While he's off on a road trip to find himself in the wake of personal tragedy (as seen at the end of season 3), his circle of friends take the spotlight and continue their odd, sometimes melancholic and sometimes joyous lives. Just in case you forgot where the show left everyone, Diane (Alison Brie) supplies a voice over to remind you of the finer points.
This trailer is a testament to just how strong the BoJack Horseman supporting cast has become – the lead doesn't figure into the marketing at all and I don't even care. I'm too invested in everyone else. My heart melts at the thought of Princess Carolyn (Amy Sedaris) finally finding a man, er, mouse who appreciates her. I'm already giggling at the thought of Mr. Peanutbutter (Paul F. Tompkins) running for public office, even though I'm sure this deceptively deep character is setting me up for another heartbreak. And yeah, I'm excited to see how Diane's new gig will poke fun at the world of internet blogging, mainly because I know the jokes will probably sting on a personal level.
Oh, and Todd (Aaron Paul) looks to be up his usual Todd stuff. And that's great!
There are some pretty wild visuals in this trailer, evidence of how the show has grown increasingly comfortable with its deceptively simple animation over the years. BoJack Horseman's animation rides a fine line: cartoonish enough to sell the gags, realistic enough to deliver performances of surprising power from talking horses, dogs, and cats. I once described the animation as crude in an article I've come to regret. Nothing in this show is half-assed or not thought through very carefully.
Although BoJack Horseman has been formally daring since season 1 (remember that terrifying nightmare episode?), season 3 took the show to a new level (remember that nearly dialogue-free underwater episode?). It's insane to me that Netflix's best, funniest, and most moving show is also its most gleefully experimental. I genuinely can't wait to see what BoJack Horseman season 4 delivers. Hell, I'm so excited that I'm going to refuse to binge it, just so I can make it last as long as I can.
BoJack Horseman season 4 drops on September 8, 2017.