'Last Flag Flying' Trailer: Richard Linklater's New Film Teams Up Cranston, Carell, And Fishburne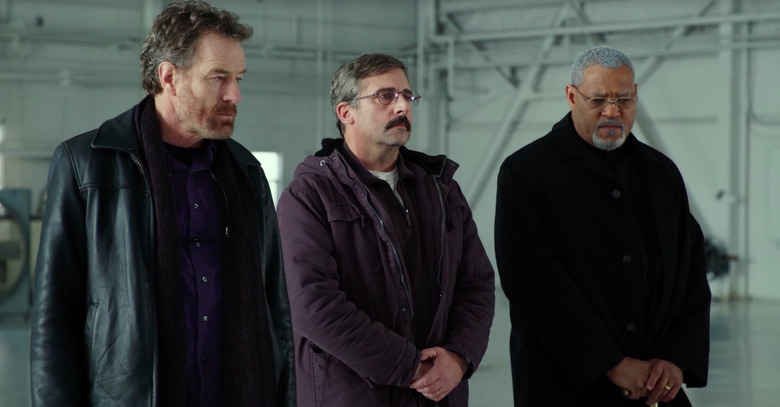 Much like how Richard Linklater's last film Everybody Wants Some! was a spiritual sequel to his 1993 classic Dazed and Confused, his newest film is an official sequel to the 1973 Hal Ashby movie The Last Detail.
Last Flag Flying teams the Oscar-nominated director up with Bryan Cranston, Steve Carrell, and Laurence Fishburne in a melancholic veteran meditation about three Vietnam War vets who reunite under tragic circumstances.
In line with Linklater's trademark balance of wry humor and poignant character work, Last Flag Flying seems like an excellent showcase for the three stars. Cranston's spiraling alcoholic supplies levity to the group, while Carell's grieving father is the heart. Fishburne's converted Reverend joins the two of them despite his reservations at reuniting with two former friends who represent "a dark time in his life."
The three of them, all former Vietnam War veterans, set off to bury Larry's (Carell) son, who was killed in the early days of the Iraqi invasion. But angered by his son's tragic death, Larry refuses to have him buried in Arlington Cemetary, setting the three of them off on a cross-country road trip reminiscent of the film that first introduced these characters.
Cranston plays the role originated by Jack Nicholson in Hal Ashby's 1973 movie, The Last Detail. Both films are based off novels of the same name by Darryl Ponicsan. But with Linklater serving as co-writer to Ponicsan, we can expect it to have the same emotional heft — and musings on life and philosophy — that the filmmaker is known for. Tackling a sequel to a film that wasn't originally his seems apt for Linklater, who has a peculiar fixation on how the passage of time affects ordinary people. But I'm not complaining, I'll watch Linklater film emotional road trips with uber-talented character actors any day.
Here's the official synopsis for Last Flag Flying:
In 2003, 30 years after they served together in the Vietnam War, former Navy Corps medic Larry "Doc" Shepherd (Steve Carell) re-unites with ex-Marine Sal Nealon (Bryan Cranston) and Reverend Richard Mueller (Laurence Fishburne) on a different type of mission: to bury Doc's son, a young Marine killed in the Iraq War. Doc decides to forgo burial at Arlington Cemetery and, with the help of his old buddies, takes the casket on a bittersweet trip up the East Coast to his home in suburban New Hampshire. Along the way, Doc, Sal and Mueller reminisce and come to terms with shared memories of the war that continues to shape their lives. Amazon Studios presents, a Detour film production, a Zenzero Pictures/Cinetic Media production, a Richard Linklater film.
Last Flag Flying will have its world premiere at the New York Film Festival on September 28, 2017, before hitting theaters on November 3, 2017.