Now Stream This: One Of 2017's Best Films, A Vital Documentary, And A Surprisingly Great Remake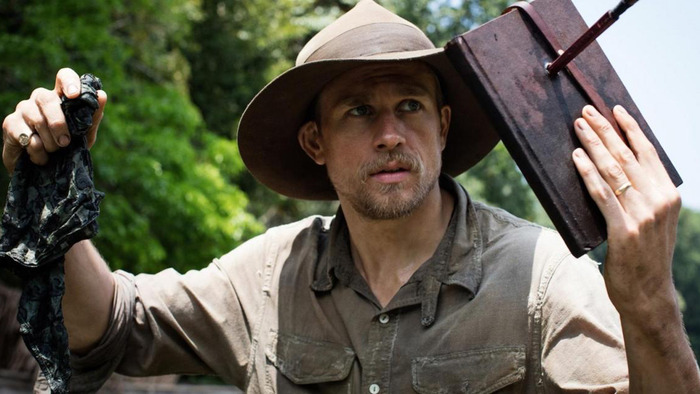 (Welcome to Now Stream This, a column dedicated to the best movies streaming on Netflix, Amazon, Hulu, and every other streaming service out there.) 
Is it fall yet? Summer is basically running on fumes here, people. It's almost time to trade in those ridiculous cargo shorts for sweaters and bust out the seasonal gourds. But no matter what time of year it may be, it's always streaming time. This latest edition of Now Stream This offers you a smattering of fine features to facilitate films into your face. There's one of the best movies of 2017, a Japanese comedy guaranteed to make your mouth water, a new take on an old horror sub-genre, a surprisingly great remake, and more! Let's get streaming.
Streaming on Amazon Prime Video 9/15
James Gray, the best currently-working filmmaker most of you aren't paying attention to, made one of the 2017's best films with the haunting The Lost City of Z. Inspired by a true story, The Lost City of Z (or The Lost City of Zed, if you want to be proper) follows British explorer Percy Fawcett, who set out the prove the existence of a lost civilization in the Amazon. How good is this movie? It's so good that even the usually wooden Charlie Hunnam, who plays Fawcett, gives a fantastic performance. Also featuring Robert Pattinson as one of Fawcett's fellow explorers and new Spider-Man Tom Holland wearing a fake mustache.For fans of: Fitzcarraldo, Apocalypse Now, The Immigrant.
Now Streaming on FilmStruck
Juzo Itami's utterly delightful Tampopo is now on FilmStruck, and if you've never experienced this 1985 Japanese film, rectify that at once. Tampopo (Nobuko Miyamoto) is a widow who runs a ramen noodle shop yet unfortunately can't make ramen to save her life. Her luck changes when truck driver Gor? (Tsutomu Yamazaki) enters her life and sets about turning her into one of the best ramen makers around. Peppered with food-based vignettes that may not exactly contribute to the main story but still add plenty of flavor, Tampopo is a treat from beginning to end. Just don't watch it on an empty stomach.  For fans of: Tales of a Golden Geisha, Jiro Dreams of Sushi, Chef.
Now Streaming on Amazon Prime Video
Raoul Peck's documentary I Am Not Your Negro is from last year, but it feels even more essential here as we wind down 2017. Based on an unfinished memoir by James Baldwin, I Am Not Your Negro reflects on Baldwin's life, his relationship with slain civil rights leaders Martin Luther King, Jr., Malcolm X and Medgar Evers, and racism as a whole in America. It's a powerful doc that features a strong narration-based performance from Samuel L. Jackson reading Baldwin's words. In fact, this may be one of Jackson's very best performances. For fans of: 13th, O.J.: Made In America.
Streaming on Hulu 9/1
This sexy, quirky rom-com is the cure for whatever it is that 50 Shades of Grey is doing. Maggie Gyllenhaal is an awkward woman who goes to work for the equally awkward James Spader. The working relationship blossoms into something far kinkier than either might have expected. There's a lot of elements that make Secretary so unique, including Gyllenhaal's remarkable performance, but most notable is the way it strives to show that a (healthy) BDSM-based relationship can be perfectly normal.For fans of: The Duke of Burgundy, Belle de Jour.
Now Streaming on FilmStruck
The Trip may be the first film in The Trip series (with The Trip to Spain in select theaters now), but The Trip to Italy is the best of the bunch. Steve Coogan and Rob Brydon play fictionalized versions of themselves as they tour restaurants in Italy and riff endlessly. It shouldn't work as well as it does; it is, after all, just two guys talking incessantly and trying to one-up each other with Michael Caine impressions. Yet The Trip to Italy is hilarious while also containing an underbelly of melancholy that makes the film linger with you long after you've stopped laughing at the jokes.For fans of: The Trip, The Trip to Spain.
Now Streaming on Netflix
Vampire movies have mostly become stale and repetitive, but every once in awhile one comes along to turn the sub-genre on its head. Like this grungy horror film from Michael O'Shea. Eric Ruffin is Milo, a young man living in a housing project in Queens who thinks he's a vampire. Milo has taken his obsession to the extreme, but things change when a new girl (Chloe Levine, very good here) moves in and becomes his friend. This is not your typical vampire film, and that's what makes it special.
For fans of: Let The Right One In, Martin, Ms. 45.
7. Thou Wast Mild & Lovely
Now Streaming on Shudder
Josephine Decker's Thou Wast Mild & Lovely is a dream slowly turning into a nightmare. The story of a man (Joe Swanberg) who hires on at a farm and falls for the farmer's daughter (Sophie Traub, absolutely phenomenal). It sounds like the set-up for a dirty joke, but there's a lot more going on here: beautiful shots of nature jarringly contrasted with close-ups of flies and flashes of perverse violence out of seemingly nowhere. Trust me, this is unlike any movie you've ever seen.
For fans of: The Eyes of My Mother, Frailty. 
8. The Magnificent Seven (2016)
Streaming on Hulu 9/9
Since the original Magnificent Seven from 1960 was itself a remake (of Seven Samurai), there probably wasn't a need for yet another remake. And yet we got one anyway last year from Antoine Fuqua. And guess what — it's kind of great. Denzel Washington leads a cast that includes Chris Pratt, Ethan Hawke, Vincent D'Onofrio, Lee Byung-hun, Manuel Garcia-Rulfo and,Haley Bennett, all of whom are doing some really great work here, particularly D'Onofrio, who is going all-in on his bear skin wearing mountain man character. The seven anti-heroes are hired to help save a town from a very Donald Trump-like robber baron, played with icky menace by Peter Sarsgaard. The Magnificent Seven is highly entertaining and surprisingly downbeat and finite for a modern age when all Hollywood movies have to be easily digestible and leave room for sequels.
For fans of: The Magnificent Seven (1960), Seven Samurai. 
Now Streaming on Netflix
Many of Danny DeVito's directorial efforts can be hit and miss (although I know there are plenty of Death to Smoochy fans out there, somewhere). But DeVito's best effort behind the camera is this old fashioned, mostly forgotten 1992 biopic of Teamsters leader Jimmy Hoffa. Jack Nicholson is typically great as the brutish, hot-tempered Hoffa, and DeVito is good also as his (fictional) right hand man. Hoffa plays fast and loose with the facts, but it's stylish as hell and features a soaring, incredible score from David Newman.For fans of: GoodFellas, Nixon, Bugsy.
Now Streaming on Shudder
No, not the Disney one. This ice cold thriller from Adam Green is the perfect escape from the blistering dog days of August. Three friends ( played by Emma Bell, Shawn Ashmore and Kevin Zegers) on a ski trip find themselves stuck on a ski lift after the mountain they're skiing on closes down for the night. Now the three have to brave the harsh elements and a pack of ravenous wolves waiting below. This is a nasty, darkly funny film, and a great example of doing a lot with a little. Frozen barely moves away from one location yet remains engrossing through its entire runtime.For fans of: The Edge, The Shallows, Open Water.