'Godless' First Look: A Six-Hour Western From Scott Frank, Steven Soderbergh, And Netflix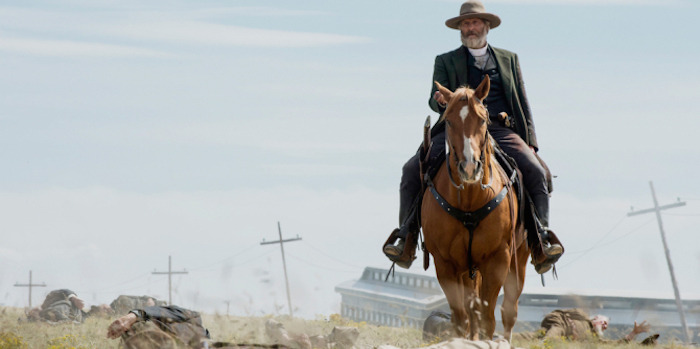 An old school western miniseries is coming to Netflix later this year from Steven Soderbergh and director Scott Frank (The Lookout). The last time the two of them worked together was on their adaptation of Elmore Leonard's Out of Sight, so of course their next collaboration has our expectations sky high. Frank, who last directed A Walk Among the Tombstones, wrote and directed all of the miniseries, which stars Jack O'Connell (Unbroken), Jeff Daniels (The Newsroom), Michelle Dockery (Downton Abbey), and Scoot McNairy (Halt & Catch Fire). Sounds pretty good, right?
Below, check out the Godless first look.
Frank's series is set in 1888 and follows outlaw Frank Griffin (Daniels) and his gang on the hunt for Roy Goode (O'Connell), who was once one of them. A wounded Goode hides out in a mining town in New Mexico, which is mostly run by women. Goode, the widowed Alice Fletcher (Dockery), and the rest of the town prepare for Griffin's arrival and for what will most likely be a bloody showdown.
Here's the first batch of photos from the six-hour miniseries, which comes out around Thanksgiving:
While Soderbergh is executing producing the western, he was offered the chance to direct Godless when it was in the works as a feature film, but the Logan Lucky director didn't want to shoot people on horses. Even Sam Mendes (Road to Perdition) once considered directing Godless. It's a story Frank hatched in 2000 and finished writing in 2003 and after years of trying to get it made, he finally turned his three-hour script into six-hours when Netflix showed interest.
When we interviewed Frank for Logan and his debut novel, Shaker, earlier this year, the writer-director told us about taking a more novelistic approach to what he calls a "very old school western":
The next thing you'll see [from me] is Godless, which is like a six-hour feature. It was a feature script that I had written a long time ago and had been trying to get made. It had almost been made forever. Netflix, thankfully, said they'd like to make it and make it as a miniseries. It was like a reverse adaptation – getting to expand my script and go deeper and make it more like a novelistic story. It was really fun. I directed all six hours of it, which was an interesting exercise for me. I learned a lot and realized what a horrible director I was before I started, and how much I had to learn, but it was great.
Frank had a similar experience on the two damn fine movies he directed, The Lookout and A Walk Among the Tombstones. Other directors circled those projects, including David Fincher, but after nothing go going, Frank decided to direct them himself. Based on the end results, this was a wise decision on his part.
The Academy Award-nominated writer's miniseries doesn't premiere on Netflix for another few months, but he's already working on another show for another streaming service: Hulu's remake of the Nicolas Roeg classic, The Man Who Fell to Earth, which Frank is writing and could direct.
Godless will be available to stream on November 22, 2017.