Fourth 'Hatchet' Movie Was Filmed In Secret And Had A Surprise Premiere Last Night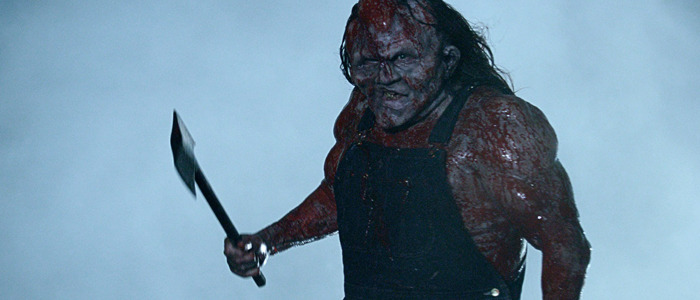 It's become almost impossible to make a feature film completely in secret these days, but it looks like filmmaker Adam Green just pulled it off. Taking a page out of the Blair Witch playbook, the writer/director of the fan-favorite Hatchet movies unveiled the surprise premiere of a secretly-produced sequel called Victor Crowley, the fourth movie in the Hatchet franchise, to an audience in Hollywood. Get the details below.
Green debuted the new movie, which is technically a sequel but also being referred to as a reboot, to a gathering of fans at the ArcLight Cinemas in Hollywood last night who were there for an event billed as a 10th Anniversary Celebration of the release of the first Hatchet. Green, who wrote the first three Hatchet films and directed the first two, wrote and directed Victor Crowley and managed to keep it secret for two years. Here's a trailer :
And here's the official plot description:
Set a decade after the events of the series' first three films, Victor Crowley reunites Hatchet mainstays Kane Hodder (Friday the 13th) and Parry Shen (Better Luck Tomorrow) for an all-new, horrifying journey into the haunted, blood-drenched bayou.
In 2007, forty-nine people were brutally torn to pieces in Louisiana's Honey Island Swamp. Over the past decade, lone survivor Andrew Yong's claims that local legend Victor Crowley was responsible for the horrific massacre have been met with great controversy, but when a twist of fate puts him back at the scene of the tragedy, Crowley is mistakenly resurrected and Yong must face the bloodthirsty ghost from his past.
Laura Ortiz, Dave Sheridan, and Brian Quinn co-star. Victor Crowley will be coming to select theaters this October in a "road show" format, in which Green and some cast members will travel around the country and present the film at special screenings. After falling into a depression after Wes Craven's death in 2015, Green was inspired to return to the Hatchet franchise by director George A. Romero (Night of the Living Dead), who saw how much fans loved Green's saga and encouraged the writer/director to give them another piece of the story:
"The only survivor that was ever found was Parry Shen's character Andrew Yong," Green told EW in an interview last week. "Now, ten years, later, he's kind of become a little bit of a celebrity. At one point he's compared to 'the OJ Simpson of Honey Island Swamp' because most people do not buy his story, but he got off because there was no evidence that he had done it. So, some people love him, a lot of people hate him, and now he's written a book, which he is promoting on the tenth anniversary of the events of 2007. He is convinced to do one final interview back at the scene of the massacre, where he has never returned. Simultaneously to him going back there with this camera crew, that's going to interview him, there is something else happening that brings back a little certain somebody."
"I couldn't be happier to partner with Dark Sky Films and bring Victor Crowley back to horror fans around the world," Green said in a statement. "Resurrecting the series for its tenth anniversary was our way of saying thank you to everyone in The Hatchet Army and beyond who have supported this series since its inception. This bloodbath is for all of you."
Are you looking forward to heading back to the swamp?