'Wonder Woman' Flying Back To Theaters For Limited IMAX Run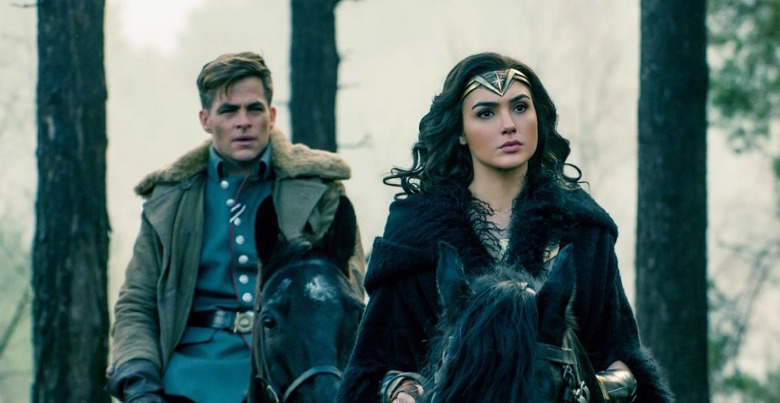 Wonder Woman has been basking in the seemingly endless success of being Warner Bros.' new golden child, and now it has one more exciting development before it arrives on home video: a return to IMAX theaters for a limited run.
The DC Extended Universe film is still going strong in theaters nearly three months after its release, but is no longer showing in most IMAX theaters, which features films for only two to three weeks after their release. But on the cusp of Wonder Woman's Blu-ray release, IMAX will bring back the female-led superhero hit.
IMAX announced that it would bring Wonder Woman back to select theaters for a limited run this Friday. "She's back! This Friday, #WonderWoman returns to select IMAX theatres. Find what's playing near you" the caption accompanying the Twitter announcement read. And you can find out what's playing near you right here.
She's back! This Friday, #WonderWoman returns to select IMAX theatres. Find what's playing near you: https://t.co/M8F7oLmGZX pic.twitter.com/S87B39vPRL

— IMAX (@IMAX) August 22, 2017
No other details were offered, but it will likely be a wide re-release considering Wonder Woman's astounding box office numbers and record-breaking run it had this summer.
Wonder Woman has leapt to the top of the best-grossing summer 2017 movies, recently crossing the coveted $800 million threshold worldwide to make it the highest-grossing superhero origin movie (beating out 2002's Spider-Man) and the 7th highest-grossing superhero movie of all time. The limited IMAX run probably won't add much to Wonder Woman's box office receipts, but it will enable people who didn't get to see the DC film in it original run to see it on the biggest screen possible.
Much of the film's success has been due to its critical acclaim and word-of-mouth buzz after industry executives initially underestimated the level of Wonder Woman's success.
With the rumblings that Warner Bros. is planning to launch a massive Oscar campaign for Wonder Woman and its director Patty Jenkins — who recently scored the highest payday for a female director for Wonder Woman 2 — things are looking rosy for Wonder Woman, as well as women in movies in general.
As much as I like writing about Wonder Woman's achievements, I wonder if this IMAX run is a way for Warner Bros. to flaunt their golden girl while the polarizing news of the Joker origin movie spreads. "Trust in the DCEU" it seems to say, even though the Joker film won't be a part of that cinematic universe. It's all very confusing, but hey at least we can see Wonder Woman on the big screen again!
The IMAX run comes on the tail end of Wonder Woman's box office success, but on the lead-up to the movie's Blu-ray and digital release. The movie starring Gal Gadot and Chris Pine will be released on Ultra HD Blu-ray, 3D Blu-ray, Blu-ray, and DVD on September 19.