Which Netflix Shows Led People To Watch The 'Defenders' And Marvel Series?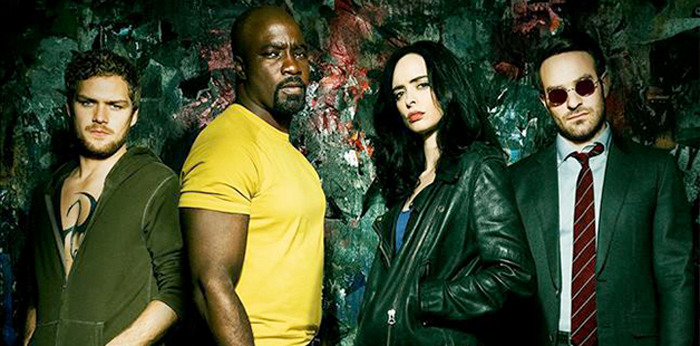 It's easy for superhero fans to get caught up in the Universes, the Phases, and how it's #AllConnected. But for the average Netflix viewers, they're just trying to find something to fill up their Friday nights.
So how does the Netflix audience end up watching The Defenders if they haven't been following every series leading up to it starting with Daredevil? Netflix has released some rare streaming data that shows how non-fans — or even fans who aren't watching in order — make their way through the Marvel-Netflix shows.
With the oversaturation of original Netflix series — a far cry from when it was just Arrested Development, House of Cards, and Orange is the New Black dominating the internet waves — how do people who aren't fans of Marvel make their way to the superhero series that build up to the recently released miniseries, The Defenders?
USA Today reported on Netflix's streaming data, saying that there's a formula to how people move on from The Walking Dead to Luke Cage, for example:
In addition to garnering interest from fans of the 1980s supernatural throwback Stranger Things, Luke Cage also appealed to those into explorations of the dark side of society such as Black Mirror, The Walking Dead and the documentary Amanda Knox. And viewers who binged coming-of-tales, including 13 Reasons Why, Love and The 100 checked out Iron Fist.
This haphazard viewing of Marvel series, out of order and without the world-building of Daredevil, sounds confusing, but USA Today says that most audiences don't follow the perceived order of the series in which they were launched, from Daredevil to Jessica Jones to Luke Cage to Iron Fist. The outlet writes:
Instead of going chronologically, Netflix found that much of its audience wanted to meet its resident butt-kicking woman first: The most popular viewing order starts with Jessica Jones, then moves to Daredevil, Luke Cage and finally, Iron Fist. (One in eight Marvel watchers is new to comic-based content before diving into their first superhero show, according to Netflix.)
Those who watch Daredevil often move on to Jessica Jones next, and vice versa, while Luke Cage is frequently paired with Iron Fist. This may be because Luke Cage and Iron Fist are often paired in the comics, though it's curious that there isn't more of a connection between Luke Cage and Jessica Jones since the former was introduced in the private detective series.
This was a rare instance of Netflix releasing some streaming data, perhaps in an attempt to drum up interest in The Defenders miniseries, whose viewing numbers aren't mentioned. The data was reportedly culled from 1,300 "taste communities" around the world.
But even when Netflix releases streaming data, we still don't get a sense of the success of whether The Defenders, or any of the solo series, were successful. Or whether Defenders made enough of an impact to be renewed for a second season, especially with Netflix's new practice of canceling more shows. Decider does a great deep dive into the decisions that go into Netflix renewing its show using interest through Google trends, finding that Ozark did surprisingly well globally and in the late summer season — which resulted in its renewal over the equally critically-panned Gypsy.
So as long as The Defenders is well-received in more than one state, it should be fine.