First Look: Bumblebee's Original VW Beetle Form In The 'Bumblebee' Movie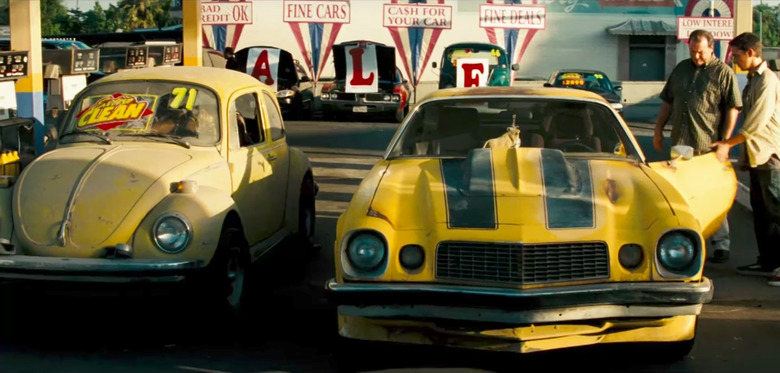 Bumblebee is officially going back to being a bug. While the lovable yellow Autobot took on the form of a Chevy Camaro in Michael Bay's Transformers films, Bumblebee's solo spin will see him rocking the rounded hood once again.
We already knew that the '80s-set Bumblebee movie prequel would have the Autobot in bug form, but we finally got our first look at the Transformer in vehicle mode thanks to a picture from the set.
A happy passerby on the set of the Transformers spin-off movie got a Bumblebee movie first look at the VW beetle and its "stunt double."
More #bumblebeemovie set pics. The star and his double.
Well, there you have it — proof that Bumblebee will, in fact, go back to being a bug.
It's a suitable vehicle form for Hailee Steinfeld's tomboy teen mechanic star who bonds with the Autobot, as well as the
that the movie will be dabbling in. And since the film is set in the '80s, it's an appropriate throwback to the '80s cartoons that introduced Transformers into the pop culture zeitgeist.
Bay has shown active disdain towards Bumblebee's original form as a lovable Volkswagen Beetle, saying the bug reminded him
too much of Herbie Fully Loaded
. In the first Transformers, he even makes a nod to the original VW beetle by having a beaten up bug sit alongside the Camaro that Shia LaBeouf's Sam Witwicky is so taken with — only to have Bumblebee (as the Camaro) trash the bug with its passenger door.
Here's the official synopsis of Bumblebee from Paramount:
"On the run in the year 1987, Bumblebee finds refuge in a junkyard in a small Californian beach town. Charlie (Hailee Steinfeld), on the cusp of turning 18 and trying to find her place in the world, discovers Bumblebee, battle-scarred and broken.  When Charlie revives him, she quickly learns this is no ordinary, yellow VW bug."
The cast of the Bumblebee movie is rounded out by John Cena as well as a group of young, diverse actors including Jorge Lendeborg, Jason Drucker, Abby Quinn, Rachel Crow, Ricardo Hoyos and Gracie Dzienny.
The Bumblebee movie is scheduled to be released on December 21, 2018.