'The Cuckoo's Calling' Trailer: J.K. Rowling's Cormoran Strike Series Is Adapted To TV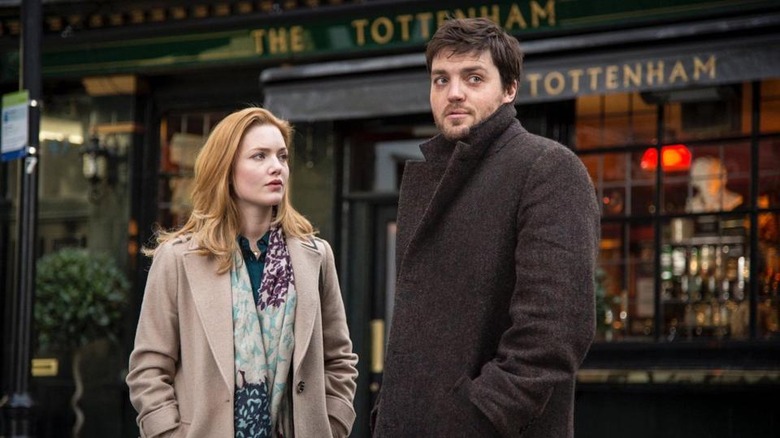 J.K. Rowling has a magic touch when it comes to getting her work adapted to film or TV — even if it wasn't under her name.
The Cormoran Strike series of novels, published under Rowling's pen name Robert Galbraith, is coming to the small screen with an adaptation of the first book, The Cuckoo's Calling. It's about as far as you can get from Rowling's beloved Harry Potter series, except for the fact that it looks achingly British.
The Cuckoo's Calling is a three-part miniseries written by Ben Richards and directed by Michael Keillor. It follows a classic eccentric private investigator in a long coat (seriously, how many cues did they take from Sherlock?) named Cormoran Strike, who's "wounded both physically and psychologically," and has "unique insight" thanks to "his background as a SIB Investigator ... solving three complex cases which have eluded the police." Tom Burke stars as Cormoran Strike — who admittedly has the best name — alongside The Borgias' Holliday Grainger as Strike's assistant, Robin.
I haven't read any of the Cormoran Strike books, though I know they were well received even before Galbraith was discovered to be Rowling's pseudonym. It wasn't necessarily the following of Harry Potter per se, but it was enough to spawn two more books, The Silkworm and Career of Evil, with one more on the way. If The Cuckoo's Calling attracts reasonable ratings, those two novels could see adaptations as well under the Strike title. I'm not too passionate about Rowling's "adult" novels after reading The Casual Vacancy, but I'm glad that she can branch out beyond writing Fantastic Beasts and Where to Find Them tie-ins on Pottermore.
Here's the synopsis for the novel The Cuckoo's Calling below:
After losing his leg to a land mine in Afghanistan, Cormoran Strike is barely scraping by as a private investigator. Strike is down to one client, and creditors are calling. He has also just broken up with his longtime girlfriend and is living in his office.
Then John Bristow walks through his door with an amazing story: His sister, the legendary supermodel Lula Landry, known to her friends as the Cuckoo, famously fell to her death a few months earlier. The police ruled it a suicide, but John refuses to believe that. The case plunges Strike into the world of multimillionaire beauties, rock-star boyfriends, and desperate designers, and it introduces him to every variety of pleasure, enticement, seduction, and delusion known to man.
The Cuckoo's Calling premieres in the U.K. on BBC One on August 27, 2017. The series will be aired in the U.S. on HBO or Cinemax on an unknown date.