'American Horror Story' Season 7 Trailer: It All Begins On Election Night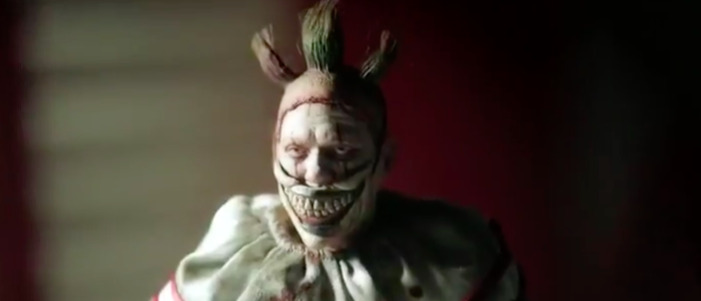 The new season of American Horror Story takes place in present day, so the anthology show will now deal with some modern horrors like last year's presidential election. Yesterday we saw the new credits sequence for the upcoming season featuring an unsettling Donald Trump mask and Hilary Clinton. As for how much the series actually has to say about the election, we'll find out next month when the hit FX series returns.
Below, watch the American Horror Story season 7 trailer.
American Horror Story: Cult trailer
The opening of the trailer shows a part of the election's vital role in the series: it sends Sarah Paulson's lead character down a dark downward spiral full of creepy clowns, hence the return of a fan favorite character, Twisty (the toy shown above). The new 11-episode season is set in Michigan, where Ally Mayfair Richards (Paulson) goes through a horrific, clown-infested experience. American Horror Story: Cult co-stars Evan Peters, Cheyenne Jackson, Billie Lourd, and one actor who might get me watching the new season, Alison Pill. Billy Eichner, Lena Dunham, Emma Roberts, and Chaz Bono will make appearances as well.
The trailer doesn't tease it, but there's a romance this upcoming season between Paulson and Peters' characters. Ally Mayfair Richards is married to Ivy Mayfair-Richards (Pill), but she falls for Peters' character who, based on the trailer, isn't too upset about the election results. The romance is "going to reveal itself in surprising ways," Paulson told The Hollywood Reporter.
Trump and Clinton aren't characters on the upcoming season, but knowing Murphy, that's probably a place he wouldn't be afraid to go. Murphy previously said the election would inform his future projects:
What I'm interested in doing is not just the obvious, single-minded point of view but rather express all sides of that equation. What needs to happen in our country now is for people to listen to each other – we may not always agree with each other and we may be horrified by what the other side is doing but we have to move toward understanding. So that's one example of what I'm going to do. And then all of the stuff that I'm developing now is going to be about illuminating and highlighting people who don't have a voice in our culture – people who are ignored by the current administration and who are afraid and feel terrorized that their lives are going to be taken away. I'm interested not just in writing about those people but also in using my financial means to give back to them as well.
Murphy has always been a progressive storyteller. The final results of his projects are sometimes more admirable than enjoyable, but at least he always has something to say, even with American Horror Story. American Horror Story: Cult premieres on Tuesday, September 5 on FX.